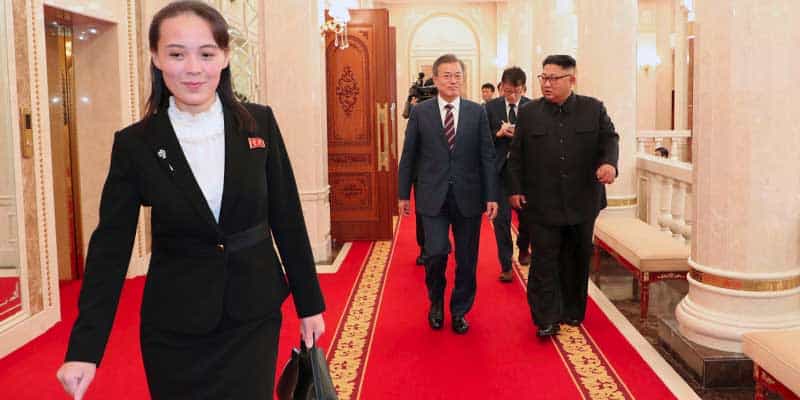 Odds Favor Kim Yo Jong As North Korea's Next Supreme Leader
Kim Jong Un has not been seen in North Korea since April 11. However, there have been countless reports of the Supreme Leaders' possible location via satellite images, likely usage of a private train and villa, and possible death have all surfaced online in recent weeks.
With constant media speculation on potential candidates for Kim's successor, if he dies, oddsmakers at Bovada's top-rated sportsbook have decided to weigh in and now let you dictate whether to wager on the action through some interesting Nort Korean Political Odds.
The sportsbook's opening odds on Kim Jung Un's replacement heavily favor his sister, Kim Yo Jong, to become the next Supreme Leader of North Korea at -135, giving the outcome a 57.45% implied probability.
Who Will Replace Kim Jung Un As Supreme Leader Of North Korea?
April 29 — Odds courtesy of Bovada
Kim Yo Jong (Sister) -135
Kim Pyong Il (Younger Half-Brother) +160
Choe Ryong Hae (Party Elder) +800
Pak Pong Ju (Party Elder) +850
Kim Jong Chol (Older Brother) +1400
Kim Kyong Hui (Aunt) +3300
Any One Of Kim Jung Un's Offspring +3300
How the political prop is graded: All wagers have action. If Kim Jung Un remains the supreme leader of North Korea by January 1, 2022, then all wagers will be deemed void and returned. Any wagers placed after news becomes public knowledge will be deemed void and returned.
North Korea Leader Odds Favor Kim Yo Jong
According to Bovada's description for the latest of many 2020 political prop bets, all wagers on Kim Jung Un's successor will be returned if no one replaces North Korea's current Supreme Leader by 2022.
Kim Yo Jong's line (-135, and 57.45% implied probability) suggests the oddsmakers believe there is a more than likely chance the first-ever woman will rule the Democratic People's Republic of Korea if her brother dies or can't continue day-to-day duties.
A $135 bet would win $100 if his sister becomes Supreme Leader by 2022, and given Kim Jong Un's documented struggles with obesity and smoking, there's a decent chance that might happen.
But is Kim Yo Jong the next in line?
That's the big question, because — despite his sister's "likely-to-replace" status — there isn't a definitive successor in line to assume the role of North Korea's leader since his oldest "publicly known" child is ten years old.
While "Any One Of Kim Jung Un's Offspring" is listed at +3300, meaning a $100 bet will win $3300, the sportsbook believes there's only about a 1% chance that North Korea allows his kid, or kids, to make the country's biggest decision during a global pandemic.
However, along with the leader's sister, Bovada also gives younger half-brother, Kim Pyong Il, a pretty good chance to at +160 odds, implying a 38.46% probability. Although less likely, a $100 wager will win $160 if Kim Pyong Il becomes North Korea's next ruler.
Trump Hints At Kim's Status
President Donald Trump, who is currently favored to win re-election against Joe Biden, told reporters he knows the health status of North Korea's 36-year-old leader during Monday's coronavirus briefing.
Unfortunately for political bettors, Trump declined to talk about Kim Jong Un's status at the White Houe press conference, but he did offer a few clues.
Trump said while he couldn't "tell you exactly" his condition, the President hinted he has a "very good idea" on the leader's condition.
"But I can't talk about it now," Trump added before saying: "I just wish him well."
South Korea's Daily NK, an online newspaper focused on covering North Korea's regime, reported on April 20 that Kim was recovering from surgery in an undisclosed location.
Other news sources in Japan and China appear to suggest the Supreme Leader is now in good health, but it's worth noting a Chinese medical team was rushed to North Korea via private jet last week.
Bettors considering a wager on Kim Yo Jong's favored odds to take over should know the Trump family would likely love a future scenario where Kim Jong Un's 31-year-old sister is one day in charge of North Korea.
Kim Yo Jong is known as "North Korean Ivanka Trump" and exploded in popularity when attending the 2018 Olympic Games in PyeongChang, South Korea.
When she shook the hand of South Korean President Moon Jae In ahead of the Opening Ceremonies, it marked the first time since the Korea War that any member of the Kim Dynasty had visited neighboring South Korea.
Considering Donald Trump and Kim Jong Un have a well-documented "bromance" at this point in President's first term, it's very unlikely he wants his North Korean friend to bite the dust any time soon.
If "Ivanka Yo Jong" is on the table when, or if, brother Kim ends his rule, it be hard imagining the entire Trump family not being on board with that idea.
But that'd only possible for Donald Trump, his family and Republicans if he closes the "art of the deal" against Biden on November 3 — which may or may not bring about the beginning for a "Trump Dynasty" of US Presidents, starting in 2024 and beyond.