Midterm Election Betting Odds 2022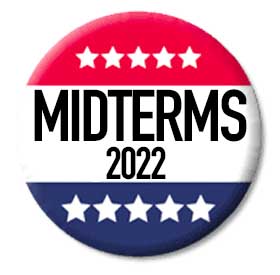 November 8, 2022, is the date all registered voters from around the United States will decide which candidates will be elected to public office at the congressional, state, and local levels during the 2022 midterm elections. There is a possibility for numerous amendments to be up for vote on individual state ballots, including multiple gambling ballot measures. Early voting will be well underway both at physical locations and by mail across the US.
Democrats captured control of the House in 2020 and will look to solidify that majority in the 2022 midterms. Republicans will seek to retake the US Senate in 2022 as their election odds for the House of Representatives are very poor at the moment.
If there was anything to learn from 2020, it was to expect the unexpected, which may explain the surge of interest in political wagering. Sportsbooks were offering odds on a whopping 40+ betting lines for that year's general election, covering everything from majority outcomes in the U.S. House of Representatives and U.S. Senate along with individual races in both chambers as well as many key races for Governor in several states. Expect more of the same in the 2022 midterms.
---
Analyzing The Odds For The 2022 Midterms
It is always interesting to compare the polls to the odds on political betting lines. With the possibility of the 2022 midterm elections being very volatile, we believe it is key to keep track of betting odds. Any time you want to check the odds in real-time, you can view Bovada's political betting lines.
---
2022 Majority in Congress Betting Odds
The congressional majority odds often reflect the current polling data from RCP, The Democrats were able to retain the House and oust enough Republicans in the Senate to gain a majority in 2020. The odds on which party will dominate the Senate and House in 2022 have yet to be announced at most offshore sportsbooks, but as the general election nears, lines will be updated and posted here.
Congress Betting Odds
Which Party Will Control The Senate After The 2022 Midterm Election?
Republican -200
Democratic +150
Which Party Will Win The House In The 2022 Midterm Election?
Republican -750
Democratic +440
---
2022 Betting Odds on Governor Races
The odds for each race for governor in most elections are nearly identical to that of RCP and local polling data, but most of the races in 2020 were decided under a double-digit difference. Betting odds for the 2022 Gubernatorial races are posted below.
Click Here For Betting Odds And Polling Data On 2022 Gubernatorial Races
2022 Gubernatorial Elections
Michigan – Republican Primary Odds
Tudor Dixon -275
Ryan Kelley +425
Kevin Rinke +450
Garrett Soldano +1400
James Craig +3300
Michigan Governor Odds
Democrats -500
Republicans +300
Nevada Gubernatorial Odds
Democrats -140
Republicans +100
Arizona Governor Odds
Republicans -180
Democrats +140
Georgia Governor Betting Odds
Brian Kemp (R) -400
Stacey Abrams (D) +250
Kansas Gubernatorial Betting Odds
Derek Schmidt (R) -275
Laura Kelly (D) +185
Maine Betting Odds For Governor
Janet Mills (D) -400
Paul LePage (R) +250
Betting Odds For The Next Governor Of New York
Kathy Hochul (D) -5000
Lee Zeldin (R) +1200
Pennsylvania Governor Odds
Democrats -300
Republicans +200
Betting Odds For Next Texas Governor
Greg Abbott (R) -700
Beto O'Rourke (D) +400
Wisconsin Gubernatorial Odds
Democrats -130
Republicans -110
---
2022 Betting Odds on US Senate Races
Much like the gubernatorial races, the polling on U.S. Senate races is very similar to the odds at most premium sportsbooks. Where the two races differ is when looking at the polling, since some Senate races have a huge point advantage in the polls while others are posting lines close to even, giving good value to both candidates as a result.
In the 2022 Election, 34 Senate seats will be up for grabs, and below are the latest election odds that have been posted online.
Click Here For Betting Odds And Polling Data On US Senate Races
Arizona Republican Primary
Blake Masters -2500
Mark Brnovich +1000
Jim Lamon +1400
Michael McGuire +10000
Justin Olson +10000
Ron Johnson to be re-elected in Wisconsin?
Lisa Murkowski to be re-elected in Alaska?
2022 US Senate Elections
Republicans -200
Democrats +150
Colorado US Senate Odds
Michael Bennet (D) -800
Joe O'Dea (R) +425
Nevada Senate Odds
Adam Laxalt (R) -140
Catherine Cortez Masto (D) +100
U.S. Senate 2022 – Florida
Republicans -2500
Democrats +800
U.S. Senate 2022 – New Hampshire
Democrats -250
Republicans +170
U.S. Senate 2022 – Wisconsin
Republicans -220
Democrats +155
U.S. Senate Elections 2022 – Arizona
Democrats -135
Republicans -105
US Senate 2022 – Georgia
Raphael Warnock (D) -170
Herschel Walker (R) +130
US Senate 2022 – North Carolina
Ted Budd (R) -700
Cheri Beasley (D) +400
US Senate 2022 – Ohio
J.D. Vance (R) -700
Tim Ryan (D) +400
US Senate 2022 – Pennsylvania
John Fetterman (D) -150
Mehmet Oz (R) +110
---
2022 Betting Odds on US House Races
The 2022 House race will be a wild one as all 435 U.S. House seats will be up for grabs during the 2022 general election. The latest House election odds are posted below.
Click Here For Betting Odds And Polling Data On US House Of Reps Races
Michigan-11 House Democratic Primary Odds
Haley Stevens -300
Andy Levin +200
Alaska US House Special Election Odds
Sarah Palin -140
Nick Begich III +145
Mary Peltola +600
Which Party Will Control The US House In 2022?
Republicans -800
Democrats +425
---
Midterm 2018 Election Results
The Democrats did not receive the huge blue wave they expected in 2018, but the party was successful in taking the House back from Republican control. This significant change meant the Democrats would have a seat at the table where the current POTUS would not be able to pass laws without the Democratic vote.
However, this election had several implications across the US, and several key races which we list were being watched closely.
Kentucky 6th Congressional District – Incumbent Andy Barr (R) won against challenger Amy McGrath (D)
Georgia Governorship – Brian Kemp (R) won against challenger Stacey Abrams (D)
Texas Senate – Incumbent Ted Cruz (R) won against challenger Beto O'Rouke (D)
North Dakota Senate – Kevin Cramer (R) won against incumbent Keidi Heitkamp (D)
Missouri Senate – John Hawley (R) won against incumbent Claire McCaskill (D)
Indiana Senate – Mike Braun (R) won against incumbent Joe Donnelly (D)