2018 Midterm Election Betting Odds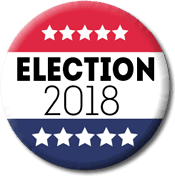 As of Tuesday, November 6, 2018, registered voters from around the United States have decided which candidates would be elected to public office at the congressional, state, and local levels during the 2018 Midterm Elections. There were also numerous amendments up for vote on individual state ballots, including multiple gambling ballot measures. Early voting was well underway both at physical locations and by mail across the US.
Democrats were vying for control of Congress in an effort to derail Trump's movement as POTUS.  Republicans were desperately trying to maintain control of both the House of Representatives and the Senate. Political polls, betting odds, and commentators all had predictions on what to expect in the Midterm Election results for 2018. However, if there was anything to learn from 2016, it was to expect the unexpected, which may explain the surge of interest in political wagering
Sportsbooks were offering odds on a whopping 40 betting lines for this general election, covering everything from majority outcomes in the U.S. House of Representatives and U.S. Senate along with individual races in both and many key races for Governor in several states as well.
Midterm 2018 Election Results
The Democrats did not receive the huge blue wave they expected but the party was successful in taking the house. This significant change means the Democrats will have a seat at the table where current POTUS cannot pass laws without the Democratic vote which may also have implications of re-opening investigation scandals against the President and his administration. However, this election had several implications across the US and several key races which we list were being watched closely.
Key Races:
Kentucky 6th Congressional District – Incumbent Andy Barr (R) won against challenger Amy McGrath (D)
Georgia Governorship – Brain Kemp (R) won against challenger Stacey Abrams (D)
Texas Senate – Incumbent Ted Cruz (R) won against challenger Beto O'Rouke (D)
North Dakota Senate – Kevin Cramer (R) won against incumbent Keidi Heitkamp (D)
Missouri Senate – John Hawley (R) won against incumbent Claire McCaskill (D)
Indiana Senate – Mike Braun (R) won against incumbent Joe Donnelly (D)
Best Sportsbooks For Betting On 2018 Midterm Elections
Sportsbook Name
Bonus

Bullet Points

Odds

USA
Rating
Review & Visit
1
$250

Most Trusted
50% Bonus
Easy Credit Card Dep
Fast Payouts
Great Prop Bets


Notice: Undefined variable: stexts in /home/unclesam/public_html/wp-content/themes/bet/full-width.php on line 197

2
$1000

USA Friendly
Very Reputable
$1000 Bonus
25% Lifetime Bonus
Fast Payouts


Notice: Undefined variable: stexts in /home/unclesam/public_html/wp-content/themes/bet/full-width.php on line 197

Analyzing The Odds For The 2018 Midterms
It is always interesting to compare the odds to the polls in political betting lines.  With the 2018 midterm elections being very volatile for this election season, we thought we would see how the odds line up with polling data from RealClearPolitics.com.  These figures were in place at the time of this writing but will likely fluctuate somewhat between now and November 6th.  Anytime you want to check the odds in real time you can view Bovada's political betting odds.
2018 Majority in Congress Betting Odds
The congressional majority odds seem to mimic the current polling data from RCP with the Democrats taking back the House and Republicans keeping the Senate.
And speaking of the Senate, RealClearPolitics.com predicts the Republicans will gain one seat following the election, giving them a total of 52. However, the odds currently have 53 and 51 seats as the favorite.
2018 US House of Representatives Election – Majority Outcome
Democratic Majority -300
Republican Majority +200
No Overall Majority +10000
Current RCP House Prediction
Democrats: 202
Republicans: 194
Toss Up: 39
2018 US Senate Election – Majority Outcome
Republican Majority -450
Democratic Majority +800
No Overall Majority +500
Current RCP Senate Prediction
Republicans: 50
Democrats: 43
Toss Up: 7
Who will be the next Speaker of the House of Representatives?
Nancy Pelosi -200
Jim Jordan +650
Kevin McCarthy +275
Steve Scalise +2000
James Clyburn +5000
Field +500
Our Breakdown
Pelosi is the favorite now since she'll resume her role as speaker should the Dems win the House. However, if the GOP wins, then McCarthy will likely get the job after getting approval from Trump at Paul Ryan's retirement dinner.
2018 Midterms Election – Exact Outcome
Democratic House / GOP Senate -195
GOP House / GOP Senate +200
Democratic House / Democratic Senate +850
GOP House / Democratic Senate +10000
Our Breakdown
While it's looking likely that the Dems will gain control the House and the GOP will keep the Senate, sharp money has recently come in on the GOP keeping both.
2018 US Senate Election – Exact Republican Senate Seats After Midterms
60 Or More +1000
59 +2500
58 +1500
57 +1000
56 +900
55 +750
54 +550
53 +550
52 +500
51 +450
50 +700
49 Or Less +800
Current RCP Senate Prediction – No Toss Ups
Republicans: 52
Democrats: 48
Net Gain: Republicans +1 Seat
---
2018 Betting Odds on Governor Races
The odds for each race for governor this election is nearly identical to that of RCP and local polling data, but most of the races are under a double-digit advantage.
However, some states are too close to predict right now and value can be found among many of the underdogs who fall within the margin of error, which is typically 3-4 points when conducting a poll.
---
2018 Betting Odds on US Senate Races
Much like the gubernatorial races, the polling on U.S. Senate races is very similar to the odds at the most premium sportsbooks.
Where the two races differ is when looking at the polling, since some Senate races have a huge point advantage in the polls while others have a candidate's lead at less than a point, giving good value to both candidates as a result.
---
2018 Betting Odds on US House Races
In total, there are three betting lines available so far, and the Republicans appear to be favored by a decent margin in all three races.