Joe Biden Resignation Odds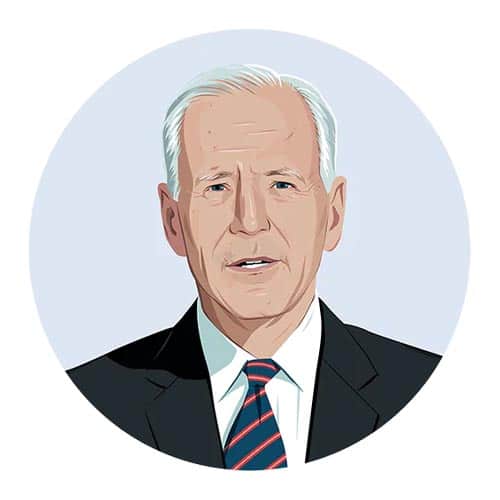 Joe Biden's resignation odds, although unlikely, remain on the minds of his opponents and bettors alike. We currently speculate that the only way President Biden would leave the Oval Office is if a decline in his health and mental faculties required his resignation.
Biden's resignation odds have been featured at several offshore betting sites even at this early portion of his first term, but the likelihood is not promising, much to the chagrin of enthusiastic GOP supporters.
Despite the odds of Biden's resignation being unfavorable, the weather can change quickly in today's political climate. There will always be plenty of interest from oddsmakers in providing resignation odds going forward because unless the Republicans secure a majority in the US House, a Biden impeachment simply will not happen.
US Sportsbooks With Biden Resignation Odds
With so much heat constantly on the Biden administration, one would think that oddsmakers would have a permanent line on his odds to resign from the Oval Office.
Odds for whether President Biden resigns have been featured throughout the first year of his Presidency, and have the potential to remain on the boards for the duration of his time as POTUS. Below is a list of our most trusted online political sportsbooks that are likely to continue to offer Presidential resignation odds alongside 2024 odds for the US Presidency.
---
When Will Biden Resign?
Although many in the USA want the President to resign, bettors would be wise to not expect a Joe Biden resignation letter any time soon. Biden would likely only resign from office if he were facing a severe obstacle he could not get around or voluntarily chooses to leave by relieving himself from the pressure of being in office.
The GOP is anxious to hear a Biden resignation speech, and there might even be some hopeful Democratic Party members that would jump at the chance to elevate their status by way of a Presidential departure. As mentioned previously, outside of a sudden collapse of Biden's health, we do not expect bets made on a Biden resignation outcome of "yes" to cash in.
Odds Of Biden Resigning
Will Joe Biden Complete His 1st Term (BetOnline)
No:

+250
Yes:

-400
Joe Biden Resignation Odds (MyBookie)
No:

TBA
Yes:

TBA
Resignation Odds For Joe Biden (Bovada)
No:

TBA
Yes:

TBA
Biden Resignation Predictions
Unlike Donald Trump, Biden does not face calls for his ousting, at least not from any factions strong enough to do anything about it. Biden is much more susceptible to internal drama inside of the DNC than he is to any current GOP threat, as they've been effectively neutered until at least the November of 2022 midterm elections.
The only legitimate course of action that could potentially cause for President Biden to resign would be a decline in his health that made him a liability.
Politicians, whether friend or foe, are always poised to pounce on an opportunity for a power grab. If Biden seems ripe for the picking, it is not outside the realm of possibility for his allies to align against him and try to force him out.
There have been several betting lines produced indicating that VP Kamala Harris possesses a decent likelihood of becoming the next President of the United States either during Biden's first term or immediately following it in 2024.
Current political betting odds suggest that there is a potential for a Biden removal, but a resignation appears to be much less probably than an ousting via impeachment.
Will Biden Resign Over Afghanistan Conflict?
In August of 2021, the Taliban recaptured Afghanistan's capital city of Kabul amid a mass US withdrawal. President Biden can point toward other regimes if he wants to try and shift some of the blame, but as of August of 2021, he had been overseeing the Afghanistan evacuation for going on 8 months.
Many top-ranking Republican leaders are calling for President Biden to step down and are also considering introducing articles of impeachment, but with the Democratic Party controlling both Congressional bodies, gaining any traction is as unlikely as Biden's odds of conviction in the US House.
Afghanistan could turn out to be the first of many logs on the fire to establish a case against the President, but Biden's resignation odds are currently microscopic. As always, low political odds also equal large payouts if action is laid early enough, so the time to get in on these Biden odds for removal from office is now.
Biden's Chance Of Resignation According To Prediction Markets
Prediction markets that are enmeshed in the political landscape, such as PredictWise and Predictit, indicate a low likelihood of Biden resigning or being forcibly removed from office through the impeachment process within his first term. Current markets have these predictions listed:
Biden finishing first term: 76% chance
These predictors are typically based on different data than what the bookmakers and oddsmakers use to determine the odds for betting on Biden's resignation, but it's a good idea to consider the entire range of data at your disposal.
Presidential Resignation FAQs
Did Biden Resign?
No, President Biden did not resign. He is still in office and working to complete his first term which will conclude in January of 2025.  Biden has made no indications that he intends to resign from office.
When Will President Biden Resign?
There is no timetable for a President Joe Biden resignation, and odds suggest that it will not happen. As suggested earlier, the only concern regarding the potential for a Biden resignation is his advanced age, which puts his future health in question.
Can I Legally Bet On Biden Resignation Odds?
Yes, wagering on political markets is allowed within the United States if done through licensed and regulated offshore sportsbooks. There are no US gambling laws which state that it is illegal to wager on political events, candidates, or White House administrative outcomes. That said, states with licensed and regulated sports betting currently do not offer political markets, so you must utilize a licensed offshore online sportsbook to bet on politics legally.
How Much Money Will I Win if Biden Resigns or is Impeached?
Since the odds on a Biden resignation are unfavorable, more money can be won than the amount that was bet.  For instance, the above line that provides a +250 money line on Biden not completing his first term will award $2.50 for each $1 wagered if the bet wins.
What Happens If Biden Resigns?
If Biden resigns from office, Vice President Kamala Harris would become the next President of the United States and would complete the current term. The new President would then need to appoint a Vice President to serve under her. If for some reason, both Biden and Harris resigned at the same time, Speaker of the US House Nancy Pelosi would become the next President.
How Many US Presidents Have Resigned?
One US President has resigned from office: Richard Nixon. Nixon resigned in 1974 halfway through his second term as POTUS. Nixon left office voluntarily to avoid facing his impeachment trial regarding the Watergate Scandal.
When Is The 2024 Election?
The 2024 Presidential election will be held on November 5 of that year. Early forecasts predict that Joe Biden and Donald J. Trump will face off once again, but the election is a long way off. Kamala Harris and Florida Governor Ron DeSantis are also considered to be top contenders for 2024.