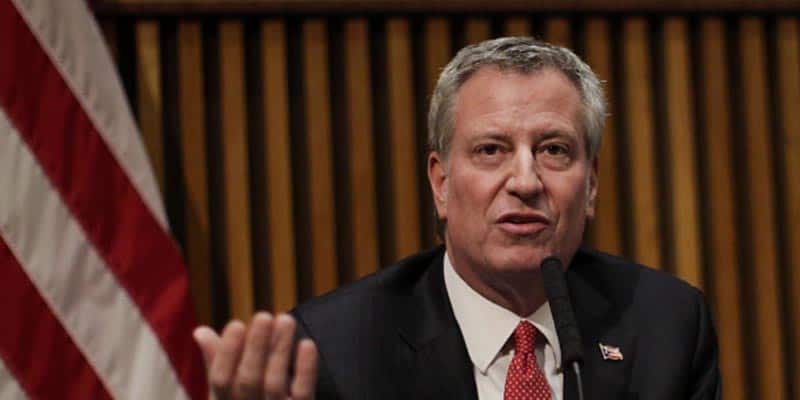 No Mo' de Blasio: NYC Mayor Bill de Blasio Ends 2020 Presidential Run
New York City Mayor Bill de Blasio can go back to exclusively wearing Timberlands and eating chopped cheese sandwiches as he has officially ended his run for the 2020 United States Presidency.
De Blasio joined MSNBC's Morning Joe to officially announce his campaign's termination.
"I feel like I have contributed all I can to this primary election, and it's clearly not my time," de Blasio said. "So I am going to end my presidential campaign, continue my work as mayor of New York City and I'm going to keep speaking up for working people."
The mayor then took to Twitter to reiterate his dedication to America's working class.
It's true: I'm ending my candidacy for president. But our fight on behalf of working people is far from over. https://t.co/wlqhNmcZLv

— Bill de Blasio (@BilldeBlasio) September 20, 2019
Unfortunately for de Blasio's chances of becoming the POTUS, he never had much of a shot of winning anyway. Even in terms of odds to win the Democratic nomination, Oprah Winfrey (+10000) had better chances of winning than de Blasio (+15000) did.
Odds to win Democratic nomination
Via Bovada
Elizabeth Warren

+175

Joe Biden

+275

Bernie Sanders

+575

Kamala Harris

+700

Andrew Yang

+1000

Pete Buttigieg

+1000

Cory Booker

+4000

Tulsi Gabbard

+4000

Beto O'Rourke

+5000

Amy Klobuchar

+7500

Julián Castro

+7500

Tom Steyer

+10000

Marianne Williamson

+10000

Michael Bennet

+12500

Tim Ryan

+12500

Bill de Blasio

+15000

John Delaney

+15000

Robby Wells

+20000
Even de Blasio's fellow New Yorkers had little faith in Manhattan-native.
A Quinnipiac poll from May showed that 76% of New York did not think de Blasio should even be in the presidential race.
Even worse, a Siena College poll revealed that de Blasio had a meager 33% approval rating among NYC voters.
In a previous story, we covered which candidate would be the next Democrat to drop out based on odds. De Blasio led the pack with +150 chances of throwing in the towel before any other candidate, including Tim Ryan (+300) and Marianne Williamson (+1000).
De Blasio didn't qualify for the September debate in Houston and was not expected to be eligible for the upcoming October debate in Ohio either.
So even if de Blasio did not officially end his campaign, it was essentially done for him.