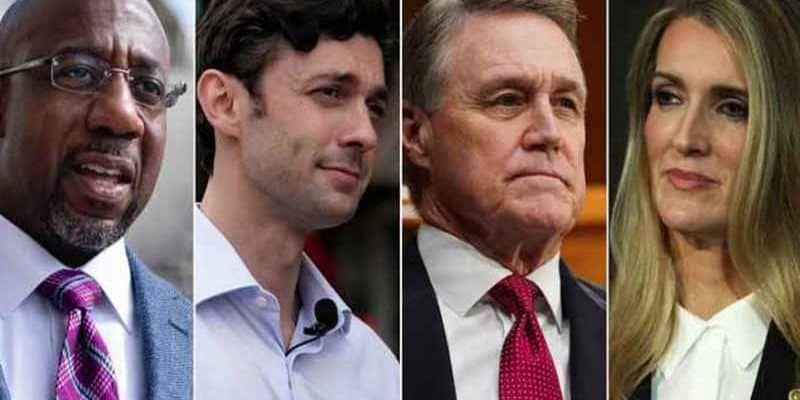 Georgia Senate Election Odds Ramp Up, PEO Provides Debate Takeaways
For the past few weeks, the Georgia US Senate races have dominated political betting lines on our favorite online sportsbooks. The two Republican candidates, Sen. Kelly Loeffler and Sen. David Perdue, have maintained a substantial favor.
US Senate Election Winner – Georgia (Special Election)
Kelly Loeffler (R)

-150

Raphael Warnock (D)

+115
US Senate Runoff Election Winner – Georgia (General Election)
David Perdue (R)

-200

Jon Ossoff (D)

+150
Which Party Will Control The Senate After the 2020 Election?
Republican Party

-275

Democratic Party

+200
Recently, the moneylines started to shift slightly away from Republican favor, giving Democratic opponents Rev. Raphael Warnock and Jon Ossoff a fighting chance. As January 5th approaches, bettors will see high action on the Georgia Senate election odds creating an increasingly tight race.
With only a month away from election day, bettors should consider wagering on their election winner picks. If you're holding out for an underdog win, Raphael Warnock has the best chances of moving the line in his favor.
David Perdue has held a consistent favor over Jon Ossoff despite high action throughout these past few weeks. The incumbent Perdue expects to maintain his seat. We suggest taking Perdue on this line.
Overall, the line for which party will control the Senate after the 2020 Election remains in the GOP realm. If both Democrats win, it would usher a 50-50 balance of power in the US Senate and give Vice President Kamala Harris the deciding tie-breaking vote majority of 51-50.
Only one of these candidates need to hold on to their seats. While Loeffler's race shows Warnock's chances of pushing to the lead, Perdue's seat is less likely to flip. Odds are you can expect the Republican party to retain Senate control come January.
Loeffler's race provides a much more exciting betting opportunity, and since last night's debate, the odds slightly pulled away from Loeffler's favor. Here at PEO, we break down some of the hot topics of the Georgia Senate debates.
First, David Perdue did not participate in his debate with Jon Ossoff. While Ossoff slammed Perdue for this offense, Perdue likely hoped to avoid difficult questions on election fraud that Loeffler struggled to field.
The lack of debate shifted the national attention to Loeffler and Warnock's event. Here are some key takeaways from both candidate's comments.
Most notably, Donald Trump's allegations of voter fraud came into question. President Trump has continued to attack the 2020 election process with ongoing lawsuits. Trump has also criticized Georgia Governor Brian Kemp, who has endorsed Loeffler, for not doing more to challenge the Presidential election results – even after a hand recount.
Even in the past hour, President Trump continued his criticisms via Twitter.
The Republican Governor of Georgia refuses to do signature verification, which would give us an easy win. What's wrong with this guy? What is he hiding?

— Donald J. Trump (@realDonaldTrump) December 7, 2020
When pressed, Loeffler attempted to reconcile her support for President Trump's claims of a rigged election system with a call for her base to participate in the election and show up at the polls.
Warnock similarly dodged questions on court-packing. The moderator asked Warnock whether he would support a possible Biden administration directive to expand the number of justices on the Supreme court and fill them with Democratic members. Warnock stated, "I am not focused on it."
And in a move that many US politicians have endorsed, both Warnock and Loeffler explicitly stated they would take the vaccine when it becomes readily available to the US public. For now, Georgians and the rest of the world wait on economic and health system relief from the pandemic.
The fate of the US (for the next four years) by default rests on the US Georgia Senate Races. Moreover, so does the fate of our bankroll. Stay posted with us as we cover these senate election odds until election day.
Sources:
CNN