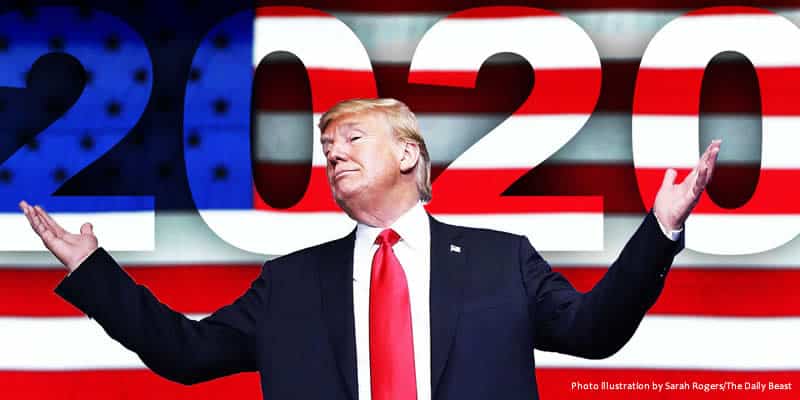 2020 Presidential Odds Update: Trump Remains the Favorite, Bernie and Biden Gain Ground on Kamala, and Beto Falls to 5th Place
After being taken down yesterday, the 2020 presidential odds return today and show significant movement among the top 5 candidates.
President Donald Trump (+220 | 31.25%) remains the heavy favorite to win the 2020 Presidential Election in the updated odds. His odds fell slightly from his previous +200 listing.
But after a week that saw Democrats launch a massive investigation following the testimony from former lawyer Michael Cohen and Republican senators announcing they would be voting for a bill to block his border wall national emergency declaration — Trump falling by only 20 points is negligible at best.
Sen. Kamala Harris (+600 | 14.29%) maintains her spot at No. 2 and remains the favorite to receive the Democratic nomination in 2020. However, her odds fell slightly from +500 and lost 100 points, which is crucial because now she has two other candidates right on her heels.
Former Vice President Joe Biden (+700 | 12.5%) and Sen. Bernie Sanders (+700 | 12.5%) are tied for third and gain ground on Trump and Harris in the updated 2020 odds. Biden and Sanders are now only 100 points behind Harris, who's held firm as the Democratic favorite since she announced her campaign.
Even though Biden has yet to officially announce his 2020 presidential bid, he managed to see his odds rise by 100 points. However, Sanders saw his odds get the biggest boost in the update, skyrocketing 300 points and jumping from fifth to third place.
Finally, rounding out the top 5 is Former Rep. Beto O'Rourke (+1000 | 9.09%). O'Rourke took a huge hit in the update, falling 200 points and slipping from third to fifth place. This is likely due to him announcing that he decided whether to run for president in 2020 but not making his decision public. If he continues to drag on and not announce, then expect to see his 2020 odds continue to fall.
Below you can find the complete list of odds for 2020 Presidential Election. You can expect to see more line movement in March as more candidates, like Biden and O'Rourke, make their decision to run official (hopefully) as we begin to look toward the first Democratic debates in June.
Political Odds via Bovada – March 7
Odds to Win the 2020 Presidential Election
Donald Trump +220
Kamala Harris +600
Bernie Sanders +700
Joe Biden +700
Beto O'Rourke +1000
Amy Klobuchar +2500
Elizabeth Warren +2500
Sherrod Brown +2800
Kirsten Gillibrand +3300
Mike Pence +3300
Cory Booker +3500
Tulsi Gabbard +4000
Andrew Yang +5000
Dwayne 'The Rock' Johnson +5000
Mark Cuban +5000
Michelle Obama +5000
Nikki Haley +5000
Howard Schultz +6000
John Hickenlooper +6600
John Kasich +6600
Julian Castro +6600
Michael Avenatti +6600
Mitt Romney +7500
Oprah Winfrey +7500
Eric Garcetti +8000
Marco Rubio +8000
Orrin Hatch +8000
Rahm Emanuel +8000
Tom Wolf +8000
Andrew Cuomo +10000
Ben Shapiro +10000
Bill Gates +10000
George Clooney +10000
Joe Kennedy III +10000
Paul Ryan +10000
Pete Buttigieg +10000
Rand Paul +10000
Ted Cruz +10000
Bob Iger +12500
Chris Murphy +12500
Hillary Clinton +12500
Martin O'Malley +12500
Mitch Landrieu +12500
Terry McAuliffe +12500
Tom Steyer +12500
Ivanka Trump +15000
Jeb Bush +15000
Kanye West +15000
Mark Zuckerberg +15000
Tammy Duckworth +15000
Tim Kaine +15000
Trey Gowdy +15000
Chelsea Clinton +20000
Leonardo DiCaprio +20000
Will Smith +20000
Joe Rogan +25000
Tom Brady +25000
Photo illustration by Sarah Rogers/The Daily Beast