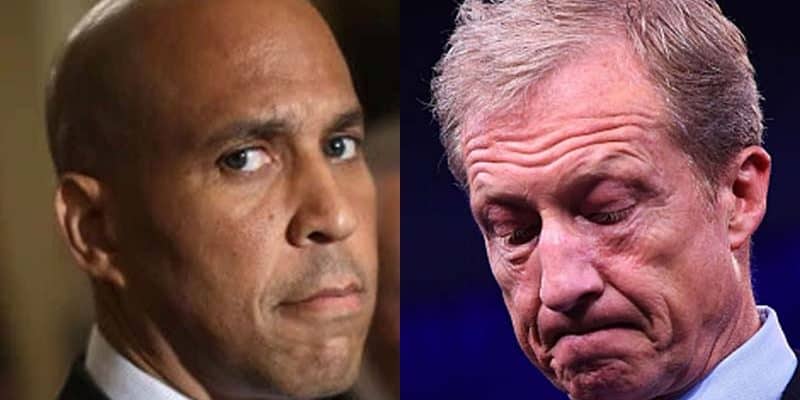 Despite Qualifying For November Debate, Steyer And Booker Favored To Drop Next
We are just one week out from the next Democratic debate in Atlanta, Georgia and things are looking bleak for some candidates.
Held on the Oprah Winfrey stage at Tyler Perry Studios, MSNBC and The Washington Post will host the event on November 20 with ten Democratic Party candidates, including:
Sen. Elizabeth Warren
Former VP Joe Biden
Sen. Bernie Sanders
South Bend, Indiana Mayor Pete Buttigieg
Entrepreneur Andrew Yang
Sen. Kamala Harris
Sen. Amy Klobuchar
Sen. Cory Booker
Rep. Tulsi Gabbard
Billionaire Tom Steyer
Last month, the stage featured 12 candidates, although former Housing Secretary Julián Castro has not yet been able to qualify for the November debate and former Rep. Beto O'Rourke ended his campaign earlier this month.
Like O'Rourke, other candidates are expected to end their White House hopes soon. Some might even drop before the debate next week. That's what Bovada's bet says, anyway.
Despite qualifying for the Georgia debate, Steyer has the best odds to drop out of the Presidential race before November 20 at -170 chances. Booker, another debate qualifier, has the second-best chances at -115.
Which candidate will drop before the Democratic debate on November 20?
Via Bovada
Tom Steyer -170
Cory Booker -115
Kamala Harris +1200
Joe Biden +1500
Andrew Yang +3300
Bernie Sanders +3500
Pete Buttigieg +4000
Elizabeth Warren +6600
Steyer, a former hedge fund manager that didn't join the race until July, is a longshot Democratic candidate. Nevertheless, Steyer has qualified for the last two debates and is earning a consistent 1-2% in many national polls.
Booker, on the other hand, has been in the race since February and has qualified for every Democratic debate of 2019.
The New Jersey Senator did flaunt the idea of dropping out at the end of the third quarter this year, but was able to raise over $2 million to cover operating costs and keep his Oval Office aspirations alive.
Although they probably aren't likely to drop before the debate after qualifying for it, the political betting odds for Steyer and Booker do not offer much hope long term.
Booker's betting odds are +8000, which are barely higher than Steyer's chances of the party nomination at +10000. For a full comparison of the Democratic candidates, the following odds have been pulled from Bovada.
2020 Democratic nomination odds
Via Bovada
Elizabeth Warren +150
Joe Biden +275
Pete Buttigieg +500
Bernie Sanders +600
Michael Bloomberg +1000
Andrew Yang +1500
Tulsi Gabbard +4000
Kamala Harris +5000
Amy Klobuchar +8000
Cory Booker +8000
Tom Steyer +10000
Julian Castro +12500
Marianne Williamson +15000