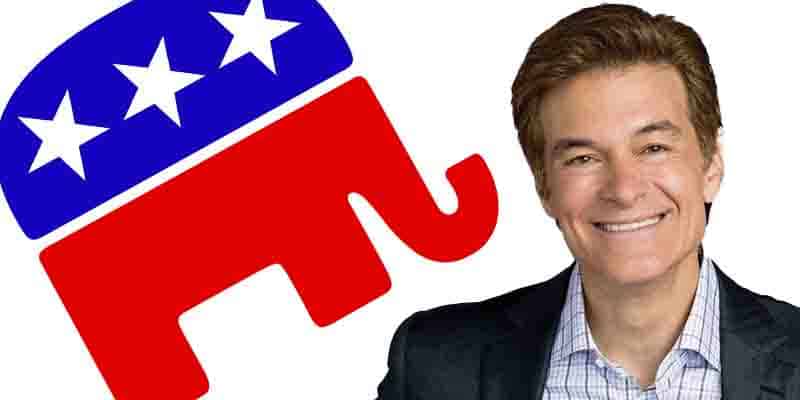 Reality Bites: Dr. Oz Odds For US Senate Seat In PA Now Imply A Loss
In late November, Dr. Oz announced his intentions to run for a US Senate seat in Pennsylvania, and political election betting odds surfaced within days that indicating a strong probability of success for his campaign.
Over two weeks have passed while pundits and oddsmakers have had time to consider Dr. Oz's potential to win the 2022 Senate election in PA., and now, a new political prop bet has emerged at BetOnline that implies certain doom for Dr. Oz in 2022.
Dr. Oz Odds To Win US Senate
While the above Dr. Oz odds to win his US Senate race in 2022 are by no means a certain indicator of a loss, the outlook is grim. The moneyline for a result of "no" in regard to winning his PA election intrinsically translates to a 77% likelihood of losing.
For those that want to bet on Dr. Oz to win in 2022, a considerable payout can be earned by laying some action on "yes" and the +225 moneyline attached to it.
Bets of $100 on Dr. Mehmet Oz to become the next elected US Senator in Pennsylvania will net gamblers $225 if he wins. The above prop may forecast a negative outcome for Oz, but the campaign is young.
Besides, those that bet on Donald Trump and his early election odds were rewarded handsomely once he was elected President in 2016, and the same can happen in 2022 for Dr. Oz.
If we use the following two political prop bets as our guide, Dr. Oz has no worse than a 50/50 chance of winning if he can become the top US Senate candidate for the GOP in Pennsylvania.
U.S. Senate Elections 2022 – Pennsylvania
Democrats -120
Republicans -120
Pennsylvania – Republican Candidate
David McCormick -110
Mehmet Oz +120
Jeff Bartos +700
Carla Sands +1200
Everett Stern +6600
Oz's current top competition from the Republica Party is David McCormick, but their moneyline odds are only separated by 30 points at the moment and represents a relatively small hurdle for Mehmet to clear.
In 2018, the PA Senate race was handily won by Bob Casey and the Democratic Party.
2018 General Election – U.S. Senate Pennsylvania
Bob Casey Jr. (D) 55.7%, 2,792,437
Lou Barletta (R) 42.6%, 2,134,848
The political picture is much murkier entering 2022, but most projections indicate that the blue wave has crested and that Pennsylvania is a battleground state that leans red.
Dr. Oz is already a known entity from his various outlets for appearing on national television, something Trump used to successfully parlay into an election victory.
Oz is also an intriguing candidate due to his Muslim religion. If elected, Oz would become the first practicing Muslim elected to the US Senate, and his Republican status juxtaposes his faith just enough to warrant an extra look from voters to see what he has to say.
As far as Dr. Oz's political policies, they fall along party lines for the most part, so it will be his performance on the debate stage and whether or not his closet reveals any skeletons that determine his fate in November of 2022.
Again, political bettors should consider placing a wager on the above Dr. Oz odds to secure the best payouts possible prior to election day in 2022.