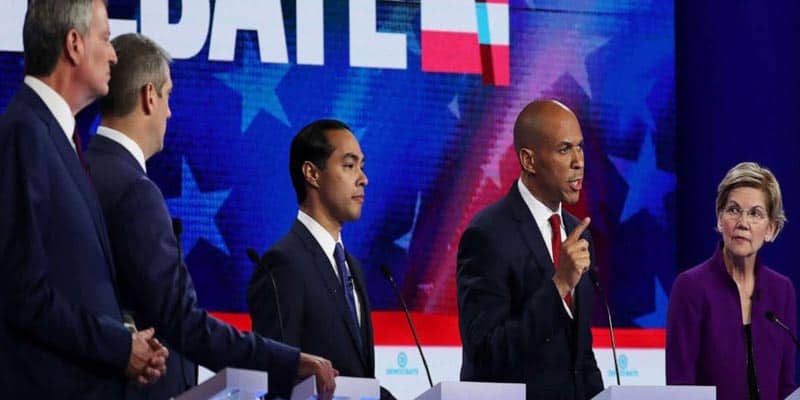 Democratic Debate Night 2 Props: Butti-what? Odds of 'Buttigieg' being mispronounced
The first Democratic Debate of 2019 continues tonight in Miami with some of the party's most well-known candidates.
Presidential hopefuls like Joe Biden, Bernie Sanders, Pete Buttigieg, and Kamala Harris will take the stage while dark horse candidates like Andrew Yang and John Hickenlooper will look to use the national spotlight make themselves known to the general public.
It remains to be seen if Donald Trump will have his presence felt via his Twitter or from direct mentions by the Democratic candidates tonight.
In the first night of the debate, the candidates mentioned Trump 35 times.
Odds are available for tonight's debate ranging from tweets to hugs.
Bovada predicts Biden will speak the most during the debate at +175, followed closely by Sanders at +200. Marianne Williamson and Michael Bennet are not expected to get as much talk time, both coming in at +2000.
Other bets include the over/under on the amount of times Yang will mention universal basic income or how many times someone will mispronounce Buttigieg's name. (For reference, Buttigieg's Twitter bio says it is "Boot-edge-edge.")
Other bets focus on Biden, such as if Trump tweets "Sleepy Joe," which Bovada favors him to stay mum on the former VP at -550. Or if Biden will hug any of the women on stage — Bovada says no at -450.
To watch the debate tonight, tune into NBC, MSNBC, Telemundo, or YouTube for a live stream of the action from 9-11 p.m. EDT.
The full podium lineup for tonight's debate, from left to right, is as follows:
Thursday, June 27 Lineup
Marianne Williamson, John Hickenlooper, Andrew Yang, Pete Buttigieg, Joe Biden, Bernie Sanders, Kamala Harris, Kirsten Gillibrand, Michael Bennet, Eric Swalwell.
June 27 Democratic Debate Prop Bet Odds
Odds provided by Bovada.
How Many Times Will Andrew Yang Mention UBI During the June Democratic Debates?
How Many Times Will Someone Mispronounce Pete Buttigieg's Last Name During the June Democratic Debates?
Under 1.5 -400
Over 1.5 +250
Which Candidate Will Speak the Most During the Second Night of the June Democratic Debates?
Joe Biden +175
Bernie Sanders +200
Kamala Harris +550
Pete Buttigieg +550
Andrew Yang +1000
Eric Swalwell +1500
Kirsten Gillibrand +1500
John Hickenlooper +2000
Marianne Williamson +2000
Michael Bennet +2000
Will Donald Trump Tweet Out "Sleepy Joe" During the Second June Democratic Debates?
Will Joe Biden Hug Any of the Women on Stage with Him During the June Democratic Debates?