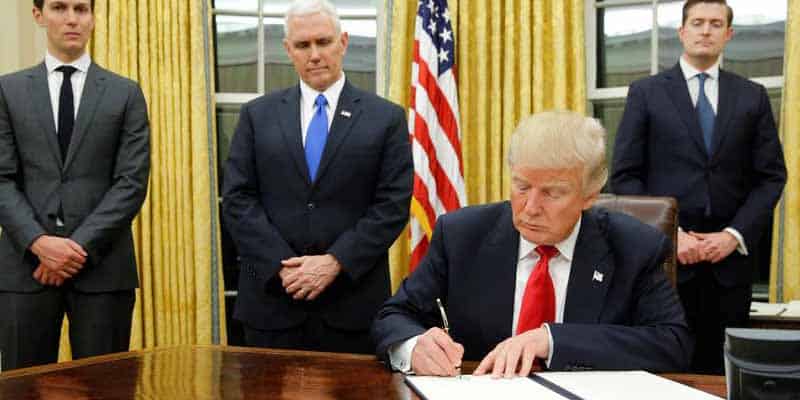 Disagreements Over President Trump's $4.7 Trillion Budget Plan Could Lead to Another Government Shutdown in October
The President proposed his budget today, and will likely create another standoff between the Democrats in Congress — meaning another government shutdown could become a reality at the beginning of October.
President Donald Trump (+225| ) released a $4.7 trillion budget proposal for the 2020 fiscal year on Monday that includes $8.6 billion for his U.S.-Mexico border wall and would further increase the national debt by over $1 trillion per year.
This is on top of the roughly $7 billion in funds he's currently redirecting to secure after declaring a national emergency. The bill blocking his national emergency is expected to be voted on in the Senate this week. Trump said he will veto the bill — the first veto of his presidency — and is attempting to convince Senate Republicans to support his proposal.
Republican Senators have a very easy vote this week. It is about Border Security and the Wall (stopping Crime, Drugs etc.), not Constitutionality and Precedent. It is an 80% positive issue. The Dems are 100% United, as usual, on a 20% issue, Open Borders and Crime. Get tough R's!

— Donald J. Trump (@realDonaldTrump) March 11, 2019
In addition to extra border wall funding, the "Budget for a Better America" asks for a 5% increase in military spending, which would bring the total defense budget to $750 billion in 2020.
For the first time in his presidency, Trump's budget proposal calls for a massive $845 billion cut to Medicare, a health care program for the elderly that he promised to protect in the past. In addition, the budget overhauls Medicare, a low-income health care program, and turns over more of its shared power to the states.
Also proposed in the budget is a mandatory work-requirement for millions of people who are currently receiving assistance from welfare.
The Environmental Protection Agency, State Department, Transportation Department, and Interior Department would all receive cuts in funding as well.
If Trump's current budget proposal passes, it is projected to add $1.1 trillion to the national debt in 2019, 2020, and 2021, and $1 trillion in 2022 — totaling $4.3 trillion over four years that would be added on top of the existing $22 trillion national debt.
Additionally, the federal government would spend $482 billion on just interest payments next year, which is more than the entirety of Medicaid's budget.
Trump and congressional lawmakers will need to reach an agreement by the end of September 2019 or the government will undergo another partial shutdown at the start of October.
While Republicans have routinely called for a deficit-neutral budget, this plan does nothing of the sort — adding over $1 trillion per year to the debt — and increases military spending, cuts taxes for the wealthiest Americans, and cuts funding for several social welfare programs favored by Democrats.
Several of the top Democratic candidates for the 2020 Presidential Election came out today on social media and were very critical of Trump's proposed budget.
Senator Kamala Harris (+600|) called Trump's wall a "vanity project" and how cuts to Medicare funding would negatively impact senior citizens.
This budget says a lot about the President's priorities: cut $845 billion from Medicare, while spending billions on his vanity project, the wall.

This would hurt our seniors and is yet another piece of evidence for why we need a new president. https://t.co/p2xbXgQ8LR

— Kamala Harris (@KamalaHarris) March 11, 2019
Senator Bernie Sanders (+650|), who saw his 2020 odds go up over the weekend, called Trump's plan "a massive transfer of wealth from the working class to the wealthiest people and most profitable corporations in America."
Trump's budget cuts $1.5 trillion from Medicaid, $845 billion from Medicare and $25 billion from Social Security.

Make no mistake about it: Trump's budget is a massive transfer of wealth from the working class to the wealthiest people and most profitable corporations in America.

— Bernie Sanders (@BernieSanders) March 11, 2019
Senator Amy Klobuchar (+2500|) was also critical of the proposal, calling for "a smart budget, not one based on empty campaign promises."
The President has proposed a budget that cuts hundreds of billions of dollars from domestic programs like Medicare and environmental protections. But he still found billions of dollars for his wall.

We need a smart budget, not one based on empty campaign promises.

— Amy Klobuchar (@amyklobuchar) March 11, 2019
The most popular solution among Democrats is to raise taxes on the wealthiest Americans to expand and provide access to Medicare while providing additional benefits to reduce the rising student debt in the United States.
With the 2020 Democratic debates just months away in June and September 30, 2019 marked as the date for another possible shutdown, Trump will need to prepare himself for the onslaught of question on his budget plan and the border wall in addition to the slew of ongoing investigations surrounding his 2016 campaign and business financials.
If he continues to be unable to answer these questions, then expect Trump's odds in 2020 to continue to fall — not that it stopped him from winning in the past.