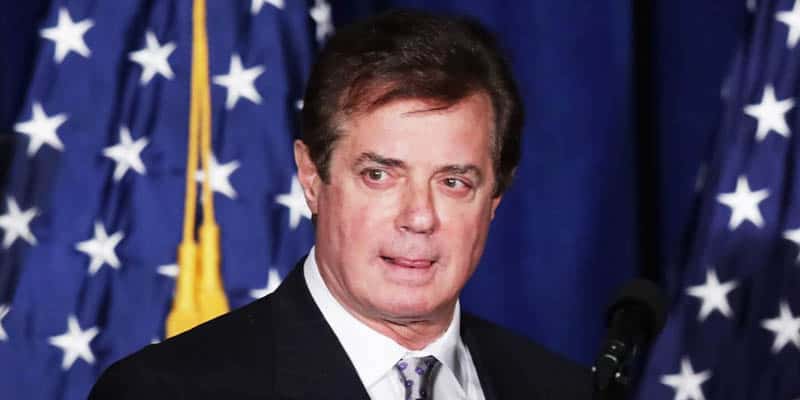 Former Trump Campaign Chairman Paul Manafort Sentenced to a Total of 7.5 Years in Prison
A federal judge just more than doubled the sentence for one of Trump's former campaign advisors.
Paul Manafort, the campaign chairman for President Donald Trump (+230|30.3%) during the 2016 presidential election, was sentenced to three and a half more years in prison on Wednesday by a federal judge for numerous crimes, bring his total sentence to seven and a half years.
Manafort was sentenced on multiple crimes, including two counts of conspiracy in addition to money-laundering, obstruction of justice, and failing to disclose work as a lobbyist — earning him millions of dollars for over a decade.
Adding on to his was Judge Amy Berman Jackson of the Federal District Court in Washington D.C., who added additional time to his sentence, stating "[Manafort] spent a significant portion of his career gaming the system."
"It is hard to overstate the number of lies and the amount of fraud and the amount of money involved," Judge Jackson said. "There is no question that this defendant knew better and he knew what he was doing."
Last week, Manafort had been sentenced to 47 months in prison by Judge T.S. Ellis of the Federal District Court in Alexandria, Virginia, for a total of eight felony counts that included bank fraud, tax evasion, and failure to disclose an offshore bank account.
Many critics, including former public defenders and prosecutors, believe that punishment was far too lenient considering Virginia sentencing guidelines call for a minimum of 19-24 years. In addition, the length of the prison sentence has been called another case in the long line of prison sentences that favors criminals that are both wealthy and white-collar workers.
Manafort, who was apart of the Trump 2016 presidential campaign for roughly five months and even briefly served as his campaign manager, has already spent nine months in jail in Virginia, but immediately after the sentencing, New York prosecutors announced 16 counts of state charges, including mortgage fraud, falsifying business records, and conspiracy.
If Trump decides to pardon Manafort, he can only do so for federal cases. The President cannot pardon an individual on states charges, and the charges filed in New York are likely to ensure that Manafort faces time in prison regardless of what Trump does.
It's currently unclear whether Trump would pardon Manafort, stating last year that he "wouldn't take it off the table" but also recently saying "I don't even discuss it."
Earlier this week, White House press secretary Sarah Huckabee Sanders didn't provide concrete insight into whether Trump would pardon Manafort, stating, "The president has made his position on that clear, and he'll make a decision when he is ready."
With today's sentencing, Manafort prison time will total seven and a half years — the most given to anyone connected to Trump's campaign who's been charged as a result of Robert Mueller's on-going special counsel investigation into possible Russian interference during the 2016 presidential election.
Mueller's investigation is rumored to be wrapping up and Congress is currently attempting to pass a resolution that would also the full report to become public.
Trump's 2020 presidential odds did take another tiny hit this past week, dropping to +230 from +225 for a rather negligible 5-point change.