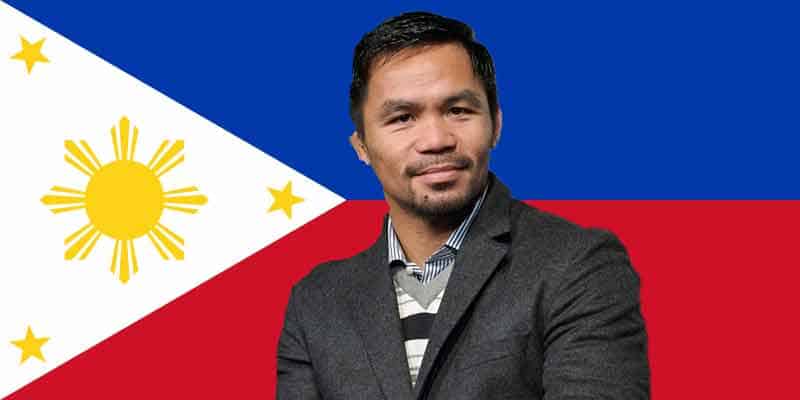 Philippine Presidential Election Odds For Manny Pacquiao Imply Realistic Probability Of Success
Boxer Manny Pacquiao Announces Intentions To Run For President Of The Philippines In 2022
Pacquiao Will Run As The Official Nominee Of The PDP-Laban Party
Presidential Election Odds For Manny Pacquiao Debut Within Hours Of Declaration
Boxing fans around the globe are no stranger to the abilities of Manny Pacquiao. For the better part of the decade of the 2000s, Pacquiao mowed through his competition exhibiting freakish knockout strength, inspiring millions to fantasize about a dream match between him and Floyd "Money" Mayweather.
That match did eventually come, but Manny Pacquiao was well beyond his prime by the time it was booked. Regardless of his Mayweather loss, no one can deny him a spot among the greatest boxers of all time, and he is also a beloved icon in the Philippines.
Pacquiao currently sits with a 62-8-2 win-loss record in professional boxing, however, he is untested in the realm of politics. On Sunday, Manny Pacquiao officially tossed his hat into the political ring as he declared himself a 2022 candidate for President of the Philippines, running as a nominee of the PDP-Laban Party.
Online sportsbooks are now offering international election betting odds on Pacquiao's chances of winning, and so far, the outlook is not good for him to secure the win in 2022.
Manny Pacquiao Odds To Become Next Philippine President
The above Philippine Presidential Election odds posted by BetOnline suggest that Manny has a fighting chance, but is not likely to win the election once all votes are cast.
The odds that political sports betting sites are currently offering were originally set by the bookmakers, but as the line receives action on either side, the moneylines are adjusted until wagers come in evenly for both outcomes.
That said, the above political prop bet suggests that an outcome of "yes" has a 37% chance of occurring, while "no" has a probability of 71%. While that may provide for a gloomy forecast for Pacquiao's political future, those odds are actually fairly promising at this early stage in the campaign process.
Outgoing PH President Rodrigo Duterte is unable to seek another term in office due to a prohibition against serving back-to-back six-year tenures, but that did not stop him from accepting a nomination from another powerful grouping of PDP-Lapan Party members to become their official Vice-Presidential candidate.
The competing Party camp attempted to nominate Sen. Bong Go as their Presidential Candidate to run alongside Duterte, but he refused to accept, leaving that current ticket down one member.
Pacquiao did not mince words when addressing his potential opposition while accepting the nomination on Sunday.
"In my whole life, I have not backed down on any fight. [Corrupt politicians] will soon end in jail together."

Manny Pacquiao's Comments On The Duterte Regime
We expect additional prop bets and election odds to appear for the 2022 PH Presidential Elections. A single line has been created within 24 hours of his acceptance speech, so we expect dozens more across online political sportsbooks in the coming days – especially once an official opponent has been declared.
Source – NPR