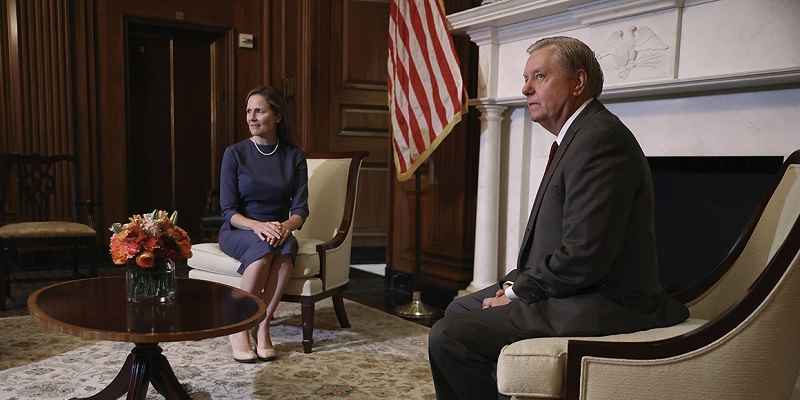 Prop Bets Highlight 3rd Day Of SCOTUS Confirmation Hearings For Amy Coney Barrett
Justice Amy Coney Barrett's US Senate Supreme Court confirmation hearings continue into the third day, and her performance depends heavily upon who is asking the questions.
Supreme Court betting odds have also returned, indicating that offshore books are still focused on these proceedings despite the lines being yanked from the boards recently.
Vermont Senator Patrick Leahy asked ACB earlier today if she thought that the President was above the law, to which she replied, "no." She was less concrete when asked by Leahy if the President had the power to pardon himself, deflecting the question because she has yet to encounter it in court.
Her honesty is somewhat commendable because weighing in on a subject that has not been appropriately researched is never a good idea.
On the other side of the coin, Judge Barrett is likely aware of the current charged political climate, and to claim ignorance in regard to a President's executive power when being considered for the Supreme Court bench has the potential to be viewed as politically motivated.
South Carolina Senator Lindsey Graham, who is the Senate Judiciary Committee Chair, is already calling a meeting for tomorrow that will set the stage for an October 22nd confirmation vote for Amy Coney Barrett, according to CNN.
Two Republican Judiciary Committee members, North Carolina Senator Thom Tillis, and Utah Senator Mike Lee, recently contracted the Coronavirus, and it was thought that there wouldn't be enough members present to have a quorum. Now, with both Lee and Tillis vowing to be there to vote no matter what, Graham and his GOP comrades can now plan for the confirmation fast track.
The GOP currently holds a majority in the US Senate, which is why they are racing to confirm Barrett before the November 3rd elections. Although not likely, there is the potential to lose a majority in the Senate, but even if they lose a seat or two, that opens the door to the possibility of someone flipping their vote to the other side (Mitt Romney, anyone?).
A simple majority is all that is required to confirm the Notorious ACB to the SCOTUS bench, and that's exactly what the betting odds suggest will happen in the following line from Bovada.
How Many Yea Votes Will Amy Coney Barrett Receive In Her Confirmation Vote?
51 -120
52 +300
53 +800
50 +1000
49 Or Fewer +1200
55 +1300
54 +1500
Money line prop bets tend to feature odds for all occurrences in the positive, so negative odds being placed upon the occurrence of a 51 vote confirmation suggest that there may be a few Republican Senators who will vote in opposition.
Bovada has also supplied the following political prop bet that implies that Judge Amy Coney Barrett's confirmation date will almost certainly occur prior to election day.
Next Supreme Court Justice Confirmation Date
Before November 4th, 2020 -3000
After November 4th, 2020 +900
Converting the -3000 odds attached to the next Supreme Court Justice being confirmed prior to November 4th indicates a 97% possibility of its occurrence.
Because the odds are nearly certain, sportsbooks are only willing to risk a small amount of money when taking bets on the SCOTUS confirmation occurring on November 3 or earlier. A wager of $3000 dollars is required to earn $100.
SCOTUS-related odds have come and gone quickly from international sportsbooks offering political odds, so if you are interested in partaking, you may want to get in on the action sooner than later.
Source: CNN