Cruz Control: Ted's Chilly Presidential Election Odds Dip As He Flees To Cancun
February has been particularly tough on Ted Cruz's home district of Texas. Frigid winter storms have blanketed the area with snow causing massive power outages across the Lone Star State.
This predicament has left many elderly and at-risk Texans in a scenario where their life is in danger, and what they could use at this very moment is some swift, effective decision making by their current political leaders.
While it may be unreasonable to suggest that one single US Senator possesses the influence to cut the heat back on statewide, it can be expected that one in a position of leadership would do everything that they can to ensure that their constituents were well on the road to recovery.
Texas Senator Ted Cruz issued the following statement via CNN just yesterday in regard to the storm and his team's efforts to curtail its impact.
"My staff and I are in constant communication with state and local leaders to get to the bottom of what happened in Texas. We want our power back, our water on, and our homes warm. My team and I will continue using all our resources to keep Texans informed and safe."

US Senator from Texas, Ted Cruz
However, the reason that Cruz felt the need to issue the above statement is due to criticism that he is now receiving after travelers photographed him in airports and aboard a plane headed to Cancun, Mexico for a warm-weathered getaway.
Cruz returned immediately to Texas, possibly due to the backlash he faced on social media and on major news networks, and his Presidential Election odds at our top political sportsbook sites have reacted differently to this development.
Odds For Ted Cruz To Become 2024 GOP Presidential Nominee
Bovada
BetOnline
MyBookie
+1200
+6600
n/a
Ted Cruz's betting odds to become the GOP nominee for President of the United States have remained steady at Bovada over the past few days, but he has dipped to the bottom of all potential candidates at BetOnline. MyBookie does not currently feature odds for the eventual 2024 Republican nominee for POTUS.
"With school canceled for the week, our girls asked to take a trip with friends. Wanting to be a good dad, I flew down with them last night and am flying back this afternoon."

US Senator from Texas, Ted Cruz
Ted Cruz's 2024 Presidential Election Odds
Bovada
BetOnline
MyBookie
+3300
+10000
+1200
As you can see by the above 2024 odds to become the next President, each sportsbook site features money line odds for Ted Cruz that vary greatly. This illustrates the importance of belonging to more than one political betting site, as it allows for patrons to select the odds that payout the most money vs. the amount wagered.
There are no US Senate odds for Ted Cruz on the boards at the moment because he is not due for re-election until 2026, well after his potential 2024 Presidential bid.
Ted Cruz has been critical of politicians that have traveled during emergencies in the past. Just last December, Cruz took to Twitter to lambaste a few Democratic opponents who opted for a little R&R instead of dealing with issues in their district in person.
Hypocrites. Complete and utter hypocrites.

And don't forget @MayorAdler who took a private jet with eight people to Cabo and WHILE IN CABO recorded a video telling Austinites to "stay home if you can…this is not the time to relax." pic.twitter.com/KSvkiwxgga

— Ted Cruz (@tedcruz) December 2, 2020
The public mood has now shifted from critique to artistry, as several memes have populated the web placing Senator Cruz into all sorts of travel destinations that are relevant to current events or incorporate past comments that he has made about others.
We'll leave you with a few of our favorite Ted Cruz Cancun memes.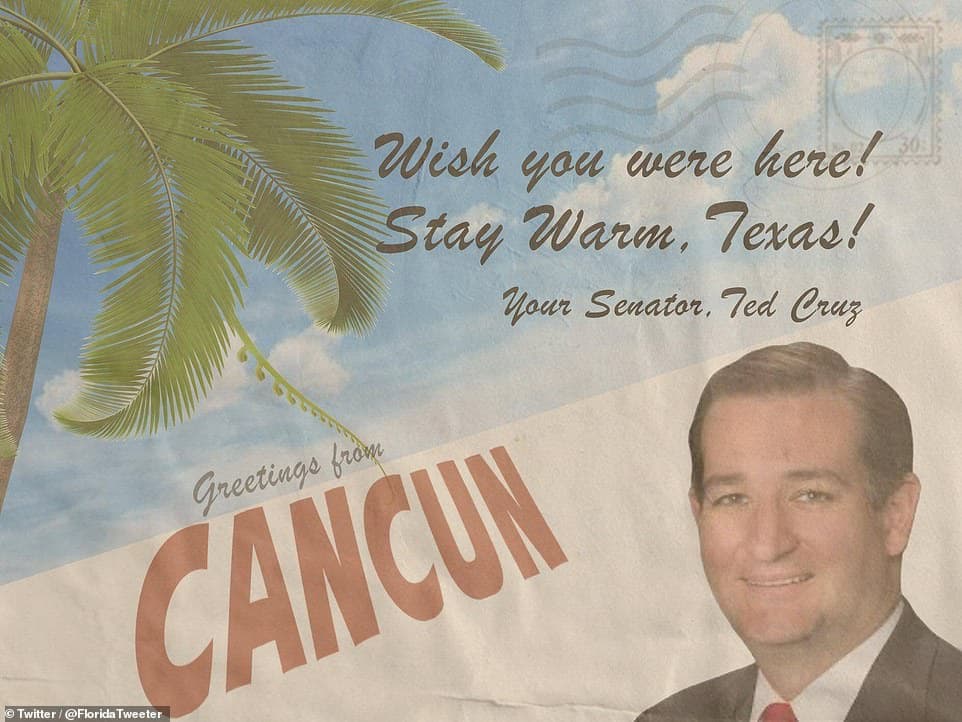 Source: CNN, Daily Mail