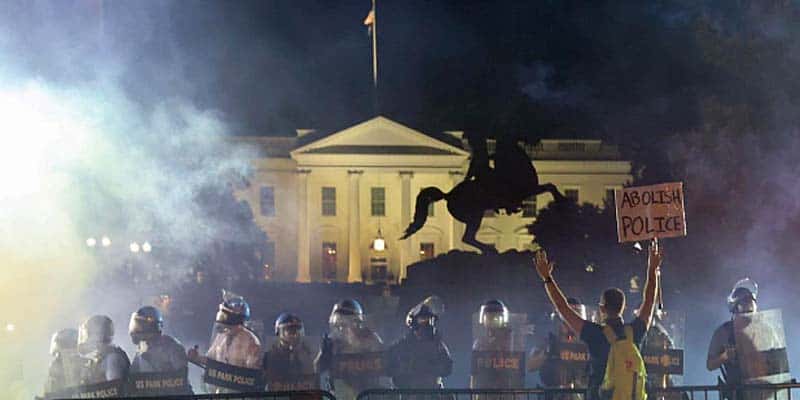 Trump Bashes Romney For Protesting, Considers Message Of Unity
The nation is now two weeks deep into anti-police violence protests, and slowly but surely, changes are occurring as a result.
Just yesterday, the Minneapolis City Council announced their intentions to defund and dismantle the entire Minneapolis Police Department, stating that the corruption was too widespread to consider reformation.
There has also been mention of the White House considering adopting a message of unity, but is it too little, too late?
The political polls have been shifting toward Joe Biden for the last two months, but he has recently taken a commanding lead following the President's responses to the protests that have followed George Floyd's killing by the Minneapolis PD.
More alarming for Donald Trump is his significant slip in the presidential election odds. Poll numbers can be skewed by bias and other factors that will not affect the ballot box results, but betting odds are a much better indicator of what will actually happen.
2020 Presidential Election Odds
Via Bovada
Joe Biden -105
Donald Trump EVEN
Hillary Clinton +4000
Michelle Obama +6000
Mike Pence +6000
Andrew Cuomo +8000
Nikki Haley +12500
The reason odds are a better indicator is that gamblers are putting their money at risk, and the only bias is based on the enhancement of their bankroll. You don't have to like Donald Trump or his policies, but if you think he will win, you are going to bet on him.
The same is true in sports. While most of the country disliked the New England Patriots during the Brady-Belichick era, they also realized that the team was likely to win most of the time, so bettors would not wager against them just to make a point.
As of Monday morning, stock market indexes are rising across the board, and that likely has a lot to do with why Trump's declining odds have stabilized for the moment.
Perhaps a message of unity from the Oval Office could reverse Trump's fortunes, but with tweets like the following, his bed may be already made.
Tremendous sincerity, what a guy. Hard to believe, with this kind of political talent, his numbers would "tank" so badly in Utah! https://t.co/KqHsHmSRKo

— Donald J. Trump (@realDonaldTrump) June 8, 2020
Trump continues to mock not only the Black Lives Matter movement but members of his own political party. Some voters may be swayed by a message of unity from Trump, but we won't know for sure the full impact of the last few weeks until November.
Despite Trump's claim that Mitt Romney's Utah approval ratings are in the "tank," KUTV2 CBS News is reporting just the opposite. A few months back Romney was hovering around 36% approval, but a more recent poll has him at above 51% percent among Utah voters.
It may seem odd for Trump to mention someone else's approval ratings when his are actually "tanking" at the moment, but that is his style. When the pressure is on him, he seems to ignore it, instead attacking his opponents with fierce verbal aggression.
This type of misdirection served him well during his 2016 presidential campaign, and it appears that he will stick to that strategy in 2020.
However, Romney is not up for reelection this year and is not running against Trump for the Republican nomination. The next few moves that the President makes will likely provide the groundwork for the future of his campaign. Where he goes is anyone's guess, but Trump's election chances are riding on it.