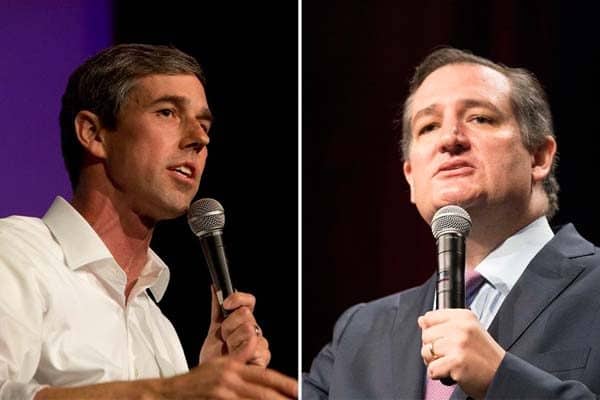 Will Texas Stay A Red State or Shift to Blue As Midterm Senate Election Nears
The Lone Star State has historically voted Republican due to low Democratic voter turnout during elections.
Former Presidential candidate and Republican Texas Senate seat incumbent Ted Cruz is currently campaigning to keep his state red and secure his next Senate term. Democratic challenger Beto O'Rourke has gained traction and grassroots funding in Texas using progressive campaign tactics which have garnered the Republican party's attention. Independent polls have even shown trends with Beto close behind Cruz, which traditionally does not occur in the red state.
Despite Cruz being the incumbent and holding favorable money lines odds at -230 at premium sportsbooks, numerous Republican members are concerned about Cruz's lack of likeability affecting the 2018 Senate election in favor of Beto. Beto has campaigned in all 254 counties in Texas, has attempted to seek out rural Texan voters, and listened to the needs and concerns of all Republicans. Beto's campaign focuses on unity by transcending party labels which have led to the growing momentum behind his campaign and wider name recognition, however, some bookmakers have Beto's current odds of winning at +190.
The Texas Senate election holds significance in terms of the direction of future state policies and so forth. Cruz currently maintains the support of special interest group and large corporate-PACS, in addition, the U.S. President Donald Trump has stated he would visit Texas to show support for Cruz in a major rally, putting aside comments and quips made in the 2016 Presidential election. Such a rally may come due to the national attention Beto received after outraising Cruz through small-dollar contributions valuing nearly $10.5 million with no PAC assistance.
A Democrat has not won Texas's statewide election since 1994, however, Republicans are concerned over noticing Beto's campaign signs posted in historically strong Republican areas. Beto's campaign has embraced disgruntled centrists, independents, and moderate Republican voters in hopes of unseating Cruz. Some of Beto's campaign promises revolve around supporting immigration reform, citizenship for dreamers, ending the war on drugs, and improved education, universal health care, and criminal justice reform.
Cruz has maintained his Senate seat since 2013 and believes Texas has more conservatives which support Cruz than the opposite. Cruz's campaign strategies are traditional and appealing to die-hard Republicans. On the other hand, Beto's utilization of social media and total campaign coverage over every one of Texas's 254 counties has gained the support of young and old voters alike, respectively.
Several Republicans are counting on the low turnout of Democratic voters and believe Beto cannot secure the polls on election day. TX is known to be a non-voting state where voters usually stay at home and are not actively at the polls. Historically, Texas has voted Republican each time by a substantial number of points.
This voter turnout issue only means Beto and Cruz must encourage voters to take action on election day. Cruz has recently gained the full support of Texas Women for Trump Coalition, a get-out-and-vote group which is key to securing a large Republican turnout. Despite such support, Cruz continues to speak on Beto's campaign as extreme leftist ideals in hopes of encouraging conservatives to hit the polls to combat the fear of their Lone Star state shifting from red to blue.