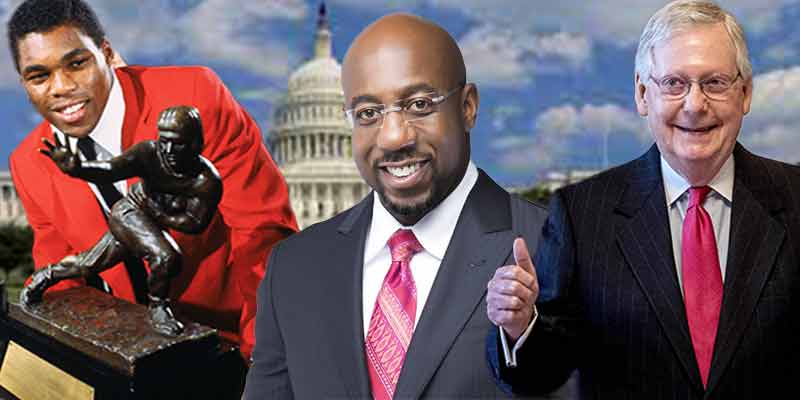 Political Odds Imply DNC Senate Majority Following 2022 Midterm Elections
The Democratic Party currently controls the US House, Senate, and the White House, and now they are setting their sights on retaining that power by taking care of business in November of 2022.
The DNC and the Republican Party each hold 50 seats in the US Senate, and the Democratic Vice President/Senate President serves as the tie-breaker which delivers her side the majority. Technically, 2 US Senators identify as Independents but align with the DNC.
Midterm election day is 18 months away, but online political sportsbooks are offering odds on the 2022 US Senate balance of power now, and it doesn't look good for the GOP.
2022 US Senate Election Odds
Democrats -130
Republicans -110
Although these odds currently favor the Democrats retaining control, it should be noted that this betting line is introductory, and the money line for both occurrences is listed in the negative.
That means that more money will need to be risked versus the amount that can be won no matter which way you spend your money at online sports betting sites offering odds on the Midterm elections.
In November of 2022, there will be 34 seats for the taking, with 14 of those currently belonging to a member of the DNC, and 20 to the Republicans.
12 members from each party have declared their intention to seek re-election so far while 5 GOP Senators have decided to call it a career and retire.
Senate Minority Leader Mitch McConnell recently won his re-election bid and will be in office until at least 2026, but he would love to flip his chamber back into the direction of the Republican Party and take back power during what could be his final four years in Washington, D.C.
Current Senate Majority Leader Chuck Schumer is up for reelection in his home district of California. Senator Schumer's reelection odds, when they debut, will likely represent a near-certain probability of victory for him, and will only be produced due to his national popularity.
Former University of Georgia Heisman Trophy-winning running back Herschel Walker recently received an endorsement from Donald Trump to run against sitting Georgia Senator Raphael Warnock.
Now it appears that Walker is considering running against Warnock in 2022, but his current status as a Texas resident may cause for a wrinkle in those plans.
Warnock just won a hotly contested runoff election this past July, and now he's already gearing up for what appears to be building toward a fiercely contested 2022 midterm cycle.
"I'm very honored that they would consider me running for the Senate, and my family, we're still going through this process of praying and really considering it."

Herschel Walker
Walker is beloved in Georgia, but the Peach State recently flipped blue in both of their US Senate runoff elections, and regional constituents may not be so eager to hand off leadership to the GOP once again.
We anticipate that Warnock vs. Walker will produce Georgia US Senate election odds that will light up the boards as soon as the former NFL tosses his hat in the ring and decides to run. The kicker is, with the potential for one seat to decide which party is the majority, or the minority in the US Senate, the winner of Walker vs. Warnock could decide the future of politics in the United States.
Betting Odds – BetOnline
Source – Washington Insider