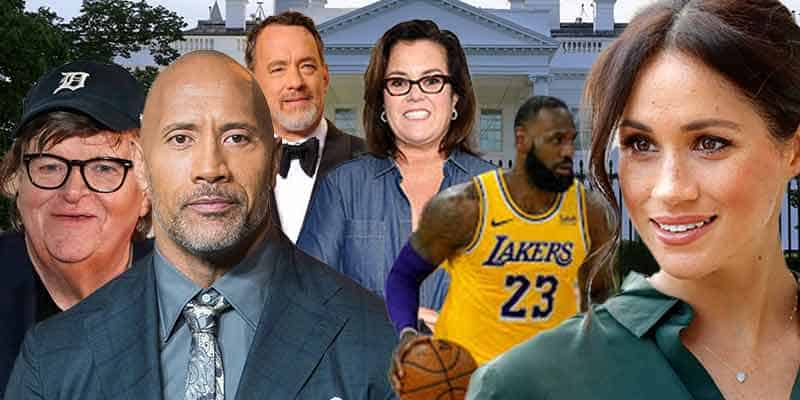 2024 Presidential Odds Now Feature Hollywood A-Listers & Fortune 500 CEOs
President Biden is now just over two full months into his first term of a post that he will hold until at least January of 2025. The 2024 Presidential campaigns will not get underway until late 2022, which provides a long break between any potential candidates becoming prominent in the election odds – or does it?
BetOnline has decided to remove that gap and post a futures line that provides action on any potential candidate that may declare themselves eligible for the 2024 Presidency.
Speculative futures are common at online political betting sites that offer election odds, but in this case, the options now include several Hollywood A-Listers, CEOs of billion-dollar-plus organizations, professional athletes, and members of the British Royal Family.
Odds To Run for US President In 2024
Donald Trump Sr. +125
Donald Trump Jr. +400
Ivanka Trump +400
Tucker Carlsson +500
Dwayne "The Rock" Johnson +800
Jeff Bezos +1200
Kimberley Guilfoyle +1200
Lara Trump +1200
Mark Zuckerberg +1800
Roger Stone +2000
Scott Baio +2000
James Woods +2500
Michael Moore +2500
Lebron James +3300
Meghan Markle +3300
Meryl Streep +4000
Tom Hanks +4000
Henry Winkler +5000
Oprah Winfrey +5000
Rosie O'Donnell +5000
Political prop bets like the above typically only allow for one winner, but in this instance, any potential candidate that files the paperwork to run for President in 2024 will cash in.
With that in mind, Dwayne "The Rock" Johnson may be a legitimate option for your betting consideration. His current television series, "Young Rock," features a future President Dwayne Johnson providing the narration.
Where there's smoke, there's fire, and a run by Johnson in 2024 will payout at 8 to 1.
FOX News host Tucker Carlson has mentioned in the past that he intends to run for President of the United States in 2024, but his decision will largely rest on whether Donald Trump retains his grip on the GOP and runs for a second term.
Still, Carlson is paying out at $5 for each $1 risked, and the probability of this occurrence will only rise as campaign season approaches.
Former Amazon CEO Jeff Bezos is also in the mix with a +1200 money line. Early rumors suggested that Bezos would attempt to purchase an NFL team, but with no development in that area as of yet, perhaps he could turn his sights to attaining the White House next election cycle.
Meghan Markle and Prince Harry's recent public separation from the British Royal Family will certainly clear up the couple's free time for new pursuits, but could the Oval Office be one of them?
Election sportsbook sites would have a field day if the likes of Rosie O'Donnell or Oprah Winfrey stepped up as 2024 Democratic Candidates.
Neither has officially expressed interest in the job, and even if they were, it would be more reasonable to wait until an election year where a DNC incumbent was not running for office.
That's the real benefit of futures odds. No one knows what tomorrow holds, so a wager on Michael Moore to run for President in 2024 may make more sense in a few months' time.
Source: Huffington Post