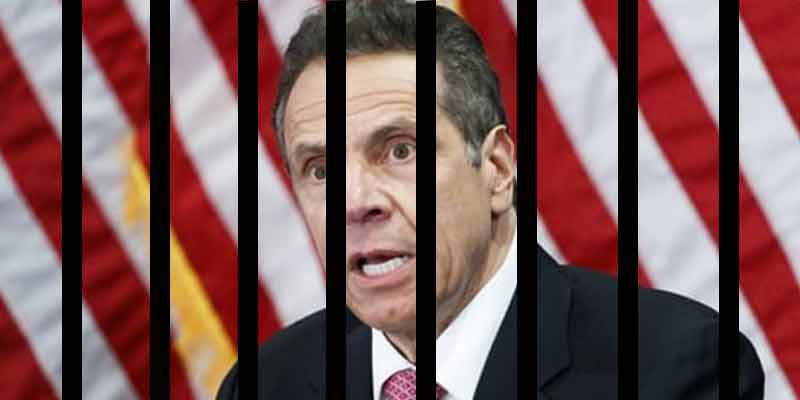 Former Presidential Odds Favorite Andrew Cuomo Charged With Sexual Harassment Of Aide
On Thursday, charges were brought up in misdemeanor court that accuse former Governor of New York Andrew Cuomo of groping a female aide in November of 2020.
If convicted, Cuomo could potentially serve up to one year in prison, however, given his clean criminal record, that sentence could be reduced to an at-home arrest or probation. That scenario could change significantly if any of Cuomo's other 10 allegations of sexual misconduct gain traction.
Andrew Cuomo is scheduled to appear in court on November 17th, and he is expected to turn himself over to the police at some point next week.
"[Cuomo] put his hand up my blouse and cupped my breast over my bra. The governor needs to be held accountable. What he did to me was a crime. He broke the law."

Brittany Commisso, Former Aide Of Gov. Cuomo
The groping capped off a developing pattern of concerning behavior from the former Governor that first began as extended hugs but expanded into kisses and unwarranted physical touching of the rear end and elsewhere.
Last fall, New York State Attorney General Letitia James began an investigation into at least 11 allegations of inappropriate sexual advances made by Andrew Cuomo to members of his staff or other state workers. Days later, Commisso revealed Cuomo's unwarranted touching in an interview on CBS.
Cuomo immediately resigned from office following the interview on CBS, but the criminal charges filed yesterday seemed to surprise all parties involved. Could this merely be a legal strategy preempting a tidal wave of criminal charges that are about to come crashing down on Andrew Cuomo?
Political pundits also believe that AG James has her eyes set on the Governor's Mansion in 2022, and these charges could bring the onset of her campaign.
New York Gubernatorial odds are now taking action at BetOnline that heavily favor the Democratic Party in 2022, and that should come as no surprise as the state consistently leans blue.
Next New York Governor Odds For Winning Party
Democrats -10000
Republicans +1500
The above political prop bet implies a certain victory in New York for the DNC in 2022, but which candidate of the Democratic Party is favored to compete against the GOP's best contender?
Interim Governor Kathy Hochul is tied with AG Letitia James for the lead in the Gubernatorial betting odds, with all other contenders separated by at least 1900 points in the moneyline.
New York Democratic Primary Odds
Letitia James -110
Kathy Hochul -110
Jumaane Williams +2000
Bill De Blasio +2500
Alexandria Ocasio-Cortez +8000
Alessandra Biaggi +8000
Andrew Cuomo +10000
Kirsten Gillibrand +10000
Tom DiNapoli 10000
Laura Curran +12500
Mike Gianaris +12500
Steve Bellone +12500
Hillary Clinton +25000
Andrew Yang +30000
Scott Stringer +30000
US Representative from New York Alexandria Ocasio-Cortez's betting odds are mostly present due to her popularity in the Empire State, but if she were to announce her intentions to run for Governor, she would immediately be propelled to the top of the pack.
Sadly, Cuomo is also still featured in the odds but a victory would almost certainly involve a clean criminal record, and his court proceedings may not be wrapped up in time.
A year out from election day, the race to become New York's next Governor appears to be a close one between James and Hochul, and the odds will take action until a winner is announced.