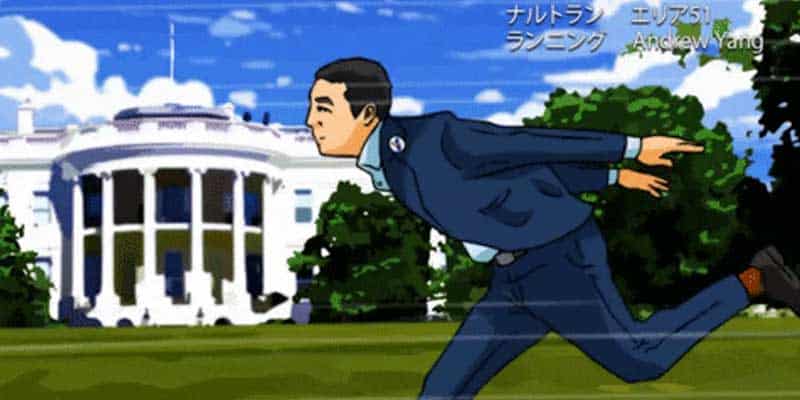 Andrew Yang Moves Up To Third In Latest 2020 Democratic Nomination Odds
Andrew Yang is officially on the medal podium.
According to the latest listings on the 2020 Democratic Nomination odds board at Bovada Sportsbook, Yang is placed third among all candidates seeking to win the party's nomination.
Yang's chances vary from site to site, so it's important to keep that in mind.
However, the other political betting sites we track haven't seen movement in the past couple days, but the politics board at Bovada now has the New York entrepreneur taking home the Bronze medal if the nomination was decided today.
Andrew Yang's Odds – By Political Betting Sites
2020 Democratic Nomination Odds – 10/4/19
Although Yang's 2020 Democratic Nomination odds are higher at BetOnline, seeing him in third place at Bovada is a significant milestone since it's the highest he's placed since launching his presidential campaign back in November 2017.
Unfortunately, the rise appears to have resulted from Vermont Senator Bernie Sanders taking a significant hit the latest political odds at Bovada.
Just last week, Sanders was listed in third place at +700 odds but has now fallen to fifth place with the board showing him at +1200 odds.
However, it appears that the public betting market did not like the recent news that the 78-year-old Senator would be having emergency heart surgery to clear a clogged artery.
Yang, on the other hand, took to Twitter to wish Sanders on a speedy recovery.
Oh no. Stay strong Bernie. 🙏🇺🇸 https://t.co/wc7dzM8Yfv

— Andrew Yang🧢 (@AndrewYang) October 2, 2019
There is good news for bettors thinking that Democrats will feel the Bern when the primaries roll around: Sanders is already "up and about" after the minor surgery, and his campaign said he's 100% going to be on the October debate stage.
And if Sanders shows he's back to 100% health, then he could see a bit of a rebound, but it's pretty clear this week's news scared the public market.
For now, Yang takes another leap forward—alongside Sound Bend Mayor Pete Buttigieg, oddly enough—and continues to close the gap between him and the top two Democratic frontrunners.
2020 Democratic Nomination Odds
Politics Futures at Bovada – 10/4/19
Elizabeth Warren +100 (EVEN)
Joe Biden +350
Andrew Yang +1000
Pete Buttigieg +1000
Bernie Sanders +1200
Kamala Harris +1400
Hillary Clinton +1600
Tulsi Gabbard +3300
Beto O'Rourke +5000
Cory Booker +6000
Michelle Obama +6000
Amy Klobuchar +7500
Tom Steyer +10000
Julian Castro +10000
Marianne Williamson +10000
Oprah Winfrey +10000
Michael Bennet +12500
Tim Ryan +12500
Andrew Cuomo +15000
Bill De Blasio +15000
John Delaney +15000
Stacey Abrams +15000
Robby Wells +20000