Baby Yoda Might Be The Democrats' Only Hope To Beat Trump
Help the Democrats, Baby Yoda. You're their only hope to beat Donald Trump.
Unless you've been living under a rock—or you're from a long time ago in a galaxy far, far away—then you're probably familiar with "Baby Yoda" a.k.a. the Internet's most loveable, adorable, and memeable character from the new Disney+ Star Wars series "The Mandalorian."
In the age of the Internet, social media engagement is an important statistic to help anyone running for office build momentum for their campaign.
Regardless of the site, the number of comments, likes, or shares a candidate gets can provide some interesting takeaways for stat junkies.
Although online interaction isn't the only metric that should be valued, it is something that simply can't be ignored as our society becomes more connected than any point in history.
Recently, a NewsWhip study commissioned by Axios—from Nov. 12 to Nov. 25—revealed that the Democratic presidential primary field is lagging far behind Baby Yoda in terms of social media interactions on Facebook and Twitter.
According to the graph from Axios, Baby Yoda beats the average social interactions per story even when the top two Democratic candidates—Joe Biden and Bernie Sanders—combine their totals.
While President Trump is not included in the graphic, it's hard to imagine Baby Yoda, as "hot" as he is right now, topping him. Between the impeachment hearings, the almost certain trial next year, and currently holding office, Trump sucks up the vast amount of coverage by all the news media outlets in the country.
In addition, Trump's social media presence, especially on Twitter, carries by far the most value out of any candidate currently in the 2020 race.
According to Tweet Binder, every tweet from the @realDonaldTrump Twitter account has an estimated market value of over $82K, while each tweet also has an average engagement value of nearly $1 million.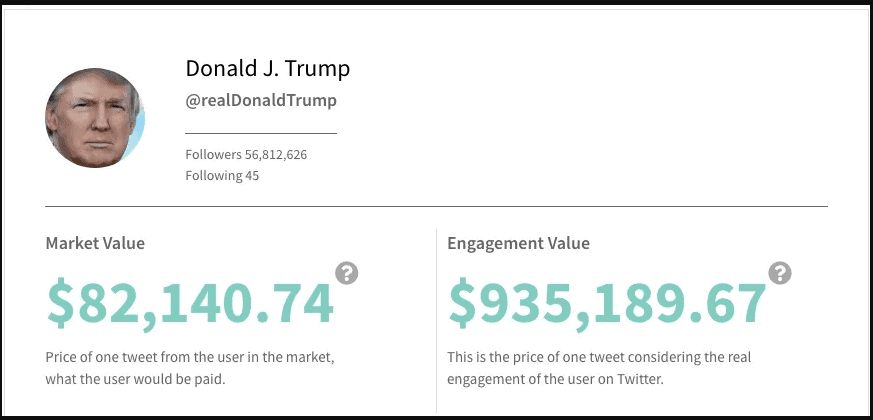 Unfortunately for Baby Yoda, he doesn't meet the necessary requirements to run for president. Although he is 35 years of age or older (he's apparently 50 years old as an infant in "The Mandalorian"), Baby Yoda is neither a natural-born citizen of the United States or a resident for the past 14 years, as required in the US Constitution.
However, due to the popularity of the new Star Wars character, Baby Yoda may top other joke candidates for the 2020 election.
High profile candidates such as Deez Nuts, Harambe, Butt Stuff, Beast Mode, Captain Crunch, Cranky Pants, and Limberbutt McCubins have made their mark in past elections, and we believe Baby Yoda could be a Force to be reckoned with next year. Side note: Be on the lookout for a Baby Yoda political prop bets in 2020.
Unfortunately, since Baby Yoda is not eligible for the Oval Office, the cute little green infant can't receive betting odds, and thus, has no chance to win.
However, whoever wins the Democratic nomination will need to find a way to capture that same online interaction energy if Trump is to be defeated.
The latest odds for the 2020 presidential election still show Trump as the clear favorite at +125, which gives him an approximately 44.44% implied probability to win reelection next year.
When looking at Trump's current chances next year, no other Democrat comes close to the Republican incumbent as 2019 comes to a close.
Former Vice President Biden currently has the best chance, according to the latest Democrats nominee odds. But even Biden only sits at +550 odds, which means the oddsmakers at political betting sites believe he has only a 15.38% chance at this point in the race.
In other words: May the Force be with the Democrats—because the eventual nominee is going to need all the energy he or she can muster to take down Trump's social media Empire.
2020 Presidential Election Odds
Via Bovada – 12/3/19
Donald Trump +125
Joe Biden +550
Pete Buttigieg +650
Elizabeth Warren +800
Bernie Sanders +850
Michael Bloomberg +1600
Andrew Yang +2000
Hillary Clinton +3000
Mike Pence +4000
Amy Klobuchar +5000
Nikki Haley +5000
Tulsi Gabbard +6000
Kamala Harris +8000
Michelle Obama +8000
Mitt Romney +10000
Cory Booker +15000
Julian Castro +20000
Tom Steyer +20000
Howard Schultz +25000
John Kasich +25000
Mark Cuban +25000
Oprah Winfrey +25000
Tammy Duckworth +25000
Trey Gowdy +25000
William (Bill) Weld +25000
Jeb Bush +30000
Marco Rubio +30000
Marianne Williamson +30000
Ted Cruz +30000
Tim Kaine +30000
Bill De Blasio +50000
George Clooney +90000
Kanye West +90000