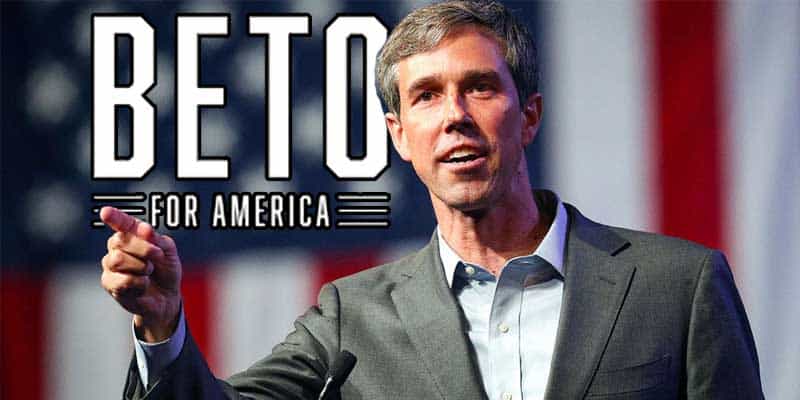 Beto O'Rourke Officially Announces 2020 Presidential Campaign, Enters Race with Top 5 Odds
After making his decision over two weeks ago, the wait is finally over.
Former Texas Rep. Beto O'Rourke (+1000|9.09%) officially announced Thursday morning that he will seek the Democratic nomination and will run for president in 2020.
O'Rourke made the announcement on Twitter alongside his wife, Amy, with the former congressman stating, "Amy and I are happy to share with you that I'm running to serve you as the next president of the United States."
I am running to serve you as the next president. The challenges we face are the greatest in living memory. No one person can meet them on their own. Only this country can do that, and only if we build a movement that includes all of us. Say you're in: https://t.co/EKLdkVET2u pic.twitter.com/lainXyvG2n

— Beto O'Rourke (@BetoORourke) March 14, 2019
O'Rourke said in his announcement he is running for president to fix the broken and corrupt systems in our democracy and ensure that everyone is provided with health care.
"We can invest in the dignity of those who work, and those who seek to work," O'Rourke said. "We can ensure that every single American can see a doctor and be well enough to live to their full potential."
In addition, O'Rourke said he believes immigrants should have a lawful path to work and criminal justice reform should be enacted.
"And all of us, wherever you live, can acknowledge that if immigration is a problem, it's the best possible problem for this country to have, and we should ensure that there are lawful paths to work, to be with family, and to flee persecution," O'Rourke said.
He added: "We can work on real justice reform, and confront the hard truths of slavery, and segregation, and suppression in these United States of America."
Lastly, O'Rourke said he wants to work toward solving the most important challenge we face: climate change.
"Perhaps most importantly of all, because our very existence depends on it. We can unleash the ingenuity and creativity of millions of Americans who want to ensure that we squarely confront the challenge of climate change before it's too late," O'Rourke said.
O'Rourke stated that he wants to run a positive campaign and is inviting everyone to join him on March 30 in his hometown of El Paso, Texas, where he will officially launch his 2020 presidential campaign.
Currently, O'Rourke's 2020 presidential odds have him in 5th place at +1000, giving him an implied probability of 9.09% or "chance to win" the White House next year, according to oddsmakers.
Only Sen. Kamala Harris (+600|14.29%), Sen. Bernie Sanders (+600|14.29%), and former Vice President Joe Biden (+700|12.50%) have better betting odds among the Democratic favorites at the moment while President Donald Trump (+230|30.30%) is the current overall favorite to be elected President next year.
With the announcement today from O'Rourke, Biden remains the only top Democratic contender who has yet to officially enter the race. However, earlier this week the former Vice President hinted about launching his 2020 campaign next month.
O'Rourke rose to national prominence during the 2018 midterms when he nearly beat 2016 Republican presidential candidate and incumbent Sen. Ted Cruz for his seat in the Senate.
Additionally, the 46-year-old former congressman from El Paso also made headlines during the midterms by raising more money than any Senate candidate in U.S. history, totaling over $80 million by the end of his campaign.
Until late February, it wasn't clear whether O'Rourke would join the 2020 presidential race since there was the possibility of him launching another Senate bid against incumbent Republican Sen. John Cornyn. However, people from inside O'Rourke's inner-circle dismissed this idea of running for the other Senate seat in Texas, which made the announcement of his presidential campaign all-the-more likely.
O'Rourke joins a crowded field of 14 Democratic candidates who've already launched their 2020 campaigns to challenge President Trump and does so with a little over 10 months before the Iowa caucuses — the first stop during the primary election season.
O'Rourke will be at the first 2020 presidential primary debate, which will be hosted by NBC News, MSNBC, Telemundo in June. The Democratic National Committee has yet to announce an official date for the event.