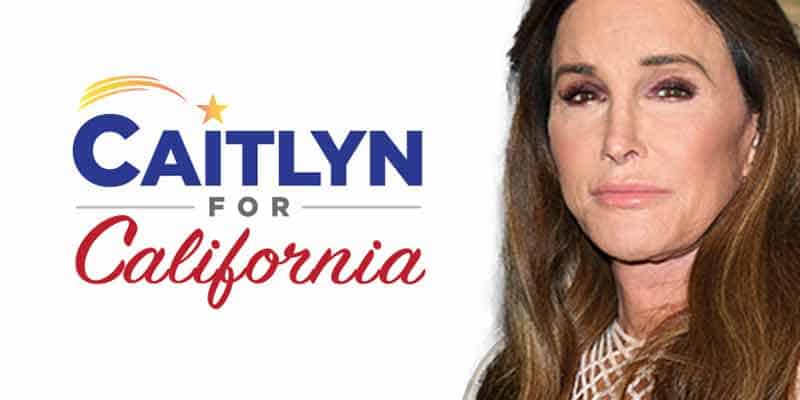 Political Sportsbooks Don't Predict New-Look GOP Following Caitlyn Jenner's CA Gubernatorial Run
The 2022 California Gubernatorial election cycle just got a little more interesting, as Caitlyn Jenner has now announced her intentions to enter the race as an official GOP candidate.
Online political betting sites didn't hesitate to offer the following betting line that predicts Jenner's chances of winning and becoming California's 41st Governor.
Will Caitlyn Jenner Be Elected As California Governor In 2022?
The above California political betting odds suggest that Jenner does not have much of a shot to win the Governorship of the Golden State, but election day is not until November of 2022, and there's a whole lot of campaigning left to do before votes are cast.
The -2500 probability of "no" means that Jenner's probability of winning is in the neighborhood of a 1-in-25 chance.
Because this line is so early, bettors can take advantage of Jenner's +800 money line placed on her chances of making a successful run for the Governor's Mansion in Sacramento. $1 wagers on Caitlyn to win will earn $8 if she is elected.
The spectrum of political betting tends to focus on Presidential election odds and US Senate and House races, but as of late, the realm has been expanding to include mayoral elections and gubernatorial campaigns that have captured national attention.
California is the most populated state in the USA, and features all the glitz and glamour that Hollywood's entertainment industry provides.
Even with that added attention, California's gubernatorial elections typically do not inspire betting lines at popular online sportsbooks that include political odds among their services.
The real intrigue is the inclusion of Jenner as a candidate. Caitlyn Jenner is a transexual female that used to identify as Bruce Jenner, a popular Olympic gold medal winner in the sport of track & field.
Jenner also provides for an intriguing candidate in California because she will run as a Republican. California has long been a DNC hotbed, but it also must be noted that the state voted to elect Arnold Schwarzenegger as a member of the GOP not too long ago.
Arnold, however, is a progressive Republican that recognizes the importance of environmental protection practices, something that goes a long way with CA's constituents.
Jenner falls in line with traditional Republican values and does not endorse or support former President Donald J. Trump.
Her opposition to Trump and his followers, as well as her status as transgender, has the potential to endear Jenner to left-leaning constituents of California, but it is still too early in the campaign cycle to gain insight into regional buckets of support.
Before the 2022 campaigns can begin, current CA Governor Gavin Newsom (D) may face a recall election this fall. That recall will either determine who Jenner will face as the incumbent in 2022, or could award her the Governorship should she decide to participate in 2021.
This is the fifth attempt to remove Gov. Newsom from office prior to the conclusion of his term, but this time, the effort has legs because the required 1.5 million signatures have now been collected.
The following 2021 Gubernatorial betting odds favor Newsom to retain his office, but also features Jenner in second place, should she decide to run.
Politics Special Props – California Governor On 12/31/21
Gavin Newsom -1500
Caitlyn Jenner +800
The political climate in California is rocky at the moment, and the next few months could serve to tip the balance of power and influence across the country. This will be an election, or two elections, worth paying close attention to.
Source CNN