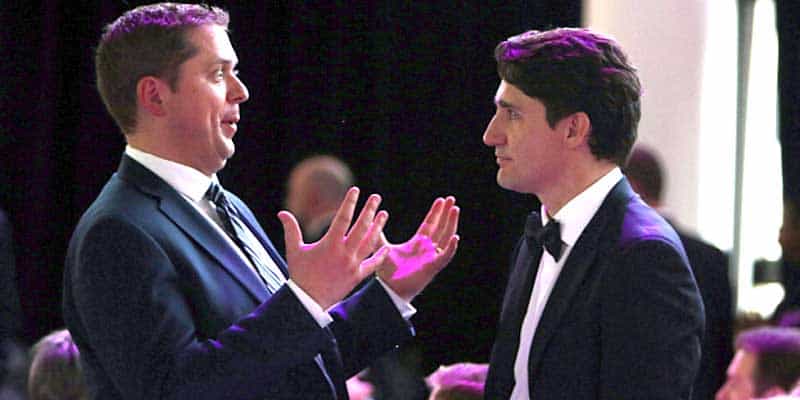 O Canada odds! Scheer is favored over Trudeau in the Canadian federal election, eh?
The name of this site will not be changed to Prime Minister Election Odds, but it is still wise to keep an eye on our Canadian neighbors' federal election.
The 2019 Canadian federal election, formally known as the 43rd Canadian general election, is scheduled for October 21 when Justin Trudeau and his Liberal Party of Canada try to retain the majority government that they secured in 2015.
Trudeau has -110 to be reelected Prime Minister next month. When Trudeau won his first election in 2015, it was historical. The Liberals won 184 out of 338 seats, 39.5% of the popular vote, and gained 150 seats over the 2011 election.
Trudeau's popularity was explosive in the eastern half of Canada. Trudeau even won 40 seats in Quebec, the most for the Liberals since his father, Pierre Trudeau, was elected as the 15th Prime Minister.
However, the current PM's approval has fallen in recent years.
Following an ethics investigation ruling that Trudeau violated four Conflict of Interest Act provisions during a vacation in 2017 and inviting Khalistani nationalist Jaspal Atwal to the Canadian High Commission's dinner party in 2018, Trudeau's reelection is not guaranteed.
Although Trudeau is the incumbent, the candidate with the best odds is actually the Conservative Party's Andrew Scheer at -140 odds.
Scheer rose to prominence in 2011 when he became the youngest Speaker of the House Commons ever and the first to represent a Saskatchewan riding. In 2017, Scheer was elected as the second full-time leader of the Conservative Party of Canada with 50.95% of the vote.
But with a video of Scheer resurfacing from 2005 where he claims that "homosexual unions" do not have the "inherent feature" of marriage, his odds could slip before the election.
Trudeau and Scheer are the only candidates with a real shot at getting elected, although there are four others running in the federal race.
Jagmeet Singh of the New Democratic Party is third in odds with +2000 odds. After Singh, Maxime Bernier of the People's Party has +6600 odds, Elizabeth May of the Green Party has +25000, and Yves-François Blanchet from the Bloc Québécois has +75000.
2019 Canadian Federal Election Odds
Via Bovada
Andrew Scheer

-140

Justin Trudeau

-110

Jagmeet Singh

+2000

Maxime Bernier

+6600

Elizabeth May

+25000

Yves-François Blanchet

+75000