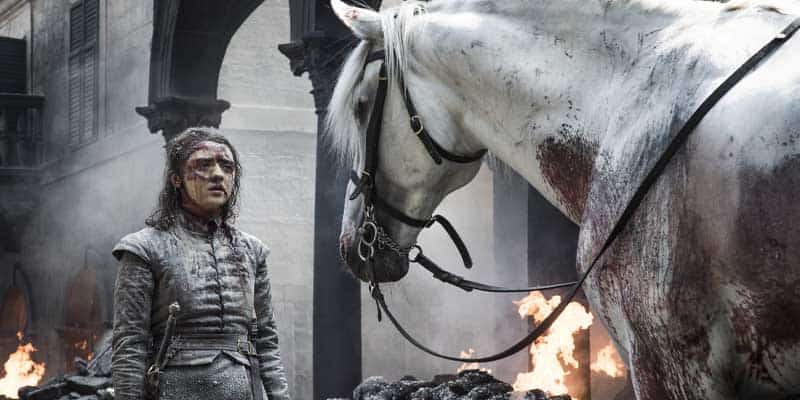 Game of Thrones series finale betting odds and props: Who will win the Iron Throne election?
What do we say to the God of Odds?
Bet today.
Unless you've been living under a rock — or a collapsed King's Landing after last week's episode — the final episode ever for Game of Thrones airs this Sunday, May 19, at 9 pm ET on HBO, and show's series finale will likely be the most bet on event in the history of television entertainment.
But why is it such a big deal? Well, after 8 seasons of GoT, we will finally find out which character will win the 2019 Iron Throne election, aka the biggest and most important event in the history of Westeros.
We've seen some of our favorite characters have their heads being chopped off, throats slit, backs stabbed, cups of wine poisoned, private parts mutilated, and bodies burned alive (and almost everyone got lit up last Sunday) — all to be the one who sits on the Iron Throne and become the Ruler of the Seven Kingdoms of Westeros.
Basically, it's the 2020 Presidential Election in a fantasy-like nutshell. But in GoT, the sword is much mightier than the pen.
Oh, and it looks like having a fire-breathing dragon helps too. Surprise, surprise.
But all of that is finally coming to an end in Episode 6, and by the end of this week's episode. Here's the preview:
Watch Game of Thrones Final Episode Preview
And if you want to get in on the action or are just curious to know who might be the King or Queen of the Seven Kingdoms when the show finally comes to an end, then no need to worry because we've got you covered.
Below you'll find all of the Game of Thrones betting odds and prop bets available for the series finale, which can be found in the "Entertainment" sections at MyBookie and BetOnline.
Who will sit on the Iron Throne? No one knows for sure, but the oddsmakers can give you an idea of who has the best chance to either "win the Game of Thrones or die" heading into the final episode.
We hope you enjoy Sunday's finale for Game of Thrones and wish you the best of luck on all of your bets for this special election.
And now, our watch has ended.
Game of Thrones Series Finale: Who will sit on the Iron Throne?
Who will rule Westeros at the end of season 8?
Bran Stark -450
Sansa Stark +450
Jon Snow +900
Gendry +1000
Tyrion Lannister +1500
Daenerys Targaryen +2000
Arya Stark +3500
Jon and Daenerys' Baby +5000
Petyr Baelish +6000
Samwell Tarly +7500
Brienne of Tarth +20000
Bronn +20000
Davos Seaworth +20000
Jaqen H'ghar +20000
Yara Greyjoy +25000
Daario Naharis +50000
Gilly +50000
Tormund Giantsbane  +50000
Game of Thrones Season 8 Episode 6 Prop Bets
Who will be the last character to speak in the Final Episode?
Samwell Tarly +100
Jon Snow +200
Tyrion Lannister +200
Bran Stark +500
Sansa Stark +1000
Daenerys Targaryen +1200
Arya Stark +1400
Bronn +2000
How will Daenerys Targaryen die?
Sword or Dagger -600
Survives +300
Axe +800
Hanging +1000
Takes Own Life +1000
Arrow +1600
Physical Force +2000
Poison +2200
Fire +6600
How will Jon Snow die?
Survives -600
Sword or Dagger +300
Fire +500
Axe +600
Hanging +600
Physical Force +1600
Arrow +2000
Takes Own Life +2000
Poison +2500
Will Jon Snow kill Daenerys Targaryen?
Which Stark will die first?
Arya -200
Sansa +150
Bran +600
Will Tyrion Lannister survive at the end of season 8?
Will Tyrion Lannister die in the Final Episode?
Will Grey Worm die in the Final Episode?
Jon Snow vs. Bran Stark: Who will die first?
Jon Snow -300
Bran Stark +200
Arya Stark vs. Sansa Stark: Who will die first?
Arya Stark -230
Sansa Stark +160
Episode 6 Metacritic Score – Over/Under
Over 74.5 Metascore +100
Under 74.5 Metascore -140
Episode 6 Rotten Tomatoes Score – Over/Under
Over 5.5 out of 10 -250
Under 5.5 out of 10 +170
How many Starks will die in the Finale Episode?
Over 1.5 Starks +700
Under 1.5 Starks -1500
How many named characters will Drogon kill in the Final Episode?
Over 0.5 +200
Under 0.5 -300
Will the four remaining Stark be shown together?
Will there be nudity in the Final Episode?