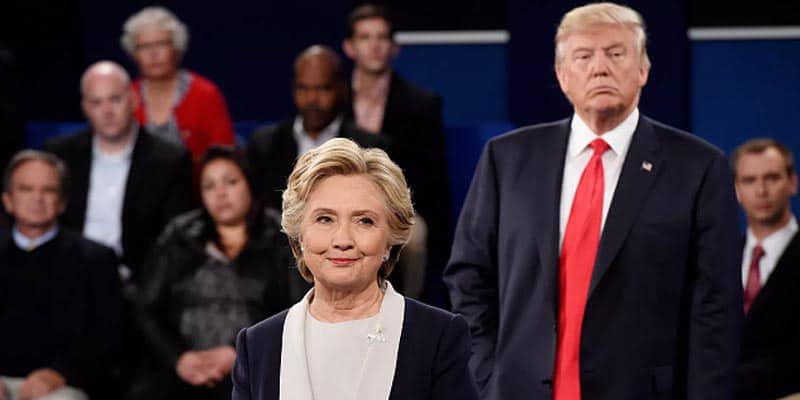 'Don't Tempt Me': Clinton Teases 2020 Presidential Run After Trump's Trolling Tweet
Could the 2020 Presidential Election be a rematch between Donald Trump and Hillary Clinton?
According to Clinton, it's possible.
After Trump tweeted that Clinton should enter the Democratic nomination race in order to "steal it away from Uber Left Elizabeth Warren," Clinton replied with a simple response: "Don't tempt me. Do your job."
Don't tempt me. Do your job.

— Hillary Clinton (@HillaryClinton) October 8, 2019
During the 2016 election, which Clinton lost to Trump, the former Secretary of State actually earned 3 million more popular votes than the reality television star.
Not only did Clinton receive more popular votes than Trump three years ago, but she is also ahead of some of her Democratic peers leading up to the 2020 election, according to the oddsmakers at Bovada Sportsbook.
Even without officially entering the presidential race, Clinton shares the third-best odds of winning the Democratic nomination with some of the party's favorites.
Only sitting behind Elizabeth Warren (-110) and Joe Biden (+400), Clinton sits in third with +1000 odds. This 9.09% chance of earning the Democratic nomination ties her with Andrew Yang and Pete Buttigieg.
2020 Democratic nomination odds
Via Bovada
Elizabeth Warren -110
Joe Biden +400
Hillary Clinton +1000
Andrew Yang +1000
Pete Buttigieg +1000
Bernie Sanders +1200
Kamala Harris +1600
Tulsi Gabbard +4000
Beto O'Rourke +5000
Cory Booker +6000
Amy Klobuchar +7500
Tom Steyer +10000
Julian Castro +10000
Marianne Williamson +10000
Michael Bennet +12500
Tim Ryan +12500
John Delaney +15000
Robby Wells +20000
Clinton took her tweet a step farther when she appeared on PBS News Hour yesterday. Talking to Judy Woodruff, Clinton said she could beat Trump in 2020.
"It truly is remarkable how obsessed he remains with me," Clinton began. "So maybe there does need to be a rematch. Obviously, I can beat him again."
Based on the same oddsmakers that give Clinton the third-best chances of winning the Democratic nomination, her shot at winning the 2020 election is less favorable.
Bovada gives Trump the best odds to win the presidency again at +125. Clinton has +2500 chances, placing her behind Warren, Biden, Yang, Buttigieg, and Sanders.
2020 Presidential Election odds
Via Bovada
Donald Trump +125
Elizabeth Warren +250
Joe Biden +700
Andrew Yang +1500
Bernie Sanders +2000
Pete Buttigieg +2000
Hillary Clinton +2500
Kamala Harris +3300
Tulsi Gabbard +6000
Beto O'Rourke +7500
Cory Booker +10000
Julian Castro +10000
Amy Klobuchar +12500
Marianne Williamson +20000
Tom Steyer +20000
Trump doesn't appear to be fazed by Clinton's tweet or interview with PBS.
Following a video posted on Twitter by Donald Trump Jr. commemorating the three-year anniversary of the Trump-Clinton debates, the President said "Crooked Hillary should try it again!"
Crooked Hillary should try it again! https://t.co/UjfIpZp1FA

— Donald J. Trump (@realDonaldTrump) October 9, 2019