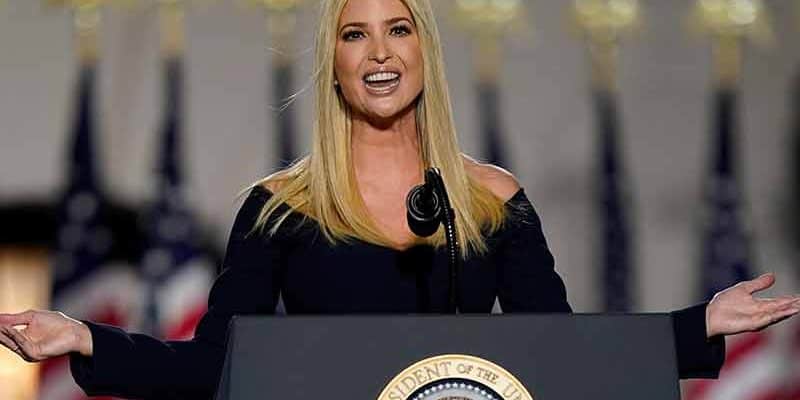 Ivanka Trump's Election Betting Odds Unaffected By Potential Federal Probe
The Trump Organization now faces several new charges of white-collar crimes that have the potential to land CFO Allan Weissberg in federal prison for over a decade if convicted.
Legal experts agree that this move by the feds was a shot across the bow to Donald J. Trump and that many more charges will be forthcoming.
If prosecutors can get Weissberg to flip on the Donald, then it likely won't be long before the remainder of Trump's inner circle at the Organization come under fire.
Who makes up the bulk of that executive group with inside information into the Organization's financial dealings? Eric, Donald Jr., and Ivanka Trump.
A major item in question is how Donald Trump was able to skirt paying his taxes over the last few years. Several millions of dollars worth of consulting fees, some of which were apparently earned by Ivanka, have been reported, but details regarding those services remain murky.
Online political sportsbook sites now have a line on the first to be indicted among a list of potentials, and although Ivanka and her husband Jared Kushner place 5th and 7th, respectively, Roger Stone has a negative moneyline and is as close to a sure thing as is possible in a prop futures line.
First To Be Indicted?
Roger Stone -115
Rudy Giuliani +160
Donald Trump Sr. +800
Eric Trump +1200
Ivanka Trump +1200
Glenn Dubin +2500
Jared Kushner +2500
Odds for betting on Ivanka Trump are posted across several political categories at the moment, and despite the legal troubles that could present themselves to her sooner than later, she is a legitimate candidate for the 2024 Presidency.
The best odds on the board for Ivanka Trump are for her to simply run for President in 2024. Ivanka's current moneyline is set at +400 to declare her candidacy for POTUS in 2024.
Her odds translate to a fairly optimistic 20% chance of her declaring her intentions to become the first female President of the United States, and $1 wagers on her to do so will payout at $4 when it occurs.
If Ivanka Trump can become the Republican Party Nominee For President in 2024, her +2000 moneyline odds will payout at 20-to-1 for savvy bettors that get in on the action early.
How early? We mean right now, because once campaign intentions are declared, the odds will shift dramatically and the potential for exponential cash winnings will be significantly reduced.
Ivanka's +2800 odds to become the next President of the USA will dip into the triple-figures within moments of her becoming a legitimate candidate.
Ivanka is also among the odds getters for potential replacements for Meghan McCain on the talk show "The View." McCain is the lone conservative voice on the panel and network executives will likely replace her with a similar entity.
Who Will Replace Meghan McCain On 'The View'?
Ana Navarro +150
Abby Huntsman +200
Katherine Schwarzenegger +250
Tomi Lahren +300
Jedediah Bila +350
Bari Weiss +400
Candace Owens +450
Megyn Kelly +600
Lena Dunham +700
Caitlyn Jenner +800
Elisabeth Hasselbeck +1000
Tiffany Trump +1200
Ivanka Trump +5500
While Ivanka is deeply embroiled in her father's ongoing legal and political turmoil, it is unlikely that she will be considered as a cast member. However, Tiffany Trump has insulated herself just enough to where she could be an intriguing option, and the betting odds suggest that as well.
Regardless, Ivanka Trump appears poised to remain among the betting options at political sportsbook sites until she declares her candidacy for office, receives an indictment, or accepts a job.