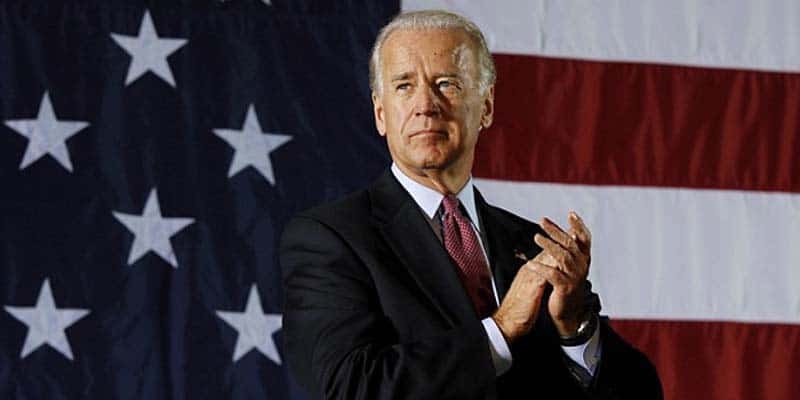 Joe Biden announces his 2020 presidential campaign, opens as the odds-on favorite to win Democratic nomination
After a long wait from Joe, he finally said his 2020 bid is so — confirming the worst kept secret of the presidential campaign announcement season.
Joe Biden (+600 | 14.29%) officially announced Thursday he is running for president in 2020, becoming the 22nd Democrat vying to be the party's nominee and to challenge incumbent Republican President Donald Trump (+100 | 50.00%) for the White House in next year's election.
Biden opens as the odds-on betting favorite among Democrats to both win the 2020 presidential election and receive the party's nomination. President Trump remains the favorite to win the presidency out of all the candidates from both parties.
"The core values of this nation, our standing in the world, our very democracy, everything that has made America America is at stake," he said in his announcement on social media. "That's why today I'm announcing my candidacy for president of the United States."
The core values of this nation… our standing in the world… our very democracy…everything that has made America — America –is at stake. That's why today I'm announcing my candidacy for President of the United States. #Joe2020 https://t.co/jzaQbyTEz3

— Joe Biden (@JoeBiden) April 25, 2019
In his announcement, Biden said we are currently in a "battle for the soul of this nation" and recalled when Neo-Nazis and counterprotesters clashed at a 2017 white supremacist rally in Charlottesville, Virginia, where President Trump stated there were "very fine people on both sides" of the violent encounter where an avowed neo-Nazi plowed his car into a group of counterprotesters, leaving one woman dead and 35 other people injured.
"With those words, the president of the United States assigned a moral equivalence to those spreading hate and those with the courage to stand against it," Biden said. "In that moment, I knew the threat to this nation was unlike any I had ever seen in my lifetime."
President Trump wasted no time chiming in on Twitter and welcoming Biden to the 2020 race for the White House.
Welcome to the race Sleepy Joe. I only hope you have the intelligence, long in doubt, to wage a successful primary campaign. It will be nasty – you will be dealing with people who truly have some very sick & demented ideas. But if you make it, I will see you at the Starting Gate!

— Donald J. Trump (@realDonaldTrump) April 25, 2019
Biden, the 76-year-old former VP in the Obama administration, is currently listed at +600 ($100 bet wins $600) to win the 2020 presidential election, which gives him an implied probability of 14.29%. His odds to win the Democratic nomination are +300 for a 25.00% chance to become the party's nominee.
For comparison, today's listing puts Biden's odds ahead of other Democratic favorites, including Sen. Bernie Sanders, South Bend Mayor Pete Buttigieg, former Rep. Beto O'Rourke, and Sen. Kamala Harris for candidates who are most likely to win the 2020 presidential election or the party's primary, according to BetOnline.
Biden has consistently remained in the top 5 even though he'd yet to officially confirm that he'd be running for president. However, he dropped several hints and occasional misspoke, which essentially all but confirmed he'd be joining the crowded field of Dems vying to be the party's nominee.
According to a Morning Consult poll released yesterday, Biden is the clear 2020 front-runner over every Democrat as well as President Trump, wherein a hypothetical matchup, 42% of registered voters said they would vote for Biden compared to 34% for President Trump.
Even Biden recently stated he wanted to be the last to announce his campaign, and with that now out of the way, the former VP will need to address some concerns if he is to win the general election on November 3, 2020.
Perhaps the biggest hurdle his campaign will need to overcome is the recent controversies that arose in the past few weeks where four women alleged Biden had engaged in unwanted and inappropriate behavior with them in the past.
Additionally, he will have some catching up to do when it comes to campaign fundraising. However, he will likely have no problem in that department since moderate Democrats are the ones who have been pushing for him to jump into the race.
There could be more potential Democratic candidates who have yet to announce, but Biden is the last of the Dems who were expected to run for president.
If that's indeed the case, then we can now turn our attention to debate season, which will have a major impact on the betting odds if history is any indication.
The NBC News Democratic Primary Debate is the first of 12 (6 in 2019, 6 in 2020) scheduled debates to be held.
The Dems debate will be held in Miami, Florida and take place over two nights, starting on Wednesday, June 26 and Thursday, June 27.
The candidates who qualify for the debate stage will be randomly selected and slotted into both debates. This was done to give each candidate a fair shake and the new format was created as a solution to the main stage vs. "kiddie table" debates, where the latter spelled the end of your campaign.
To qualify for the Democratic debate in June, a candidate will need either at least 1% support in three polls or will need to receive 65,000 individual donations from a minimum of 200 different donors in at least 20 states.
And in the two months leading up to the first debate of 2019, we will keep you updated with the latest news and continue tracking the betting odds for Biden, President Trump, and all of the candidates — so you are well-informed before casting your bet on the odds for the 2020 presidential election.