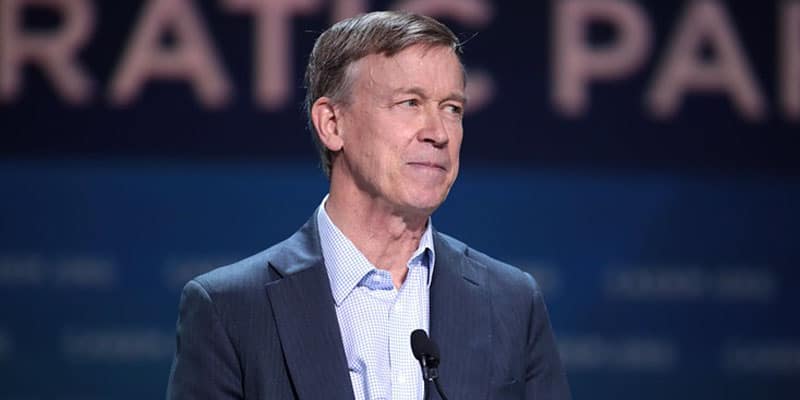 John Hickenlooper drops out of 2020 presidential race, eyes seat in Senate
A second 2020 Democrat is expected to bite the dust.
Former Colorado Gov. John Hickenlooper will end his White House bid today, the second real contender to do so after Rep. Eric Swalwell called it quits in July.
According to Bovada, Hickenlooper only had +10000 odds to win the Democratic nomination. His odds for actually winning the US Presidency were even lower at +20000. For perspective, Michelle Obama's presidential odds are +15000.
The moderate Democrat began his career as a geologist, but following a lay-off, he opened the successful Wynkoop Brewing Company in downtown Denver. Hickenlooper became the 43rd mayor of Denver in 2003, serving until 2011, before serving as Colorado governor from 2011-19.
When Hickenlooper entered the presidential race in March, he was able to raise $1 million in his first 48 hours. However, for the entire second quarter, the former governor was only able to muster $1.15 million in three months.
Even worse, many of Hickenlooper's senior staff members left six weeks ago due to disagreements over the campaign's future.
The State of Colorado supported Hickenlooper during his presidential run, but he could not generate enough support throughout the country to secure a strong foothold in the Democratic party.
To make the third debate in September, candidates need to have 130,000 unique donors and reach 2% support in four qualifying polls. Hickenlooper only had 13,000 donors and the required support in one poll.
Hickenlooper's run was marked by his centristic views, particularly his opposition to eliminating private health insurance in favor of Medicare for All.
"Any large expansion of government, they're going to call socialism, rightly or wrongly, and the word socialist has huge negative baggage in the United States. If we don't draw a bright line saying we are not socialists, we could end up running the risk of helping to reelect the worst president in U.S. history," Hickenlooper said to a booing California crowd earlier this year.
Although he has yet to confirm it, Hickenlooper is expected to run for a spot in the Senate when Colorado's Republican Sen. Cory Gardner is up for reelection in 2020.
Entering the Senate race could be much easier for Hickenlooper compared to running for president. In a poll conducted by a national Democratic group, the small business owner would have a "massive lead" over the crowded field.
So far, the odds haven't shifted since the news broke on Hickenlooper, but keep an eye out for any changes within the next few days. For reference, the Democratic candidates are listed below with their odds as of today.
2020 Democratic nomination odds
Via Bovada
Joe Biden

+250

Elizabeth Warren

+300

Kamala Harris

+500

Bernie Sanders

+650

Pete Buttigieg

+800

Andrew Yang

+1600

Tulsi Gabbard

+2500

Cory Booker

+3000

Beto O'Rourke

+5000

Julián Castro

+5000

Amy Klobuchar

+8000

Tom Steyer

+10000

Bill de Blasio

+10000

Jay Inslee

+10000

John Delaney

+10000

Marianne Williamson

+10000

Michael Bennet

+10000

Tim Ryan

+10000

Kirsten Gillibrand

+15000

Robby Wells

+20000