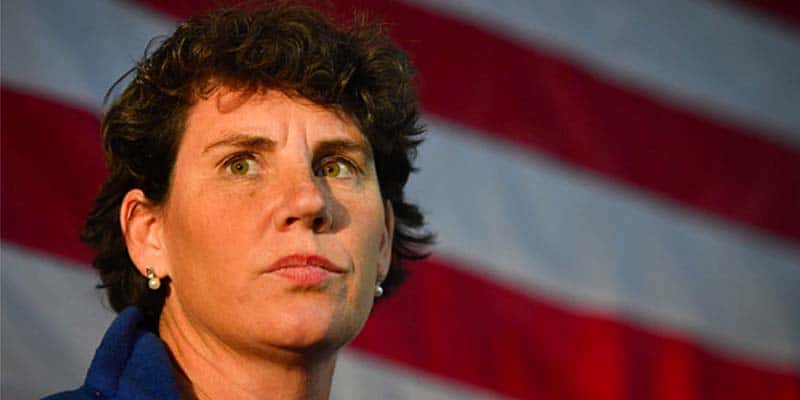 Amy McGrath Advances To Face Off Against Mitch McConnell for Kentucky US Senate Seat
What at first seemed to be a foregone conclusion became a very tight race in Kentucky's US Senate Democratic Primary election.
Amy McGrath, a retired Marine fighter pilot, narrowly defeated Kentucky State Representative Charles Booker, on Tuesday, as was declared by CNN.
Booker had recently received a groundswell of support following the Black Lives Matter protests opposing unjust police brutality.
Most of the #BLM focus has been on the murder of George Floyd while in the custody of the Minneapolis Police Department, but the outrage began much earlier in Kentucky.
On March 13, 2020, Breonna Taylor was murdered by the Louisville Police Department during a gunfire exchange during a no-knock warrant. The police had gone to the wrong house, and when they broke down the front door, Breonna's boyfriend, Kenneth Walker, opened fire on the intruders.
The return fire resulted in the senseless killing of Taylor and has politicians and police departments reconsidering their no-knock warrant policies.
The protests in Louisville became violent last Saturday evening when news photographer, Tyler Gareth, was murdered when shots were fired into the crowd of protestors, as reported by the New York Times.
Representative Booker has shown support and has participated in the protests, which raised his profile and threatened to upset McGrath for the DNC nod in the Kentucky US Senate seat election.
With McGrath's victory, she will now face off against Senate Majority Leader Mitch McConnell, arguably the second most powerful Republican in politics today.
McConnell has been in his seat since 1985, and naturally, is a staunch opponent of Senatorial term limits. In the past, McConnell has stated that term limits are in place, and are set at the ballot box. Could 2020 be the year that McConnell's term limit is declared by Kentucky voters?
Current polls, as well as the betting odds at top political sportsbooks, suggest that the DNC has a great shot at attaining a majority in the US Senate.
Bovada Sportsbook offers the following betting line regarding which political party will be in control of the US Senate after November's election results are final.
US Senate Control
Democrats -145
Republicans +110
From a betting odds perspective, the Republicans are not out of the hunt, but when converting these odds to their intrinsic value, the numbers reveal a gap of 6% for the GOP. A six-point spread in the political arena represents a large chasm of separation, one that will be tough to overcome in this charged climate of social unrest.
These numbers would normally be of great concern to President Donald Trump, but he is likely focused on his own polling numbers and betting odds deficit.
He is now trailing behind Joe Biden across the board and is having trouble recovering after a nosedive that Trump cannot manage to reverse.
US Presidential Election 2020 Winner
Joe Biden -160
Donald Trump +140
The reemergence of the #Trump2020LandslideVictory and #Trump2020NowMoreThanEver hashtags on Twitter appeared to offer some hope of support for Trump, but a closer inspection reveals that a majority of these mentions are offering harsh criticism for his regime, and merely pointing out the absurdity of these notions.
The GOP is in grave danger, as United States voters seem poised to send a clear message in November, a message that could topple Donald Trump and Mitch McConnell, the two most powerful members of the Republican Party.