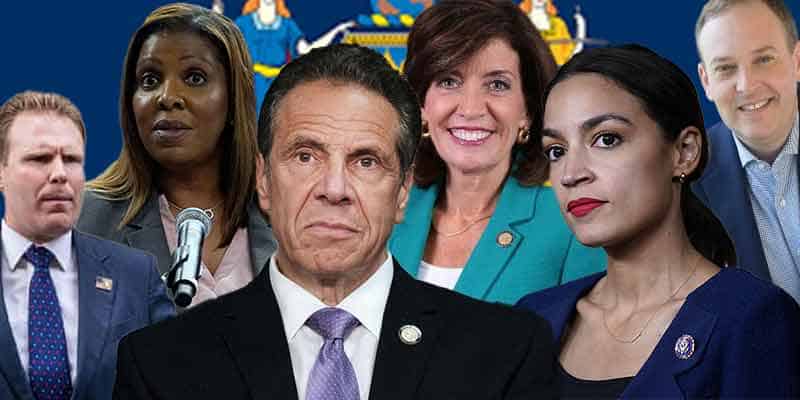 Escape From New York: With Andrew Cuomo Out, Who Will Be The Next Governor?
Andrew Cuomo is no stranger to controversy. He gained favor with national audiences during the COVID-19 pandemic with his on-air banter while broadcasting common sense updates.
And then came the reports of excessive nursing home deaths in New York State which were followed up by erroneous data where the numbers had been altered to improve the state's status.
On the heels of the nursing home death bombshell, numerous accusations began to surface regarding sexual misconduct, but even those seemed to fade away over the course of 2020. Even as of this writing, Andrew Cuomo's betting odds are still featured prominently in the Presidential Election futures. What will it take to knock Cuomo off of his pedal stool?
Following a shortfall in the state budget, Cuomo began to push for legal New York sports betting expansion into the realm of mobile sportsbook applications. While these betting apps don't accept election bets, their legislative passage did seem to cool off all the talk of allegations while Cuomo's team did a victory lap.
In recent weeks, more sexual misconduct allegations began to stack up against Cuomo, with some going public and granting interviews to mainstream press outlets. Cuomo's top aide resigned citing her refusal to throw another staffer under the bus in an attempt to clear the former Governor's name.
On Tuesday, Gov. Cuomo officially resigned while denying any wrongdoing. His stepping down is apparently due to his love for New York – presumably allowing for the sidestepping of a lengthy and costly process that would ultimately do damage to the Empire State.
"In my mind, I never crossed a line with anyone. But I didn't realize the extent to which the line has been redrawn."

An Excerpt From Andrew Cuomo's August 10th Resignation Speech
Now that Cuomo has left the building, who will step in and replace him as the Governor of New York. Gubernatorial betting odds for the overall race have yet to debut, but we have seen the following line appear at MyBookie.
New York Gubernatorial Democratic Primary Odds
Letitia James -250
Kathy Hochul +425
Jumaane Williams +1100
Alessandra Biaggi +2800
Kristen Gillibrand +3500
Alexandria Ocasio-Cortez +6600
While nothing is official and no candidates have declared that they will run, Letitia James is the early odds leader for the DNC. New York is a largely Democratic state, and although the above line only includes DNC options, it can be expected that the winner of this political prop bet would also be the overall Gubernatorial winner.
James is the current Attorney General of New York State and a former 10-year member of the New York City Council. James' election odds are listed in the negative and are a full 675 points separated from her nearest potential competitor, Kathy Hochul, the current Lieutenant Governor of New York.
Hochul is expected to fill Cuomo's position following his resignation, and although the appointment is temporary, she will become the first female Governor in the history of New York.
A +6600 moneyline for betting on AOC reveals that she is a longshot to win, but $66 for each $1 wagered on Alexandria Ocasio-Cortez can be earned at this juncture. While those odds on AOC may seem outlandish at this point in the game, if she were to announce her intentions to run, the moneyline would narrow considerably as she'd have a legitimate shot at winning.
There are expected to be several challengers on the GOP side as well. Below are the official Republican candidates to become the Governor of New York thus far.
New York Gubernatorial Candidates For 2022
Rob Astorino
Mike Carpinelli
Derrick Gibson
Andrew Giuliani
US Rep. Lee Zeldin
Political outlook website PredictIt currently features Lee Zeldin in the lead with a 77% chance of winning. For those looking for a longshot to wager on, betting on Andrew Giuliani will surely cash in big as his chances currently rest at 7%.
Now that Andrew Cuomo has stepped down and left the Governor's Mansion, the New York Gubernatorial election process will hit full steam and we expect to see more betting odds revealed in the coming days.