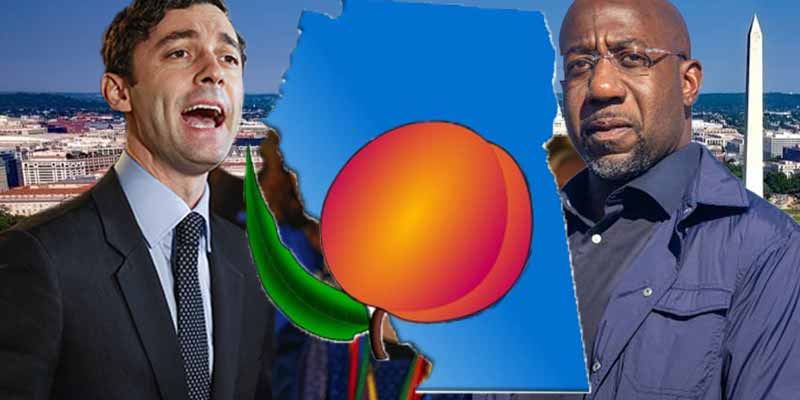 Peach State Flip: Warnock And Ossoff Now Favored In GA Senate Runoff Odds
The New Year's weekend is a time where Americans reflect on the previous 365 days and forecast how the next 12 months will proceed.
In the political arena, it is often a time where administrations begin the exit process while the new regime prepares their staffs and agendas for the next 2, 4, or 6-year appointment to office.
2020 was a year like no other, so why shouldn't the weekend that observes the passage into 2021 be any less rocky?
Just last Wednesday, political sportsbook sites were favoring the incumbent US Senators in Georgia, Republicans David Perdue, and Kelly Loeffler, across the board.
Democrats Jon Ossoff and Raphael Warnock must have been listening to some Jimmy Buffet over the weekend because "come Monday," it became alright for their chances. Both Democratic candidates managed to flip the betting odds in their favor, and have given the DNC a solid shot at securing both seats.
Georgia Senate Runoff Election Betting Odds
Kelly Loeffler (R) vs. Raphael Warnock (D)
| | | | | |
| --- | --- | --- | --- | --- |
| | Loeffler 12/30/20 | Warnock 12/30/20 | Loeffler 1/4/21 | Warnock 1/4/21 |
| Bovada | -145 | +110 | +165 | -220 |
| BetOnline | -150 | +120 | +145 | -175 |
| MyBookie | -200 | +150 | -120 | -120 |
David Perdue (R) vs. Jon Ossoff (D)
| | | | | |
| --- | --- | --- | --- | --- |
| | Perdue 12/30/20 | Ossoff 12/30/20 | Perdue 1/4/21 | Ossoff 1/4/21 |
| Bovada | -200 | +150 | +105 | -135 |
| BetOnline | -190 | +155 | -105 | -125 |
| MyBookie | -220 | +155 | -130 | -110 |
The above tables reveal the intense degree of this weekend's flip in the Peach State, as the democratic odds for both seats are now looking incredibly favorable.
These tables also serve as evidence that proves why belonging to more than one sportsbook is advantageous. If you believe that Perdue will win, you'll want to wager with Bovada and his +105 odds that they offer.
If you're an Ossoff bettor, then you'll want to visit MyBookie, because his -110 money line odds will not require putting as much of your bankroll at risk.
Jon Ossoff and David Perdue are now neck and neck, but Raphael Warnock is out to a commanding lead over Kelly Loeffler, flipping the US Senate odds by 230 points at some online books.
Perhaps it was the flurry of campaign ads directed at Loeffler and her stock sale profits that occurred just after she received a classified White House briefing regarding COVID-19. Could it be the recently released tape of a recorded phone call between President Trump and Georgia Election Officials where Donald speaks at length of his desperation for a victory in GA?
Another factor could be the significant amount of early votes that have been cast in Georgia thus far. Just last we reported that early GA votes were leaning left, and now it appears to be legit as current Senate runoff betting lines predict a blue sweep.
Even though it appears that a victory by Ossoff and Warnock would not secure a DNC majority in the US Senate, the presence of Senate President-Elect Kamala Harris' tiebreaking vote and left-sympathizing GOP Senator Mitt Romney will allow for some Democratic legislative items to flow quickly to the desk of the POTUS for signature.
Election day is tomorrow in Georgia, which means this is the last chance to cast your vote, and the last chance to cash in on these GA runoff election odds. While we never advise making a rushed betting decision, today and tomorrow may be the last significant live election odds on the boards for the next two years.
Betting Odds: Bovada, BetOnline, MyBookie
Source: NPR