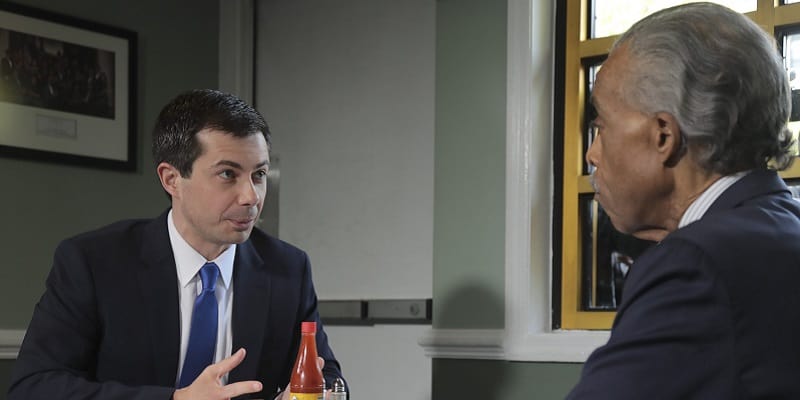 Buttigieg's 2020 Odds Show Slight Edge, Tops Iowa Poll But Near Bottom With Black Voters
Just a few months ago, Americans struggled even to pronounce the last name of then-relatively unknown Pete Buttigieg.
Even Donald Trump notoriously mocked his last name at a rally, where the President called the South Bend mayor "Boot-edge-edge."
But as we enter the Holidays and head down the home stretch toward the start of the primary season, Mayor Pete's 2020 odds have just been given a slight "edge-edge" over his Democrat opponents. However, the lack of support from black voters—which represents close to two-thirds of the South Carolina electorate—could very well be what prevents him from becoming the party's nominee.
2020 Odds For Pete Buttigieg
Via Bovada – 11/15/19
Democrat Nominee: +500 (16.67%)
President of the United States: +1000 (9.09%)
Earlier this week, a Monmouth University poll in Iowa showed Buttigieg winning 22% of likely caucusgoers for the month of November compared to only 8% from August. The poll shows Buttigieg leading all candidates, with Joe Biden at 19%, Elizabeth Warren at 18%, and Bernie Sanders at 13% for the Democrats in double-digits.
This latest Iowa poll appears to have been enough to cause a slight shift in the 2020 Democratic nominee betting market.
Buttigieg and Sanders had been in a virtue tie for months now, and together had experienced small rises and falls over time.
Both candidates saw their nominee odds jump from +800 (11.11% chance) to +600 (14.29% chance) over the weekend.
However, Buttigieg saw another increase today and is now listed at +500 odds, which gives the South Bend mayor a 16.67% chance to win the Democratic Presidential Primary, putting him just slightly ahead in 3rd place ahead of Sanders.
2020 Democratic Nominee Odds
Via Bovada – 11/15/19
Elizabeth Warren +150
Joe Biden +275
Pete Buttigieg +500
Bernie Sanders +600
Michael Bloomberg +1000
Hillary Clinton +1400
Andrew Yang +1500
Tulsi Gabbard +4000
Kamala Harris +5000
Amy Klobuchar +8000
Cory Booker +8000
Tom Steyer +10000
Julian Castro +12500
John Delaney +15000
Marianne Williamson +15000
Michael Bennet +20000
When looking at the prediction betting market for the 2020 general election, Buttigieg saw a similar change, except his chances—like all Democrats—are a bit lower since Trump, the Republican incumbent, needs to be factored into the implied probability.
So, what are Buttigieg's chances of becoming the 46th President of the United States? Currently, the South Bend mayor is listed at +1000 odds, which indicates he has approximately a 9.09% chance.
Much like the primary election, Buttigieg had previously been on tied with Sanders on the general election odds board at +1100 (8.33% chance).
However, it's no surprise to see Donald Trump's 2020 campaign odds at the top of the list. Although he has slipped in recent months—currently +130 odds (43.48%)—the Republican incumbent will likely remain a heavy at least until the Democrats settle on who will be the one to face Trump in 2020.
Buttigieg appears to be on the rise, and his 2020 odds could hold significant value, especially with Warren recently taking a bit of a tumble and Biden being a bit unpredictable during the entire race.
However, the South Bend mayor faces one major hurdle that he must make a point to resolve if he wants to win the Democratic nomination: the black vote.
His near 0% support among African American nationwide—and literal 0% support of black voters in South Carolina—is not only alarming but will be the death knell of his campaign if he does not things turn around.
***Update***
According to a report from The Intercept released today, tensions between Buttigieg and the black community may be irreparable.
Recently, his campaign touted over "400 Black South Carolinians" supporting the "Douglass Plan"—his plan for criminal justice reform, health care, education, and more for Black America—in an email that was intentionally vague and made it appears as though they were endorsing his campaign and not just the plan as intended.
One of the three primary supporters listed, state Rep. Ivory Thigpen, even said he is strong Bernie Sanders supporter and made no intention of endorsing Buttigieg or his plan, adding that he gave "them a quote of support in continuing the conversation, because I do think it's a very important conversation."
After The Intercept D.C. Bureau Chief Ryan Grim dug deeper into the list, he found some names had been used multiple times, numerous misspelled names, 125 people who don't have voter files, and some that didn't even reside in South Carolina.
If that wasn't bad enough, roughly half of the supporters for Buttigieg's "Douglass Plan" were found to be white voters.
Both the email and social media campaigns touting the support have garnered substantial backlash from black leaders throughout South Carolina.
Although it's mathematically impossible to poll below 0%, it's hard to imagine the South Bend mayor turning things around when the vast majority of the black community—the backbone of the Democratic electorate—has made it clear they have no intention of endorsing him over Biden or Sanders, who currently garner by far the most support among African American voters in South Carolina and nationwide.
Odds To Win 2020 Presidential Election
Via Bovada – 11/15/19
Donald Trump +130
Elizabeth Warren +365
Joe Biden +600
Pete Buttigieg +1000
Bernie Sanders +1100
Michael Bloomberg +1500
Andrew Yang +2000
Hillary Clinton +2800
Mike Pence +5000
Tulsi Gabbard +7000
Kamala Harris +8000
Amy Klobuchar +12500
Cory Booker +15000
Julian Castro +20000
Tom Steyer +20000
Bill Weld +25000
Marianne Williamson +30000