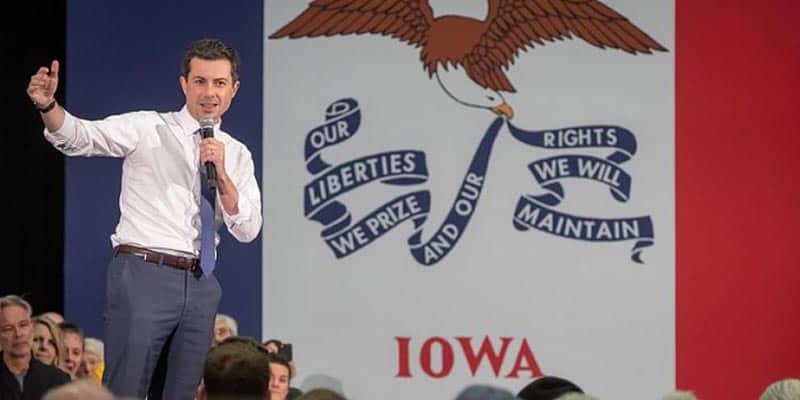 Pete Buttigieg Favored To Win Iowa Caucus, Second in Democratic Nomination Odds
With just under two months until the 2020 Iowa Democratic caucus, things are heating up for the party. As the first nominating contest in the presidential primaries, the February 2 event could make or break a number of campaigns.
A caucus, unlike a traditional ballot-casting vote, involves voters meeting at local caucuses to discuss and vote on candidates. What may sound like an old-school approach to picking candidates is actually an important moment in a White House hopeful's chances.
Every Democratic nominee, starting with Bill Clinton's reelection efforts in 1996, has won the Iowa caucus. However, the only other Democratic to win the Presidential election after winning the caucus was Barack Obama in 2008 and 2012.
1996: Bill Clinton- 98% (won the Presidential election)
2000: Al Gore- 63%
2004: John Kerry- 38%
2008: Barack Obama- 38% (won the Presidential election)
2012: Barack Obama- 98% (won the Presidential election)
2016: Hillary Clinton- 49.8%
Needless to say, South Bend, Indiana Mayor Pete Buttigieg is in a favorable position. According to oddsmakers at BetOnline, the Navy veteran has -300 chances of winning the Iowa caucus.
Odds to win the Iowa Democratic caucus
Via BetOnline
Pete Buttigieg -300
Elizabeth Warren +250
Bernie Sanders +750
Joe Biden +1000
Buttigieg's political betting odds outrank those of Sen. Elizabeth Warren (+250), Sen. Bernie Sanders (+750), and former Vice President Joe Biden (+1000).
Mayor Pete became the clear Iowa frontrunner after a CNN/Des Moines Register/Mediacom poll showed him with 25% support from likely caucus-attendees.
The same poll had Warren at 16% and a two-way tie between Biden and Sanders with 15% support. These numbers coincide with the betting odds for each candidate on BetOnline.
According to University of Iowa political science professor Timothy Hagle, "We often have a pretty good idea of the top candidates in Iowa and the other early states before they vote. A key is often whether a candidate over- or under-performs those expectations."
These Iowa expectations are key for Buttigieg. In the latest Economist/YouGov poll, the Harvard graduate is pulling 12% support nationally. This still puts him behind Biden (27%), Warren (18%), and Sanders (13%).
If he does win the Iowa caucus, however, Buttigieg could get the boost he needs throughout the country to live up to the mounting expectations.
Based on the Democratic nomination odds, Buttigieg and Sanders are tied for second-best odds at +450. Biden, the nomination favorite, holds the top spot with +350 odds.
Odds to win the 2020 Democratic nomination
Via BetOnline
Joe Biden +350
Bernie Sanders +450
Pete Buttigieg +450
Elizabeth Warren +500
Andrew Yang +900
Michael Bloomberg +900
Amy Klobuchar +2500
Tulsi Gabbard +2500
Cory Booker +5000
Deval Patrick +5000
Tom Steyer +8000