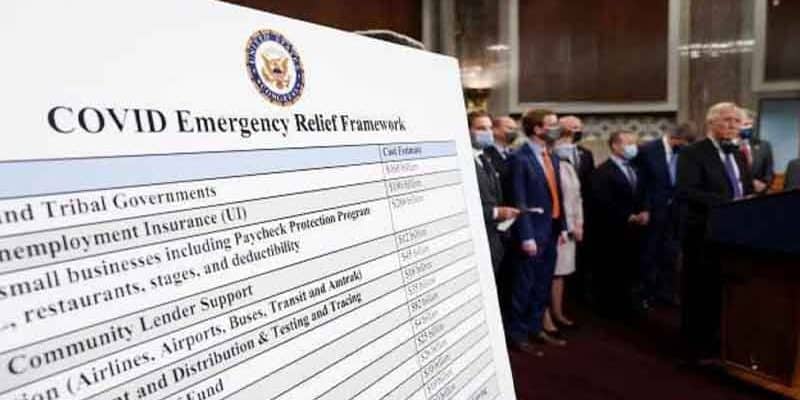 Sportsbooks Question Post-Whitehouse Trump As Lawmakers Eye Pandemic Relief Bill
Let's start with the topic on most people's minds – the pandemic. Talks over a Congressional relief bill to alleviate the economic pain brought on by COVID-19 are nearing a critical breaking point.
Yesterday, lawmakers seemed hopeful they would reach a deal, but as negotiations lasted long into the night, leaders now face a government shutdown. The negotiated measures tie together a $900 billion bill for pandemic relief and a $1.2 trillion bill to fund the government through next September.
Discussions over a stopgap bill to avert a government shutdown are in circulation, as well as talks of extending the deadline for the coronavirus relief bills, meaning no consensus may be reached until next week.
Moreover, as Congress is locked in negotiations, the top-rated online sportsbooks look past Inauguration Day to see what Donald Trump plans for after his Presidency.
Here are the odds from one of our favorite sportsbooks, Bovada.
Where Will Donald Trump's Permanent Residence Be After Leaving The White House?
Palm Beach, FL

-450

New York City, NY

+500

Washington, D.C.

+750
Trump probably will want to get away from the political machinery of DC. Considering his tax hold-ups and possible pending lawsuits in NYC, Palm Beach seems like his best bet here.
Melania plans to take a government jet to oversee renovations to the Trump private residence in Mar-a-Lago on Friday. When Trump bought the estate in 1993, he agreed to certain limitations to turn the private estate into a for-profit club.
Individual members of Mar-a-Lago have pushed back against Trump attempting to make the club his permanent residence, which leaves this betting line open.
Will Donald Trump Accept A Contributor Deal Or His Own Show On A Television News Network In 2021?
Will Donald Trump Announce His Intention To Launch His Own Right-Wing Media Venture In 2021?
These two wagers can be considered in conjunction. The first moneyline relates specifically to Television media, while the second refers to solely the internet.
Donald Trump has made statements slamming Fox News for not fully supporting his claims of widespread voter fraud and calling Biden's electoral college victory in states such as Arizona.
A source close to the President stated, "He plans to wreck Fox. No doubt about it," when questioned on Trump's intentions.
Other sources claim Trump's plan of starting an internet media-streaming service that will undermine Fox News' monopoly over right-wing news. It's possible Trump may strike a deal with One America News Network (OANN) but plans to wield his social media presence with a new media venture is also likely.
Will Donald Trump Create His Own Political Party By 2024?
Donald Trump has made statements playing with the idea of a 2024 presidential bid. Donald Trump probably has a better chance of using his influence within the Republican party to whip up support and use their well-established funding ties instead of starting from scratch under a different political party.
Will Donald Trump Publish A Memoir In 2021?
We all know the President as a savvy businessman, and he will likely not pass up on the opportunity to release a memoir that millions of his fans and critics will consume. Barack Obama made upwards of $65 million on his memoir book advance, so the opportunity to cash out is there.