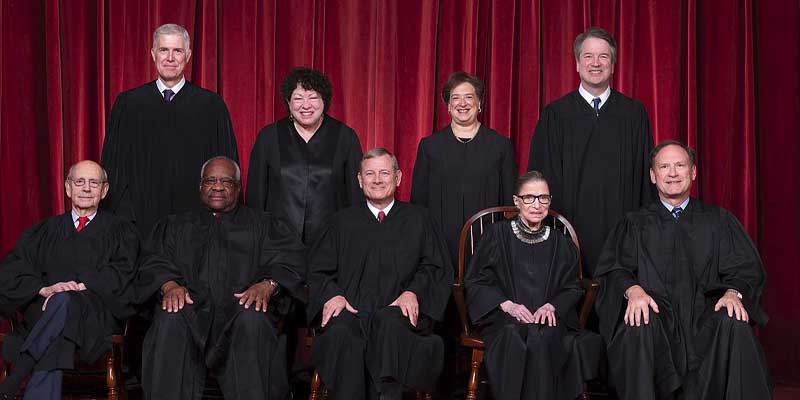 Supreme Court Odds 2020: Which Justice Will Leave Next?
Just when you thought the stakes on the 2020 US Presidential Election couldn't get any higher, the updated Supreme Court odds further prove how much is at risk for both Republicans and Democrats on November 3.
Odds On Next Justice To Leave Supreme Court
April 27 — Odds courtesy of Bovada Politics
Ruth Bader Ginsburg -250
Clarence Thomas +400
Stephen Breyer +800
Sonia Sotomayor +2400
John Roberts +2800
Samuel Alito +2800
Elena Kagan +4000
Neil Gorsuch +4500
Brett Kavanaugh +5000
Ginsburg Favored, Don't Bet Against Notorious RBG
Ruth Bader Ginsburg is heavily favored to be the next US Supreme Court justice to leave the bench at -250, giving her a 68 percent implied probability, based on the proposition from Bovada Sportsbook.
An example bet of $250 will win $100 if Ginsberg's historic career ends before that of any of the other eight members who currently serve.
After the appointment by President Bill Clinton, Ginsburg was confirmed by the Senate and then sworn in as the 107th Supreme Court justice on August 10, 1993 — becoming the second woman (and one of four to date) in history to serve on America's highest court.
Ginsburg is the oldest member of the Supreme Court and recently turned 87 on March 15, 2020. Stephen Breyer, 81, is the next closest in terms of age, and only Clarence Thomas, 71, has served longer, joining the bench on October 23, 1991.
Given that "The Notorious RBG" has already literally beaten the odds as a four-time cancer survivor, a prop wager on her being the next to leave is far from a safe bet.
And if you thought the COVID-19 pandemic was going to slow down Ruth, then think again because her personal trainer has confirmed the justice isn't letting the virus stop her from feelin' the Ginsburn.
Needless to say, a proposition wager on Thomas (+400) or Breyer (+800) may hold substantially more value for two key reasons:
No recent footage of them staying in shape.
Just kidding, there's only one "next to leave Supreme Court" factor that outweighs all others: The 2020 Election winner will determine who leaves the Supreme Court next. Since the backroom power struggle of politics is infamously amplified before the end of any four-year general election cycle, you can bet things are going to be turned "up to 11" for the 2020 Trump vs. Biden matchup.
2020 Election Winner Picks Next SC Justice
President Donald Trump and former Vice President Joe Biden headline the main event on Election Day 2020, and whoever wins the 270 or more electoral votes will most likely appoint the next justice to the US Supreme Court over their upcoming four years in White House (2021-2024).
Currently, Trump's betting odds to win are more favorable due to his status as the incumbent and signs of recovery from the outbreak appear to be on the horizon with his "Opening Up America Again" plan now going into effect. Bovada lists the Republican incumbent at -120, meaning a $120 bet on Trump would win $100 and has an implied 54% chance to win.
Biden's chances are installed as the underdog for the 2020 presidential election, and the sportsbooks' most recent update lists the former VP at +115 odds. The oddsmakers predict Joe has a 45% chance to pull off the upset and for bettors: A $100 wager laid down on Biden today would return an additional $115 on November 3 if he defeats Trump in the general election.
But how does a Trump or Biden victory affect betting odds on the next Supreme Court justice to leave?
Because the US Constitution gives sitting Presidents the power to make lifetime appointments to Supreme Court, Republicans and Democrats only need to look back at how vital the 2016 election was since Trump has already appointed two members (Gorsuch, Kavanaugh) during his first term. The nation's highest court has the "last word" in interpreting the US Constitution, and a 5-4 or higher majority frequently rules on some of the most divisive issues from American voters.
A victory for Biden and Democrats means Ginsburg, a well-known champion for women's rights, would likely feel more comfortable retiring since the former VP has said he will appoint the first-ever black woman to the Supreme Court.
However, if Trump wins, which is slightly more favorable currently, then there is a good chance that Ginsburg, who leans more liberal, will pump even more iron and try to ride things out until 2024 when Democrats get another crack at the Oval Office.
Since Ginsburg is off the table, barring any more unfortunate events or untimely deaths, there is a good chance Thomas, who's case decisions lean more conservative, at +400 is the better bet since Republicans may try to squeeze in a third appointment if Trump is reelected to a second term.
And with the leading election betting sites for 2020 showing the race for the White House tightening, the next Supreme Court appointments are vital to both parties since the decisions Trump or Biden's justices make will impact future generations of Americans for decades to come.
For now, we hope everyone follows this timeless advice from Kate McKinnon's RBG on SNL: