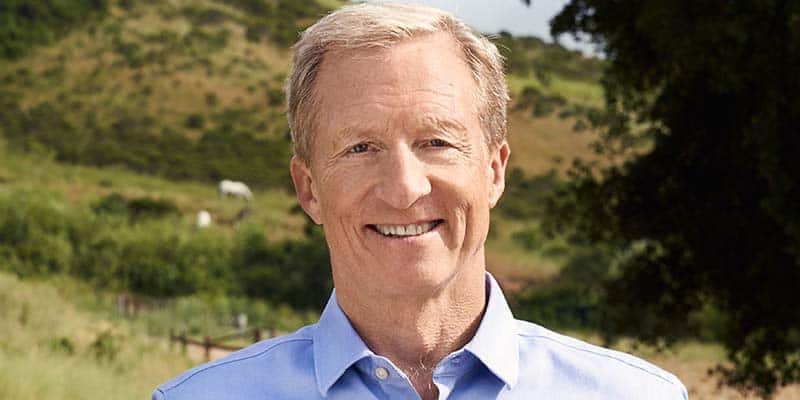 Tom Steyer vs. Donald Trump: What Chance Do The Billionaires Have To Win The 2020 Election?
Self-made billionaire Tom Steyer has not made much of an impact yet on the 2020 presidential election odds.
His odds to win the presidency stand at +20000, and Steyer doesn't even crack the top 20 right now. On the surface, that's not very promising.
It is even unclear right now if he will qualify for the next Democratic debate, but his chances are increasing, as he only has one more obstacle to overcome–one more poll showing him at 2% or higher–in order to get a ticket to the debate. He has already secured donations from over 130,000 people, another requirement.
Steyer is an outspoken, liberal, West-coast billionaire who represents practically everything Trump does not.
Steyer recently ran a series of campaign ads trying to rally support to impeach Trump. He was also a major backer of Democratic House candidates during the 2018 election season, with his clear intent being to strip away one of the Congressional bodies from Trump. And it worked.
He basically opposes Trump on every policy front imaginable, but his go-to issue is the environment. Climate change is the centerpiece of his campaign, and he's been advocating for this to be addressed for years.
But in perhaps the most important category of all regarding politics, he is just like Donald Trump.
He is rich and successful, a prominent hedge fund manager who has an estimated net worth of $1.6 billion.
And he's spending it. He has pledged to spend $100 million of his own money, and in his first month as a candidate, he spent $7 million on advertisements alone.
Most would probably agree that Donald Trump's approach to political combat is borderline gorilla warfare. His boundaries are far out there. He basically breaks every barrier he encounters.
With Steyer, Trump may have some problems, because Steyer's credentials can allow him to weather the storm, the coming political chaos.
If Trump wants a street fight, Steyer can afford to lace up just like him.
There are no other candidates in the Democratic field who comes close to matching Steyer's or Trump's wealth. Most are career politicians—and there's nothing inherently wrong with that.
But it could be argued that people like a proven success story—and a non-politician. Steyer is both.
Those two factors are probably why Trump is the president. That and because he has become a master at navigating the political landscape he shook up back in 2016.
Steyer is a longshot as of right now while Trump, on the other hand, is the overwhelming favorite to win re-election next year.
But if Steyer can broadcast his credentials to the country and convince people that he is a billionaire of the people, he may be able to defy—or even "Trump"—the current odds.
Here are the latest odds for the 2020 candidates currently running for president, per Bovada.
2020 Presidential Election odds
Donald Trump -105
Elizabeth Warren +450
Joe Biden +500
Bernie Sanders +1000
Kamala Harris +1000
Pete Buttigieg +1400
Andrew Yang +2500
Tulsi Gabbard +4000
Cory Booker +6000
Beto O'Rourke +10000
Julian Castro +10000
Amy Klobuchar +12500
Kirsten Gillibrand +15000
Tom Steyer +20000
Bill De Blasio +50000
Jay Inslee +50000