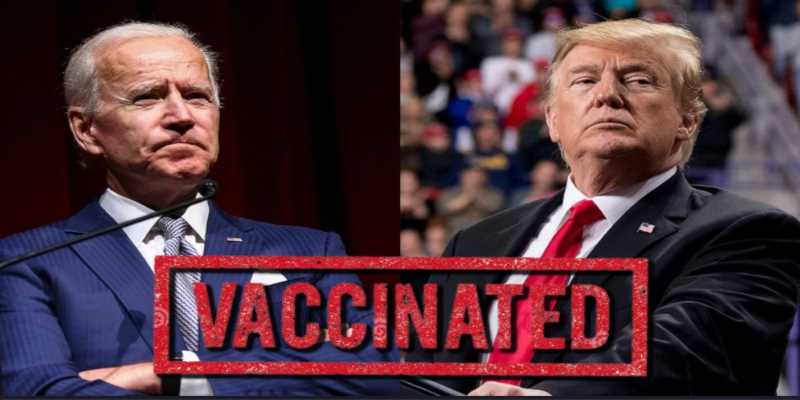 Trump Election Odds Predict Joint Statement With Joe Biden
Political futures odds for Donald Trump Sr. have been a staple for sportsbooks since 2016. And, in that regard, not much has changed since the former-President left office. There are odds for re-election, divorces, and even visits to China.
Trump Tells All
But Trump's most recent endorsement has prompted odds that are, well, unprecedented. On Christmas Eve, every news outlet had the same headline plastered across the front page:
"Trump Says COVID-19 Vaccinations Work"
Donald Trump Sr. first confirmed that he had received all three doses of the vaccine during a speech in Dallas on the 21st. He further asserted that by not getting the vaccine, his supporters were "playing right into their hands."
Not two days later, in an interview with Candace Owens, Trump called the vaccine "one of the greatest achievements of mankind."
When speaking with Owens, he added that he still believed in freedom of choice when it came to vaccination and was against mandates.
"Some people aren't taking it; the ones that get very sick and go to the hospital are the ones that don't take the vaccine, but it's still their choice. And if you take the vaccine, you're protected…"

Former President Donald Trump Sr.
Trump's comments come as a change of tune. In the last months of his Presidency, Trump was vocal about his vaccine hesitancy. And while rumors later spread that he and Melania received full immunization in January, it was not confirmed until December.
The Audience Review
The reception of these claims was varied. Some supporters were less than thrilled about the former President's comments, with one (now deleted) TikTokker calling the statements deceptive.
However, the broader population was both impressed and delighted that Trump would so openly advocate in favor of vaccination.
President Joe Biden even mentioned the comments during a national address, which is essentially how we got to the following odds:
Joint Vaccine Statement With Biden?
Now, we don't want to jump the gun on this one. It's hard to imagine that Trump and Biden would ever want to be on a stage together again. Still, stranger things have happened in recent years.
New Year, New Trump?
That being said, COVID-19 is running rampant again and the country is more divided than ever. Getting these two high-profile politicians to come together in the advocacy of vaccination could be what the nation needs to get through this tough time.
And if you stand to make some extra cash off some much-needed unity, why not? The odds are against it but that's why there's money to be made. Plus, the bet is active through the end of the year, giving Trump and Biden plenty of time to sweeten up on one another.
Hey! This is the Roaring 20s, anything is possible.