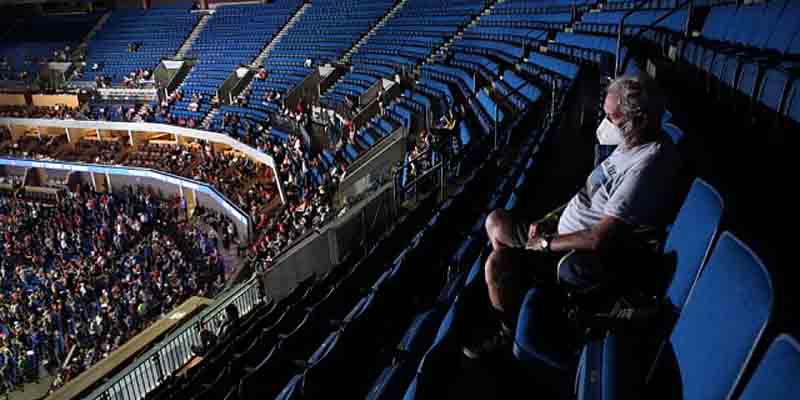 Trump's Odds Continue To Slip Following Lackluster Tulsa Rally And Staffer's COVID-19 Infections
Tulsa, Oklahoma was the location of President Trump's first campaign rally last Saturday, but attendance numbers were much lower than expected. An outdoor overflow venue was booked in anticipation of a large crowd but was scrapped when it became clear that it would not be needed.
What had been predicted to be a large turnout by President Trump and his campaign turned out to be just the opposite. Some have pointed the finger at Democratic Party supporters that allegedly requested free tickets for the event but did not show.
Others indicate that the small audience was the result of a recent uptick in Coronavirus cases, causing many to stay at home and avoid potential exposure to the deadly contagion.
Earlier in the day, it was reported that six of Trump's staffers in Tulsa had contracted COVID-19 prior to his arrival. Many of Trump's staff first heard about the infections through news outlets, as it was leaked to the press before they were notified.
Trump didn't let that stop him from encouraging his Oklahoma supporters to come down and pack the arena to the rafters. Despite his encouragement, a large crowd failed to gather. Neither the floor nor the bottom bowl was full, and the upper deck was completely empty save for the occasional spectator that was presumably trying to practice social distancing.
If the Tulsa rally was intended to ignite his campaign and set the tone for his 2020 reelection bid, then Trump just got a reality check. Not only is his rally attendance lagging, but his betting odds are also continuing to slip.
2020 US Presidential Election Winner
(Bovada)
Joe Biden -130
Donald Trump +115
2020 Presidential Election – Winner
(MyBookie)
Donald Trump -120
Joe Biden -110
Odds to Win the Presidential Election
Joe Biden -160
Donald Trump +130
Another factor that could have affected the turnout is the venue itself, as the town of Tulsa's 100-year anniversary of tumultuous racial riots just occurred a couple of weeks back.
Trump also had to push the rally back a day as the originally scheduled date of June 19th, was the date of Juneteenth, the anniversary of the day that slavery was abolished.
The President had been optimistic that his supporters would gather in similar numbers to the protestors that are continuing to assemble in urban areas in an effort to cause massive police reform across the United States.
It seems odd that Trump would not attempt to ratify the situation by acknowledging the protestors' needs, and instead try to muster up opposition to them.
Trump's behavior also suggests that he is ignoring the Coronavirus issue even though infection spikes are occurring at a record pace in many states.
Unlike key Democratic Party figures, such as Joe Biden, and Hillary Clinton, Trump has yet to be seen dawning a face mask, leaving many to think that he is not taking the pandemic seriously any longer.
On the other side of the coin, CNN is reporting that Trump's campaign asked that rally attendees in Tulsa sign a waiver stating that no action would be taken if they come down with the virus while there, a clear indication that we are nowhere near out of the woods when it comes to COVID-19 in the USA.
Trump has recently given his competition the nickname of "Hidin' Biden." Joe appears to be doing just that, but perhaps that is the best strategy for his campaign to employ at this time because Trump's betting odds just keep slipping with each misstep.