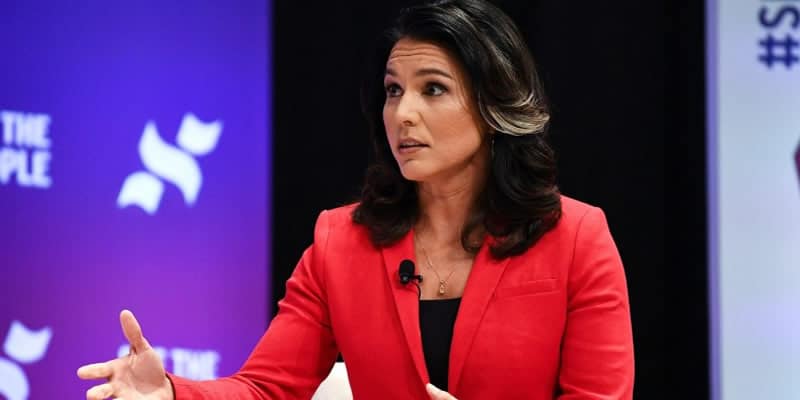 Tulsi Gabbard sues Google for $50 million for stifling her election chances
Hawaii Rep. Tulsi Gabbard is suing Google for $50 million after claiming the tech giant infringed on her First Amendment rights.
The Democratic Army veteran is running for president in 2020 and current has longshot odds of +4000 to earn the party's nomination.
Gabbard opened a Google Ads account in February, but following a pique in voters' curiosity into her campaign after the first Democratic debate in June, she believes that Google suspended her account in an attempt to stifle her chances of winning the Democrat nomination.
During the alleged suspension, Google users were not shown Gabbard's campaign site at the top of their search results. Google spokesperson Riva Sciuto said the account was automatically flagged because of unusual activity, "including large spending changes."
Gabbard disagrees with Google's official statement and believes the company suspended her account based on her criticism of large tech companies, including Google.
"Google supports viewpoints, political causes, and candidates that favor its policy positions over those that do not," Gabbard says in her complaint.
It goes on to say that "Google's email platform Gmail sends communications from Tulsi into people's Spam folders at a disproportionately high rate."
In her statement, Gabbard blasted Google's search engine monopoly. "Google's discriminatory actions against my campaign are reflective of how dangerous their complete dominance over internet search is… This is a threat to free speech, fair elections, and to our democracy, and I intend to fight back on behalf of all Americans."
Gabbard became the youngest woman to join a state legislature when she was elected to the Hawaii House of Representatives at age 21. Then in 2012, when she was elected as a representative, she became the first Samoan-American and Hindu to join Congress.
Despite being a Democrat, Gabbard's received favorable coverage from conservative news outlets like Fox News due to her anti-war, non-interventionist stances that appeal to libertarians and the populist right.
Massachusetts Senator Elizabeth Warren has also been a victim of tech company censorship.
Earlier this year, Facebook deleted some of Warren's anti-Facebook ads, claiming they violated the site's policies. Warren has said multiple times that tech giants like Google, Facebook, and Amazon should be broken up.
Gabbard will appear at the second Democratic debate Wednesday, July 31 in Detroit, Michigan alongside nine other candidates, including Sen. Kamala Harris and former Vice President Joe Biden.
To watch the debate, tune into CNN, Telemundo, or YouTube at 8 p.m. ET. For a full rundown of the current Democratic nomination odds, the list is provided below. Using Bovada's numbers, Gabbard is still in the top ten for party nomination odds.
2020 Democratic nomination odds
Via Bovada
Kamala Harris +225
Elizabeth Warren +350
Joe Biden +350
Pete Buttigieg +600
Bernie Sanders +900
Andrew Yang +2000
Cory Booker +3300
Beto O'Rourke +4000
Amy Klobuchar +4000
Tulsi Gabbard +4000
Julian Castro +5000
Tom Steyer +10000
Bill De Blasio +10000
Jay Inslee +10000
John Delaney +10000
John Hickenlooper +10000
Kirsten Gillibrand +10000
Marianne Williamson +10000
Michael Bennet +10000