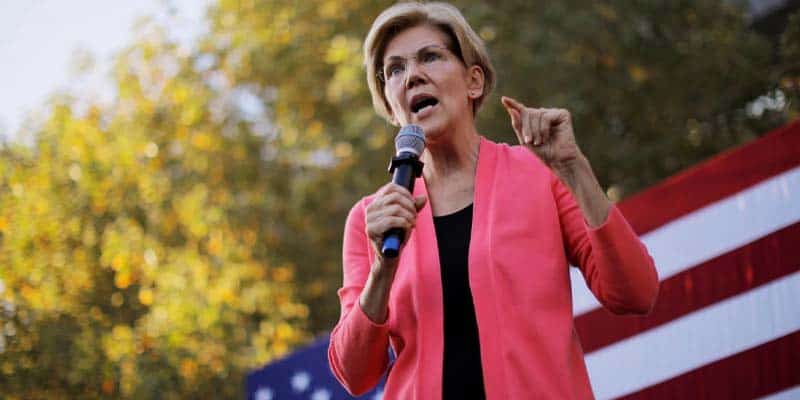 Warren's Odds Skyrocket As Zuckerberg Bets Against Breaking Up Big Tech
With Elizabeth Warren's odds surging over the weekend, it's starting to look like big tech is beginning to panic.
Warren is now listed at -110 odds, according to the latest listing at BetOnline Sportsbook, and when converted to an implied probability, we can see the oddsmakers are giving the U.S. Senator from Massachusetts a roughly 52.38% chance to win the 2020 Democratic Nomination.
Here's a look at the full odds board:
2020 Democratic Nomination Odds
Politics Futures at BetOnline – 10/1/19
Not Elizabeth Warren -120
Elizabeth Warren -110
Joe Biden +450
Bernie Sanders +700
Andrew Yang +800
Kamala Harris +1400
Pete Buttigieg +2000
Tom Steyer +2800
Beto ORourke +5000
Cory Booker +5000
Tulsi Gabbard +5000
Amy Klobuchar +6600
Jay Inslee +10000
Julian Castro +10000
Marianne Williamson +10000
John Delaney +15000
Michael Bennett +15000
Tim Ryan +15000
While all of her opponents are still slightly more favored than her at -120 odds, a 54.55% chance, Warren's current odds mark the first time in the 2020 race that the odds for any Democratic candidate has crossed over the 50% mark.
And Warren is making headlines today after The Verge published a transcript of leaked audio of Facebook CEO and founder Mark Zuckerberg detailing how he'll fight her plan to "break up big tech" during an internal Q&A session back in July.
"I mean, if she gets elected president, then I would bet that we will have a legal challenge," Zuckerberg said in the leaked audio. "And I would bet that we will win the legal challenge."
"And does that still suck for us? Yeah. I mean, I don't want to have a major lawsuit against our own government," added the Facebook CEO.
When asked further about Warren becoming President and breaking up the company he's continued to grow exponentially since its founding in 2004, Zuckerberg said: "if someone's going to try to threaten something that existential, you go to the mat and you fight."
Zuckerberg also said he doesn't think breaking up any of the major tech companies would solve some of the biggest challenges the United States faces today and went on to that dissolving them would make the issues of election interference and hate speech on the Internet even worse.
"It's just that breaking up these companies, whether it's Facebook or Google or Amazon, is not actually going to solve the issues. And, you know, it doesn't make election interference less likely. It makes it more likely because now the companies can't coordinate and work together. It doesn't make any of the hate speech or issues like that less likely. It makes it more likely because now … all the processes that we're putting in place and investing in, now we're more fragmented."
Zuckerberg has responded to the leaked audio in a Facebook post, and encouraged others to "check it out if you're interested in seeing an unfiltered version of what I'm thinking and telling employees on a bunch of topics like social responsibility, breaking up tech companies, Libra, neural computing interfaces, and doing the right thing over the long term."
Warren took to Twitter and said she wants to fix the corrupt system that allows Facebook and other big tech companies to engage in illegal anti-competitive practices, adding, "I'm not afraid to hold Big Tech companies like Facebook, Google, and Amazon accountable. It's time to #BreakUpBigTech."
What would really "suck" is if we don't fix a corrupt system that lets giant companies like Facebook engage in illegal anticompetitive practices, stomp on consumer privacy rights, and repeatedly fumble their responsibility to protect our democracy. https://t.co/rI0v55KKAi

— Elizabeth Warren (@ewarren) October 1, 2019
Whether Warren continues her Summer momentum as we head into the Fall remains to be seen, but at this point in the race, the odds of winning the Democratic nomination are clearly in her favor.