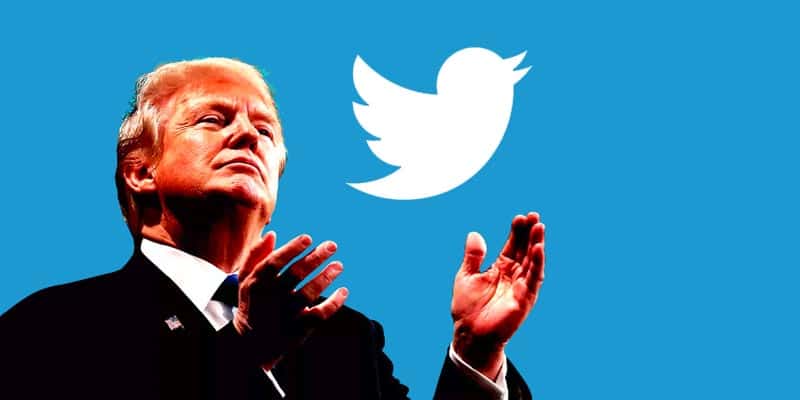 Will Twitter Ban President Trump? Don't Bet On It.
President Donald Trump remains favored to win reelection against Joe Biden, but the incumbent appears to have caused yet another controversy by using his favorite toy: Twitter.
But will MSNBC host Mika Brzezinski's be able to convince Twitter CEO Jack Dorsey and company to remove "@realDonaldTrump" from the social media platform?
According to the 2020 presidential prop bets from Bovada Sportsbook, there is very little chance that Twitter outright bans Trump's official account.
Oddsmakers list "Yes" at +525, meaning a $100 bet would win $525 if Trump is kicked off Twitter. "No" is perceived to be far more likely at -950, which indicates a $950 wager would be required to receive a $100 payout should the President remain on Twitter by January 1, 2022.
Will Twitter Ban @realDonaldTrump?
May 21 — Odds courtesy of Bovada
Graded: Must result from a decision made by Twitter for "Yes" to be graded as a win. Any wagers placed on the same day news becomes public knowledge will be deemed void.
Twitter May Label Tweets, Won't Ban Trump
From Franklin D. Roosevelt's fireside chats to Barack Obama laying a blueprint on how to fund political campaigns on social media — using technological innovations for multimedia is nothing new for the President of the United States.
President Donald Trump, for better or worse, continues to push boundaries of traditional American norms with his usage of social media.
At times, it almost feels as if Trump's official Twitter account @realDonaldTrump is intentionally testing the waters to see exactly how far he can stretch his message, serving no other purpose other than to fuel his online engagement statistics.
For Twitter specifically, Trump has become notorious for lashing out against Democrats, Republicans or anyone to dares challenge his authority. Twitter's "quick, hot take" experience has only exacerbated his rise in popularity on the platform.
On Wednesday, MSNBC host Mika Brzezinski said President Trump crossed the line when dug up a conspiracy relating to the accidental death of Lori Klausutis, who was an intern for "Morning Joe" co-host and husband, Joe Scarborough, while he was a Florida congressman in 2001.
….Roger Stone has been treated very unfairly. How about that jury Forewoman, does anybody think that was fair. DISGRACEFUL! Stay tuned. @FoxNews And guys like Low Ratings Psycho Joe Scarborough are allowed to walk the streets? Open Cold Case!

— Donald J. Trump (@realDonaldTrump) May 20, 2020
After seeing his "cold case" tweet, Brzezinski fired off a series of tweets directed at CEO Jack Dorsey and Twitter, demanding an explanation for how his attack did not violate the platform's terms of service.
.@twitter need to know why trump is not banned?

— Mika Brzezinski (@morningmika) May 20, 2020
I will be reaching out to head of twitter about their policies being violated every day by President Tump. Hope my call is taken. Please retweet if you agree

— Mika Brzezinski (@morningmika) May 20, 2020
A call is being set up with @jack and the GC. Thanks for your interest. I will keep you posted https://t.co/eyQwke6KB4

— Mika Brzezinski (@morningmika) May 20, 2020
Brzezinski then later addressed President Trump's tweets on MSNBC:
"Donald, you're a sick person! You're a sick person to put this family through this, to put her husband through this, to do this just because you're mad at Joe, because Joe got you again today, because he speaks the truth, and he speaks plainly about your lack of interest and empathy in others and your lack of ability to handle this massive human catastrophe, the fact that you have made it worse and you make it worse every day."
It's extremely unlikely that Twitter will ban Trump since the company has previously stated it would not delete tweets from world leaders if the company decided it was in the public interest — regardless of whether it violates Twitter's rules.
At best, Brzezinski may be able to convince Dorsey to label Trump's tweets if they are proven to be false or misinformation. There is recent precedence for this since Twitter labeled an @realDonaldTrump retweet of an edited video showing Biden, the assumed Democratic presidential nominee, endorsing Trump, the Republican incumbent.
Aside from further labeling of tweets, don't bet on President Trump to get kicked off of Twitter — especially when he's one of the biggest birds with the loudest megaphones in the nest.
On May 21, Bovada's odds for the 2020 US Presidential Election favor Trump (-120) over Biden (+130) as both parties continue to raise the stakes on the race to the White House.
2020 US Presidential Election Odds
May 21 — Odds courtesy of Bovada
Donald Trump -120
Joe Biden +130
Hillary Clinton +2200
Andrew Cuomo +5000
Michelle Obama +5000
Mike Pence +5000
Nikki Haley +20000