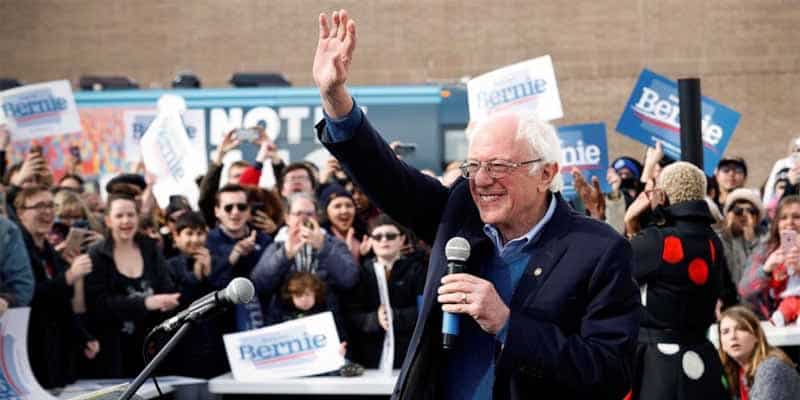 Bernie Sanders Has An 68% Chance To Win Iowa Democratic Caucus
The road to the 2020 presidential election begins today with the Iowa Caucuses. Although the Republican side is decided due to President Donald Trump's incumbency, the Democrats' caucus is still up for grabs.
Remember: All candidates (from both parties) that won both Iowa and New Hampshire have gone on to win the party nomination.
Since Democrats adopted the current primary format in 1968 and Republicans in 1972, only one candidate (Bill Clinton, 1992) has not won either of the first two states but gone on to become the nominee.
A total of 41 delegates are up for grabs, and the winner of the Iowa Caucus is sure to see a considerable boost in his or her Democratic presidential nominee odds.
And according to the 2020 Iowa Democratic Caucus betting odds, it appears the sportsbooks are unanimously favoring the Bern.
Can Bernie Sanders Win Iowa?
Vermont Sen. Bernie Sanders' odds are listed as the favorite to win the Iowa Caucuses held on Monday, Feb. 3, 2020. When Sanders' chances from all the political betting sites are combined into one implied probability, we can see that the oddsmakers believe he has about a 68% chance to win the first state of the Democratic primary.
Bernie Sanders – Iowa Caucus Betting Odds
Via Political Betting Sites – Feb. 3, 2020
BetOnline: -275 (73.33%)
Bovada: -290 (74.36%)
MyBookie: +120 (45.45%)
Bookmaker: -370 (78.72%)
*Bernie Sanders' Combined Implied Chance To Win Iowa: 67.97%
Who Should I Bet On To Win The Iowa Democratic Caucus?
At this point, it looks like Sanders' strong polling, fundraising, and ground game in Iowa is going to be hard to beat.
According to the Iowa Democratic Presidential Caucus polling average at RealClearPolitics, Sanders leads with 23% support, followed by former Vice President Joe Biden at 19.3%. The most recent poll from Emerson, conducted from Jan. 31-Feb. 2, shows Sanders at 28% and Biden at 21%, giving the Vermont Senator a 7%-point lead as of yesterday.
If you are betting on Sanders to win the Iowa Caucus, then the betting odds at MyBookie hold the most value for the Vermont Senator coming out on top. Their oddsmakers list Sanders at +120 odds, which means a $100 bet would win $120 should he finish with the highest percentage of caucus support. For comparison, a bet on Sanders at Bookmaker.eu holds the least value with -370 odds, meaning you'll need to wager $370 to win $100.
When will the Iowa Democratic Caucus results be announced?
The Iowa Caucuses begin tonight at 8:00 pm ET. There are more than 1,600 caucus sites spread throughout the state, and results come in based on how large the gatherings are, with smaller groups taking only a few minutes to larger groups taking up to two or three hours, depending on the size.
Results are expected to start coming in around 8:30 pm ET, and the majority of results are expected to be announced sometime between 11:00 pm and midnight ET. The official count, and winner of the Iowa Caucus, will likely be announced early Tuesday morning.
What are the other Democrats' chances of winning Iowa?
Biden comes in second at all of the online sportsbooks. The most value for his Iowa odds are +350, 22.22% implied probability, at Bookmaker.eu, which means a $100 wager would win $350 if the Obama's VP pulls the upset.
The third and fourth spots are a bit shakier but are shared by Massachusetts Sen. Elizabeth Warren and former South Bend Mayor Pete Buttigieg.
The most value for an Iowa bet on Warren is at Bookmaker.eu, which lists her at +1650, 5.71% chance, meaning a $100 bet would win $1650. Bovada isn't far behind with +1500 for a bet on Warren to win the first primary state.
For Buttigieg, the most value for a wager on him can be found at BetOnline. Their oddsmakers list him at +1000, 9.09% probability, which means a $100 bet on Pete wins $1000 if he comes out on top.
Below you can find the complete list of candidates with odds to win the 2020 Iowa Democratic Presidential Caucus tonight.
Odds To Win The 2020 Iowa Democratic Presidential Caucus
Via BetOnline
Bernie Sanders -275
Joe Biden +275
Elizabeth Warren +1000
Pete Buttigieg +1000
Andrew Yang +2200
Amy Klobuchar +3300
Tom Steyer +10000
Tulsi Gabbard +10000
Via Bovada
Bernie Sanders -290
Joe Biden +310
Pete Buttigieg +750
Elizabeth Warren +1500
Andrew Yang +5000
Amy Klobuchar +6600
Via Mybookie
Bernie Sanders +120
Joe Biden +250
Pete Buttigieg +350
Elizabeth Warren +900
Amy Klobuchar +1500
Andrew Yang +2500
Field (All Others) +2000
Via Bookmaker.eu
Bernie Sanders -370
Joe Biden +350
Pete Buttigieg +900
Elizabeth Warren +1650
Amy Klobuchar +5500
Andrew Yang +9500
Tom Steyer +40000
Tulsi Gabbard +40000