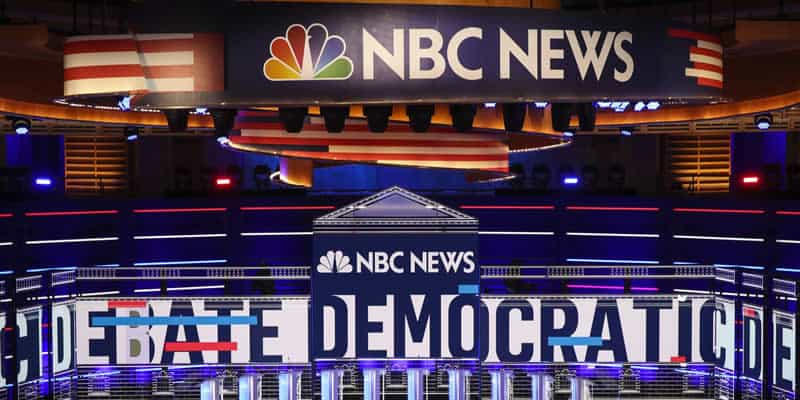 2020 Prop Bets: Will Democrats Say Trump or Impeach During Debates?
Odds heavily favor Trump being the main focus of tonight's Democratic debate.
The first 2020 Democratic primary debate begins tonight, where 10 of the 20 candidates will take the stage during the two-night event. The debate kicks off the beginning of the political season leading up to the 2020 election, giving eligible candidates the first live debate forum for their 2020 Presidential campaigns.
As the nominees prepare to face the other candidates, oddsmakers have put out several unique prop bets, ranging from how many times the Democrats will say "Trump" or "Impeach" to the number of tweets sent out tonight and tomorrow by President Donald Trump.
Prop bets for the first debate were posted earlier this week and today the second wave of props were posted by online sportsbooks.
Here you can find all of the Democratic debate prop bets featured on BetOnline.
How many times will a candidate say "impeach" on Wednesday and Thursday?
Over 2.5 -200
Under 2.5 +150
How many times will the candidates or moderators say "Trump" Wednesday and Thursday?
Over 20.5 -150
Under 20.5 +110
How many times will Trump tweet during the Wednesday Debate?
Over 1.5 -200
Under 1.5 +150
Which name will Trump tweet first during the Wednesday debate?
Elizabeth Warren -150
Beto O'Rourke +400
Amy Klobuchar +500
Bill de Blasio +700
Jay Inslee +800
Cory Booker +1000
Tulsi Gabbard +1000
Julian Castro +1200
Tim Ryan +1200
John Delaney +1400
Will any candidate apologize during the debate?
Will any candidate resign before the end of the second debate?
Will Trump tweet Alfred E. Neuman?
Will Trump tweet Pocahontas?
How many times will Trump tweet Sleepy Joe?
Over 1.5 +300
Under 1.5 -500
How many times will Andrew Yang mention UBI?
Over 1.5 -200
Under 1.5 +150
What will be Trump's approval rating on July 1?
Over 42% -120
Under 42% -120
Which party will win the 2020 Presidential Election?
Republican Party +100
Democratic Party -120
It may be too early to vote or even bet on who will become President in 2020, but we will see political prop bets surface anytime there is a major political event such as the Democratic primary debates.  It will also be interesting to see how the futures odds shift for the election based on candidate performances during the debate, and yes, we are sitting on the edge of our seats for that part!