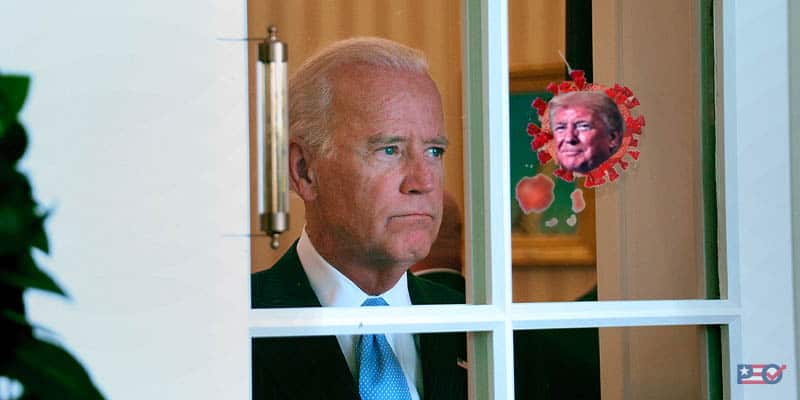 'MayDay' Biden Bettors! Odds vs. Trump Plummet After Denying Reade Allegations
If "April showers bring May flowers," then it's time Joe Biden's campaign signals "MAYDAY!" because his chances of beating President Donald Trump are the only thing falling from the sky on the first of the month.
Presumptive 2020 Democratic nominee Joe Biden denied the sexual assault allegations made against him by Tara Reade, one of his former Senate aides, on the morning of Friday, May 1.
We have lived long enough with a President who doesn't think he is accountable to anyone, and takes responsibility for nothing. That's not me. As a Presidential candidate, I'm accountable to the American people. https://t.co/Wm1666LF8A

— Joe Biden (@JoeBiden) May 1, 2020
Bettors Back Trump After Biden's Denial
It only took a couple of hours before online political betting markets started seeing an influx of public money on the 2020 presidential election odds in Las Vegas and sportsbooks around the world.
Unfortunately for Joe Biden and the Democratic Party, oddsmakers are seeing more political gamblers and traders betting their money on Trump's re-election chances after claiming, "They aren't true. This never happened." in regards to Reade's allegations.
However, the results appear to vary from book to book, but none of it bolds well for Biden backers. At Bovada Sportsbook, Trump -120 ($120 wins $100) remains the same, but Biden +135 ($100 wins $135) is the new line after the former VP held firm at +120 odds prior to his address.
The implied probability for Bovada's general election odds indicates that a bet on Trump has a 56% chance to win while Biden bettors have a 43% chance to see their wagers graded. Until further notice (although becoming increasingly likely), all third-party and potential candidates should be valued at a less than 1% chance due to historical precedence in the United States' general elections.
As a counter-example, but why this is still a worrying sign for Democrats: MyBookie's political odds have seen a staggering amount of their handle now backing Trump over Biden on Friday alone. According to their oddsmakers, Trump -160 ($160 wins $100)  and Biden +100 ($100 wins $100) have both seen increases, but bets on Trump's odds (was -120) have catapulted him to a much more significant probability advantage over Biden (was +110).
Along with their previous betting futures in parentheses, here's a look at the online sportsbooks' updated Trump vs. Biden odds to win the 2020 presidential election on November 3:
2020 Election Odds: Trump vs. Biden
May 1 — Odds courtesy of Bovada
Donald Trump -120 (-120)
Joe Biden +135 (+120)
May 1 — Odds courtesy of BetOnline
Donald Trump -110 (-125)
Joe Biden +125 (+125)
May 1 — Odds courtesy of MyBookie
Donald Trump -160 (-120)
Joe Biden +100 (+110)
May 1 — Odds courtesy of Bookmaker.eu
Donald Trump -120 (-115)
Joe Biden +130 (+120)
Biden's Statement On Reade Allegations
Biden's post on Medium marks the public comment by Biden himself since the allegations began to receive attention after reports of Time's Up denying legal help to Reade surfaced in late-March.
After leading with his record of co-sponsoring the Violence Against Women Act and granted requests made to President Barack Obama, Biden addressed the alleged misconduct from 27 years ago:
It's on us, and it's on me as someone who wants to lead this country. I recognize my responsibility to be a voice, an advocate, and a leader for the change in culture that has begun but is nowhere near finished. So I want to address allegations by a former staffer that I engaged in misconduct 27 years ago.

They aren't true. This never happened.

While the details of these allegations of sexual harassment and sexual assault are complicated, two things are not complicated. One is that women deserve to be treated with dignity and respect, and when they step forward they should be heard, not silenced. The second is that their stories should be subject to appropriate inquiry and scrutiny.
Afterward, Biden was interviewed by Mika Brzezinski on MSNBC's Morning Joe where he added: "This is an open book. There's nothing for me to hide, nothing at all."
While this may be the first time Biden has been questioned on the increasing amount of evidence against him, you bet this won't be the last time. But whether it negatively impacts his chances vs. Trump in the longtime — or creates any uneasiness from the women favored for his VP — remains to be determined as of May 1, 2020.