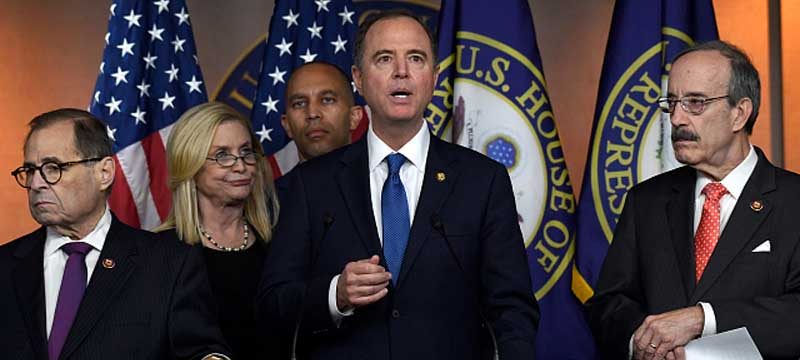 Democrats Release Testimony Schedule For Next Week, Odds Favor No Whistleblower Appearance
After receiving criticism from President Donald Trump and his administration for their use of private testimonies, the House Democrats announced on Wednesday that they will restart public hearings next week related to the President's impeachment inquiry.
House Intelligence Committee Chairman Adam Schiff announced the upcoming schedule on Twitter yesterday: William Taylor and George Kent on November 13 and Marie Yovanovitch on November 15.
Next week, the House Intelligence Committee will hold its first open hearings as part of the impeachment inquiry.

On Wednesday, November 13, 2019, we will hear from William Taylor and George Kent.

On Friday, November 15, 2019, we will hear from Marie Yovanovitch.

More to come.

— Adam Schiff (@RepAdamSchiff) November 6, 2019
Schiff also said that the public hearings "will be an opportunity for the American people to evaluate the witnesses for themselves, to make their own determinations about the credibility of the witnesses, but also to learn firsthand about the facts of the president's misconduct."
Taylor, the US chargé d'affaires for Ukraine, has already given his closed-door testimony to the committee. According to the transcript released from the testimony, Taylor believed that Trump and his attorney, Rudy Giuliani, were pressuring Ukraine to investigate the Biden family.
"I think the origin of the idea to get [Ukranian] President Zelensky to say out loud he's going to investigate Burisma and 2016 election, I think the originator, the person who came up with that was Mr. Giuliani," Taylor said.
Taylor also commented on the alleged quid pro quo, a phrase he admitted to knowing the definition was "this for that."
"That was my clear understanding, security assistance money would not come until [Zelensky] committed to pursue the investigation," Taylor added.
Yovanovitch also gave her first testimony behind closed doors but will be giving a public deposition next week. After Trump relieved Yovanovitch of her duties earlier this year, he would later refer to her as "bad news" in July.
There is no word, however, on whether or not the original whistleblower will testify publicly. The whistleblower's complaint regarding Trump's July 25 phone call with Zelensky started the impeachment inquiry.
According to the political betting odds at Bovada, the whistleblower is not expected to testify with "No" favored at -200 chances.
Will the whistleblower testify publicly?
Via Bovada
MyBookie is also accepting action on political bets, some of which are directly related to Trump's betting odds. The most interesting bet is simple: will the President be impeached?
The odds say that Trump will not be impeached and removed from office before the 2020 Presidential Election at -250.
Will Trump be impeached and removed from office before the election?
Via MyBookie
Maybe, as Trump said himself, the "impeachment Hoax is already turning against [Democrats]."
The Radical Left Dems and LameStream Media are just trying to make it hard for Republicans and me to win in 2020. The new Impeachment Hoax is already turning against them!

— Donald J. Trump (@realDonaldTrump) November 7, 2019