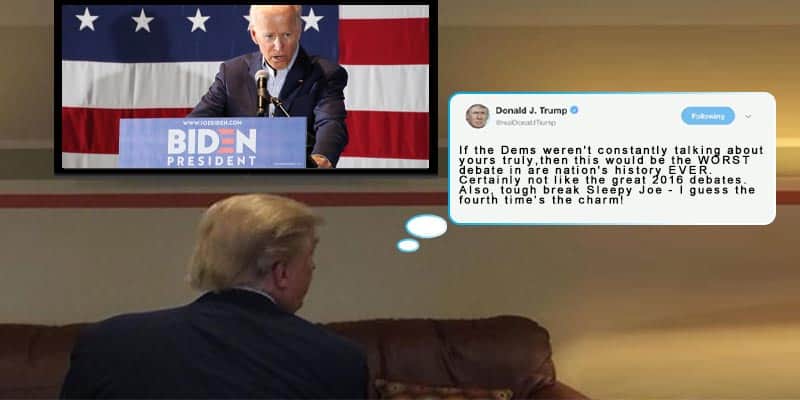 First 2020 Democratic Debate Prop Bets Now Available
The first 2020 Democratic primary debate is goin' down in a couple of days, and oddsmakers have posted prop bets on who will put up, shut up, and tweet out (you know who I'm talking about) over both nights.
It's no surprise that President Donald Trump will be a focus during the debate, but just "how much" of a talking point he ultimately becomes is only one of the ways you can place a wager during the two-night event.
First 2020 Democratic Debate Prop Bets
Over the next couple of days, online sportsbooks will likely release a slew of unique prop bets for the first debate, but for now, here's an early look at the opening odds provided by Bovada Sportsbook.
How many times will Donald Trump be mentioned during debates?
"Trump," "Donald Trump," and "President Trump" count toward the total.
Over 45.5 -115
Under 45.5 -115
How many times will Donald Trump tweet during the debates?
Tweets posted between 9 p.m. ET and 11:15 p.m. ET will count toward the total. Retweets will not count.
Over 2.5 -165
Under 2.5 +135
How many times will someone mispronounce Pete Buttigieg's last name?
Washington Post for reference: "How do you pronounce Buttigieg? It's tricky."
Under 1.5 -130
Over 1.5 EVEN
Which candidate will speak the most during the second debate night (June 27)?
Bernie Sanders +325
Joe Biden +325
Pete Buttigieg +450
Kamala Harris +500
Andrew Yang +1000
Eric Swalwell +1000
John Hickenlooper +1000
Kirsten Gillibrand +1000
Marianne Willamson +1000
Michael Bennet +1000
Which topic will the moderator bring up first during the first debate night (June 26)?
Climate +350
Gun Control +350
Health Care +350
Economy +500
Impeachment +550
Iran Or North Korea +750
Immigration +850
Wall/Border Security +1000
Retirement +1500
Who qualified for the first debate?
After officially qualifying for the debate earlier this month, the 20 Democratic presidential candidates that met the party's requirements were randomly selected and slotted into one of the two nights.
The first 2020 Democratic primary debate will take place on Wednesday, June 26 and Thursday, June 27 in Miami, FL. Both debates will last from 9:00 p.m. ET to 11:00 p.m. ET and NBC, MSNBC, and Telemundo will broadcast and stream the two-night event across multiple platforms.
Everything you need to know about the Democratic National Committee's selection process, lineups, schedule, format, and moderators for the first debate can be found here.
The podium order for both nights was announced last week, and the following is the layout — starting from the left side of the stage to the right side — for each evening's lineup:
Wednesday, June 26
Bill de Blasio
Tim Ryan
Julian Castro
Cory Booker
Elizabeth Warren
Beto O'Rourke
Amy Klobuchar
Tulsi Gabbard
Jay Inslee
John Delaney
Thursday, June 27
Marianne Williamson
John Hickenlooper
Andrew Yang
Pete Buttigieg
Joe Biden
Bernie Sanders
Kamala Harris
Kirsten Gillibrand
Michael Bennet
Eric Swalwell
Who will win the 2020 election?
Trump remains the favorite in the latest 2020 presidential election odds and currently has a 50% chance to win reelection next year. Former Vice President Joe Biden is seen as his most likely challenger with a 19.05% implied probability to win it all.
It's important to remember that Trump is the incumbent, and the RNC has already stated it will not host primary debates for potential Republican challengers, making his path to the White House the one of least resistance.
The public money bet so far indicates that the Democratic Party (-120) is the current favorite over the Republican Party (-110), but with a margin that slim — and the general election still 498 days away — it's safe to say it's either party's office at this point in the race.
Here are the current 2020 odds from Bovada as we officially head into the primary debate season later this week.
Party
Democratic Party -120
Republican Party -110
Candidates
Donald Trump +100 (EVEN)
Joe Biden +425
Pete Buttigieg +750
Bernie Sanders +1000
Elizabeth Warren +1000
Kamala Harris +1300
Andrew Yang +2000
Beto O'Rourke +3300
Tulsi Gabbard +4000
Amy Klobuchar +7000
Cory Booker +7000
John Hickenlooper +10000
Julian Castro +10000
Kirsten Gillibrand +10000