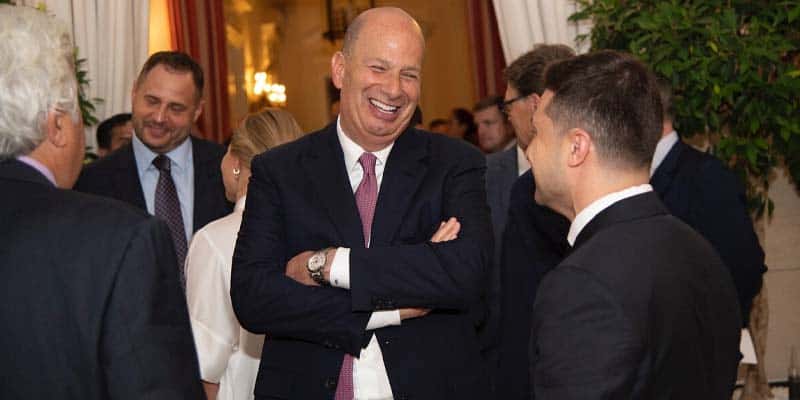 Sondland Revises Trump Impeachment Testimony, Says There Was Clear Quid Pro Quo
While Donald Trump's impeachment odds haven't taken a hit yet, today's bombshell may be enough to make waves through the political betting market.
U.S. Ambassador to the European Union Gordon Sondland—a Trump appointee Republican donor who gave $1 million to the President's inauguration—had a sudden change of heart today and chose to revise his testimony lawmakers in the House's impeachment inquiry.
Sondland now says there was a clear quid pro quo and backed up allegations that Trump withheld Congressionally approved U.S. military aid to Ukraine until President Volodymyr Zelensky agreed to issue a public statement on launching an investigation relating to interference in the 2016 Election and the Biden family's business dealings overseas.
"After a large meeting, I now recall speaking individually with Mr. Yermak, where I said that resumption of U.S. aid would likely not occur until Ukraine provided the public anti-corruption statement that we had been discussing for many weeks," Sondland said.
Sondland's revision was documented on Monday, and the transcript was released alongside U.S. special envoy to Ukraine Kurt Volker's testimony today.
Because this is breaking news, the public betting market likely hasn't had time to react to Sondland's revised testimony.
Although Trump still remains likely to be impeached by the House, it's hard to imagine the Republican-controlled Senate actually removing the President from office.
The latest betting odds show that the oddsmakers feel the same way, with "Yes" listed at +175 odds, 32.39% chance, and "No" favored at -250 odds, 67.61% chance.
Will Trump be impeached and removed from office before the 2020 Election?
Via MyBookie – 11/5/19
When looking at the latest odds to win the 2020 Election, Trump's chances are ever-so-slowly beginning to dip.
Trump's reelection odds were +120 last week, which indicates a 45.45% chance of winning back the White House. Today, on the other hand, the President sits at +130 odds, 43.48% chance.
While Trump still hasn't settled back to the +150 odds, 40% chance, that he had at the beginning of the year, the President's certainly fallen from the -120 odds, 54.55% chance, that he had mid-Summer.
But with 363 days to go until next year's election, anything can happen—especially in today's volatile political climate.
2020 Presidential Election Odds
Via Bovada – 11/5/19
Donald Trump +130
Elizabeth Warren +275
Joe Biden +600
Bernie Sanders +1200
Pete Buttigieg +1200
Andrew Yang +2000
Tulsi Gabbard +5000
Kamala Harris +6000
Amy Klobuchar +10000
Cory Booker +12500
Julian Castro +12500
Bill Weld +12500
Tom Steyer +15000
Marianne Williamson +20000