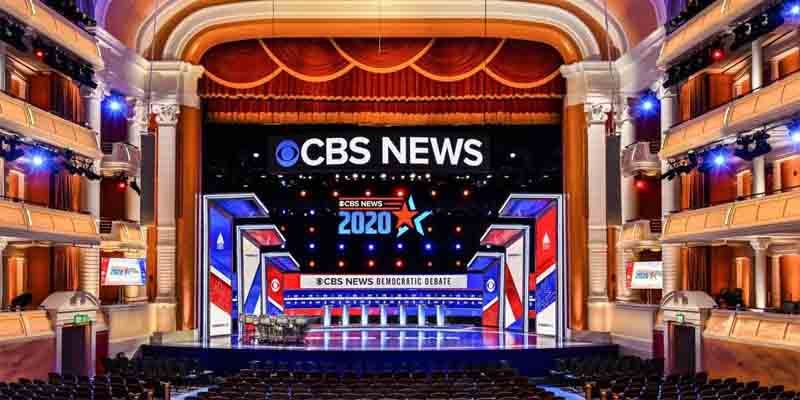 South Carolina Primary Odds And Democratic Debate Prop Betting Guide 
There's no way to downplay how important tonight is for the remaining Democratic candidates and how each individual performance could positively or negatively impact their odds to win the 2020 presidential election.
Seven Democrats will take the stage this evening. Whether you're curious about the Democratic candidates' nominee chances, betting on the odds to win the South Carolina primary, or are wagering on the proposition action for the debate in Charleston, we got you covered.
Here's everything you need to know before the candidates duke it out for a final time before the South Carolina primary on Sat., Feb. 29 and Super Tuesday on Mar. 3.
When is the South Carolina debate?
The tenth Democratic debate will be held on Tues., Feb. 25 (Fat Tuesday). The start time is set for 8:00 pm ET, and it's expected to last until 10:00 pm ET.
Where is the debate?
Tonight's South Carolina debate is taking place at the Gaillard Center in Charleston, SC.
Who is hosting?
CBS News and the Congressional Black Caucus Institute are co-hosting the tenth Democratic presidential primary debate in South Carolina.
Where can I watch/stream the debate?
The South Carolina debate can be watched on CBS, the live-stream on the network's mobile app, or BET.
Who is moderating?
Norah O'Donnell, CBS Evening News anchor
Gayle King, CBS This Morning anchor
Margaret Brennan, Face the Nation moderator
Major Garrett, CBS News chief Washington correspondent
Bill Whitaker, 60 Minutes correspondent
Which candidates qualified for the stage?
The following seven candidates met the Democratic National Committee's requirements for the South Carolina debate. Their RealClearPolitics average polling, both nationally and for South Carolina, is included beside each candidates' name and title.
Bernie Sanders, U.S. Senator (VT) ‒ N: 29.3%, SC: 21.7%
Joe Biden, Former Vice President ‒ N: 17.2%, SC: 26.8%
Michael Bloomberg, Former NYC Mayor ‒ N: 15.3%, SC: N/A
Elizabeth Warren, U.S. Senator (MA) ‒ N: 13.2%, SC: 9.0%
Pete Buttigieg, Former South Bend Mayor ‒ N: 9.8%, SC: 9.8%
Amy Klobuchar, U.S. Senator (MN) ‒ N: 6.3%, SC: 5.7%
Tom Steyer, Hedge Fund Manager ‒ N: 2.2%, SC: 14.7%
Odds To Win South Carolina Primary?
The betting odds for Biden indicate he is a universal favorite to win South Carolina ahead of tonight's debate in the Palmetto State.
According to Bovada Sportsbook, Biden is listed at -165 odds, meaning a $1.65 bet could win $1 if the former Vice President comes out on top in the fourth early primary state. At those odds, Biden has an approximately 62.26% implied probability of winning South Carolina.
However, Sanders' chances aren't far behind after he got the most votes in three consecutive states and received more than double the support of any other candidate during the Nevada caucuses this past Saturday.
With +125 odds, meaning a $1 wager could win $1.25 if Sanders comes takes first, the Bovada oddsmakers predict the Vermont senator has a roughly 44.44% chance to win the South Carolina primary.
Below are the current South Carolina primary odds for all of the candidates on the debate stage.
Note: Bloomberg's odds are not present for Saturday's election because he is not on the South Carolina ballot after choosing to skip the first four states to focus on ad spending for Super Tuesday.
If you want to shop around for the best odds for your candidate to win the South Carolina primary, we've included the futures from all of the top online sportsbooks below.
South Carolina Primary Odds at Bovada, BetOnline, MyBookie, Bookmaker.eu
Via Bovada
Joe Biden -165
Bernie Sanders +125
Amy Klobuchar +10000
Elizabeth Warren +10000
Pete Buttigieg +10000
Tom Steyer +10000
Via BetOnline
Joe Biden -225
Bernie Sanders +120
Tom Steyer +2500
Pete Buttigieg +3300
Amy Klobuchar +5000
Elizabeth Warren +5000
Via MyBookie
Joe Biden -140
Bernie Sanders +100 (even)
Tom Steyer +5000
Amy Klobuchar +10000
Pete Buttigieg +10000
Elizabeth Warren +10000
Via Bookmaker.eu
Joe Biden -195
Bernie Sanders +150
Tom Steyer +4500
Elizabeth Warren +7500
Pete Buttigieg +9000
Amy Klobuchar +10000
Are there props for tonight's debate?
You bet. The oddsmakers at BetOnline have put out a handful of Democratic presidential debate prop bets before tonight's event, and we've included each of the propositions below.
South Carolina Debate Props
Via BetOnline
How many times will candidates say "billionaire(s)"?
Over 11.5 billionaire(s) -130
Under 11.5 billionaire(s) -110
How many times will candidates say "Castro"?
Over 3.5 Castro -120
Under 3.5 Castro -120
How many times will candidates say "stop and frisk"?
Over 2.5 stop and frisk -120
Under 2.5 stop and frisk -120
Will any candidate say "health record"?
Will any candidate say "horsed-faced lesbian"?
Will any candidate say "Russia"?