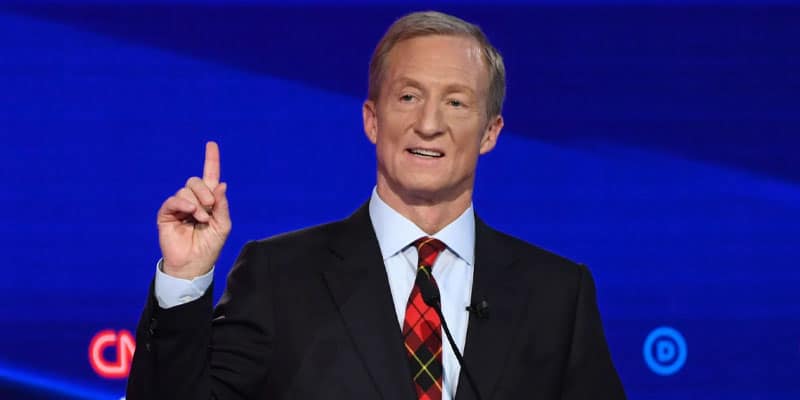 Steyer Qualifies For January Debate After Shocking NV, SC Poll Surge
They say that money can't buy happiness, but it appears it can buy you higher polling numbers and a spot on a presidential debate stage.
Tom Steyer on Thursday became the sixth candidate to qualify for the seventh Democratic presidential primary debate on Tuesday, Jan. 14, after a strong showing in two early state Fox News polls.
Today marks the deadline to qualify, and it's unlikely any other candidate will reach the new polling threshold before the clock strikes midnight,
Here's a look at the six Democrats who've qualified for the CNN/Des Moines Register hosted debate stage at Drake University. Debate prop bets are not up yet and will likely be posted early next week.
January Debate Candidates
Former Vice President Joe Biden
Former South Bend Mayor Pete Buttigieg
Minnesota Sen. Amy Klobuchar
Vermont Sen. Bernie Sanders
Billionaire activist Tom Steyer
Massachusetts Sen. Elizabeth Warren
Steyer qualifying for debate isn't too surprising since he's made every stage since he announced his candidacy.
However, the poll numbers he achieved to cross over the DNC's January debate threshold—5% in at least four national polls or at least 7% in two early-state polls and 225,000 unique donors from 20 states—are rather shocking when you consider his previous polling results.
The two Fox News polls released on Thursday show Steyer surging in Nevada and South Carolina, where he's spent most of his $67 million total TV/radio ad buys: $10.3 million, 75% of NV political ads, and $11.2 million, 65% of SC political ads.
For the third state of the primary, the Nevada poll shows Steyer tied in third place with 12% support among NV Democratic Caucusgoers, up from 5% in November. Here's how that compares to the other frontrunners:
Biden ‒ Jan: 23%, Nov: 24%
Sanders ‒ Jan: 17%, Nov: 18%
Steyer ‒ Jan: 12%, Nov: 5%
Warren ‒ Jan: 12%, Nov: 18%
While the sudden increase in NV support is eye-opening, the results from the South Carolina poll is shocking and shows Steyer in second place with 15% support, ahead of Sanders, up from 4% in October.
Biden ‒ Jan: 36%%, Oct: 41%
Steyer ‒ Jan: 15%, Oct: 4%
Sanders ‒ Jan: 14%, Oct: 10%
Warren ‒ Jan: 10%, Oct: 12%
Now, before placing a bet on the Democratic nominee odds, it's probably wise to wait for another poll to show Steyer with similar surges in Nevada and South Carolina since these two surveys are currently huge outliers.
Expect to see his chances to get a bump on the board after yesterday, but if other polls closely mirror this level of support, then Steyer's 2020 betting odds will likely skyrocket.
For now, Steyer is listed at +5000 ($100 wins $5000), which gives him about a 1.96% chance to win the Democratic nomination.
2020 Democratic Nominee Odds
Via BetOnline Sportsbook – Jan. 10, 2020
Joe Biden +175
Bernie Sanders +300
Elizabeth Warren +800
Pete Buttigieg +800
Michael Bloomberg +1000
Andrew Yang +1200
Hillary Clinton +2500
Amy Klobuchar +3300
Michelle Obama +5000
Tom Steyer +5000
Tulsi Gabbard +5000
Cory Booker +8000
Deval Patrick +8000